TriMet Board of Directors considering ordinances to permanently close Mall/SW 4th Ave and Mall/SW 5th Ave stations, close Kings Hill/SW Salmon St for one-year pilot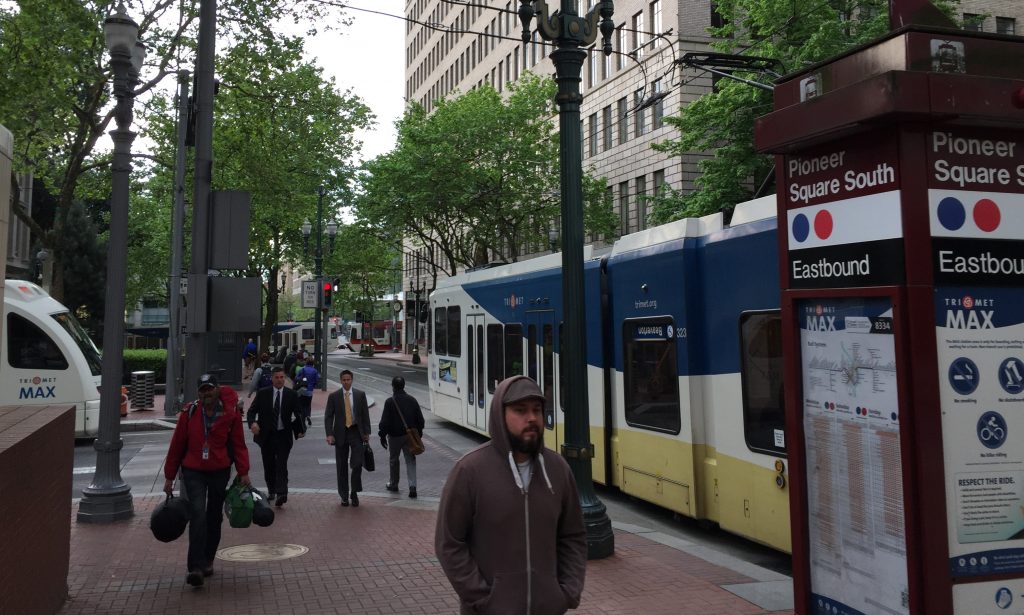 TriMet's Board of Directors will vote on Wednesday, July 24, 2019, whether to speed up MAX Blue and Red lines by consolidating stations in Downtown Portland. They will consider ordinances to close three stations–two of them permanently and one as a trial. If approved, the Mall/SW 4th Ave and Mall/SW 5th Ave stations will close permanently on March 1, 2020, and the Kings Hill/SW Salmon St Station will close for a year, after which time TriMet would re-evaluate if the station should be removed permanently.
The Board of Directors approved a related resolution today, June 26, 2019, to keep the Skidmore Fountain Station open, but reassess its status in three years. The resolution cited the importance of nearby social services and destinations including the Portland Saturday Market and University of Oregon facility. TriMet staff will re-evaluate the station in 2022 to determine if weekday ridership increases and proposed development in the area occurs.
More efficiently and equitably connecting riders to family wage job centers
TriMet knows our transit service must be safe, equitable, convenient and more efficient. As part of a comprehensive strategy to speed up transit, TriMet has been partnering with jurisdictions to move buses through traffic faster and making improvements to MAX operations and the system to keep our trains moving and on time.
TriMet's proposal to consolidate MAX stations is an important part of our efforts to provide efficient and equitable transit service to those who depend on it most. Gentrification has pushed populations out of close-in neighborhoods to East Portland and other outlying areas. At the same time, key employment centers have developed outside of Downtown Portland, in suburban corridors, most significantly in Washington County.
Cross town trips are an important commute pattern. Communities of color and those who are financially disadvantaged now have longer and less predictable commutes to access job centers. Providing faster travel for people to access those jobs has become critical and will continue to grow in importance over time as these trends continue.

Doug Kelsey, TriMet general manager
Nearly seven out of 10 riders prefer faster trip over stations
Riders often complain that their trips take too long. Those who don't ride, point consistently to speed as one of the top reasons why.
We know that to attract riders our travel times must be competitive with private autos. If we're too slow compared to the auto, those who have a choice on whether to ride will choose not take transit–no matter how convenient or close the stop may be.

Doug Kelsey, TriMet general manager
The proposal to consolidate stations on the MAX Blue and Red Line in Downtown Portland would remove stations that are just two train lengths or slightly more apart. That would speed up trips for riders who go in and out of Downtown Portland, and benefits the some 10,000 riders who travel through Downtown each day.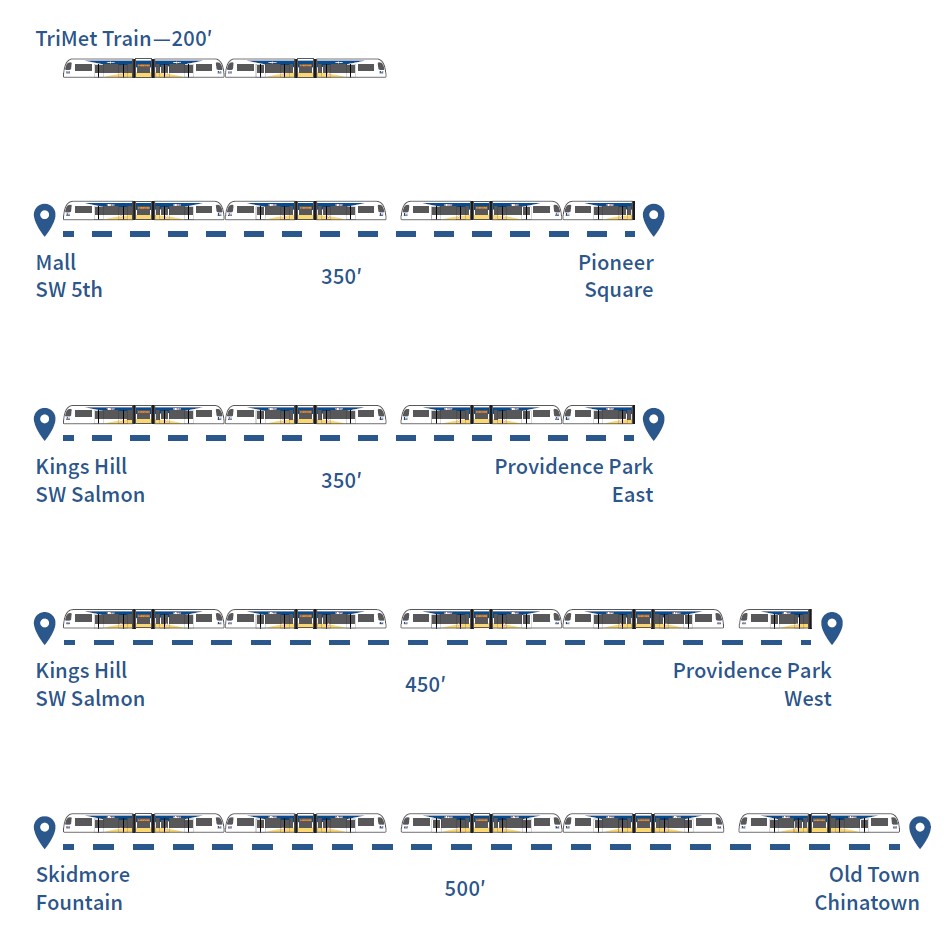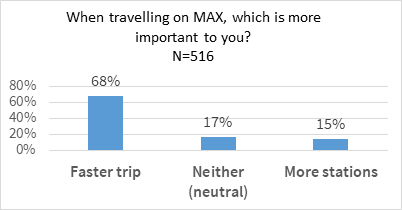 TriMet conducted 10 months of outreach and engagement to get feedback from neighbors, community members and customers. To gauge rider sentiment, we surveyed MAX Blue and Red Line riders online and on board trains between Hollywood Transit Center and Beaverton Transit Center, as well as at stations proposed for closure. Asking whether they prefer the existing spacing of MAX Blue and Red Line stations in Downtown or would be willing to walk a little farther to speed up service, nearly seven in 10 riders said they want a faster trip.
The survey of riders at the Kings Hill/SW Salmon St and Skidmore Fountain platforms found that 87 percent and 80 respectively would use nearby stations if those stations closed. The Portland Streetcar saw such a migration of riders to nearby stops after it closed five stops in 2015, saving about 2 minutes of travel time. Two years later, Portland Streetcar went on to see record ridership. See the example below of the ridership shift for one of the closed stations.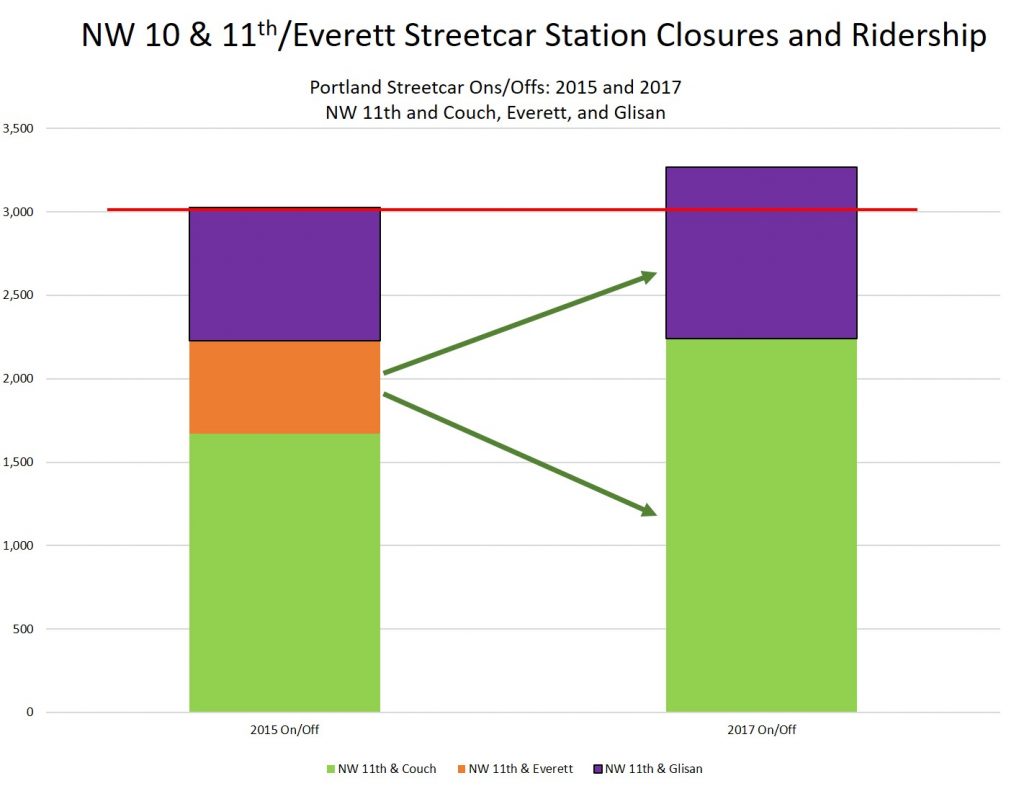 Title VI review ensures service equity
TriMet conducted a Title VI Equity Analysis of the station consolidation proposal. The Title VI threshold for stations is half-mile. With remaining stations less than a quarter-mile away, the analysis found no adverse impact on minority or low-income populations by closing the stations.
Under the Civil Rights act of 1964, "Title VI prohibits discrimination on the basis of race, color, or national origin in any program or activity that receives Federal funds or other Federal financial assistance."
Spacing stations to speed up trains
MAX Blue and Red Line trains spend 22 minutes traveling the 3 miles between Goose Hollow/SW Jefferson St and Lloyd Center/NE 11th Ave stations. In the neighboring segments, it takes trains half that time to go 5 miles.

MAX trains take between 35 and 65 seconds to serve a station. That includes the train slowing down as it approaches the station, riders exiting and boarding, the train waiting for the City of Portland's traffic signal to give it the go ahead and the train accelerating away from the station. Eliminating the four stations that had been proposed for closure would have reduced travel time through Downtown by about 2 to 2-and-a-half minutes for each trip, or about 5 minutes for a round trip. Over the course of a year, that adds up to an extra day to spend with family, conducting personal business or having fun.
With about 365 MAX Blue and Red Line trains traveling through Downtown each day, that saves about 11.5 service hours a day that can be reinvested into making MAX more reliable and efficient.
Closing just the Kings Hill, Mall/SW 5th and Mall/SW 4th stations would cut travel time by about 11 percent through Downtown, or 3 minutes a day and 13 hours a year. It would save about 9 service hours a day to be reinvested into MAX reliability.
No other light rail stations in North America grouped so closely together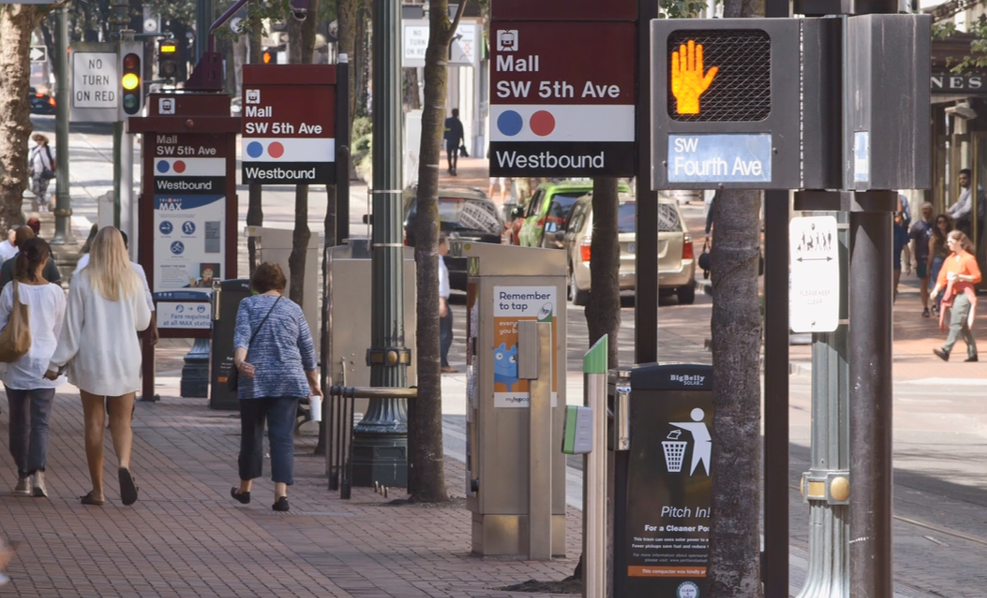 Most MAX stations are typically no less than a fourth-mile, or 1,320, feet, away from other stations. The Skidmore Fountain, Kings Hill/SW Salmon St, Mall/SW 5th and Mall/SW 4th stations are just about 1-2 blocks, or 500 feet, from other stations. An informal survey of other rail systems in North America found that no other city has stations that close together. Most cities space stations at least a half-mile apart to balance speed and access. Also, TriMet's bus system, with more than 6,600 stops, has just less than seven percent of stops within 500 feet of an alternative.
TriMet would never build a new light rail system today with as many stations as we have on the MAX Blue and Red lines in Downtown. These were some of the first light rail stations built in the U.S. No other city in North America has stations so closely spaced, in part because those lines were largely developed after Portland and they learned from our experience. But we don't have to be prisoners to a design that was developed more than 35 years ago. We can and must adapt and update our thinking about how MAX should work.

Doug Kelsey, TriMet general manager
Guidelines established in the Transit Capacity and Quality of Service Manual, published in cooperation with the Federal Transit Administration and the Transportation Research Board, call for stations no closer than a fourth-mile, and more typically spaced at a half-mile distance. More recent TriMet light rail lines such as the MAX Green, Orange and Yellow lines have station spacing using these guidelines.
Weekday ridership lower than neighboring stations
Another factor considered when proposing to consolidate stations is ridership. All the stations initially under consideration have ridership lower than the nearby alternative stations on weekdays when system ridership is highest.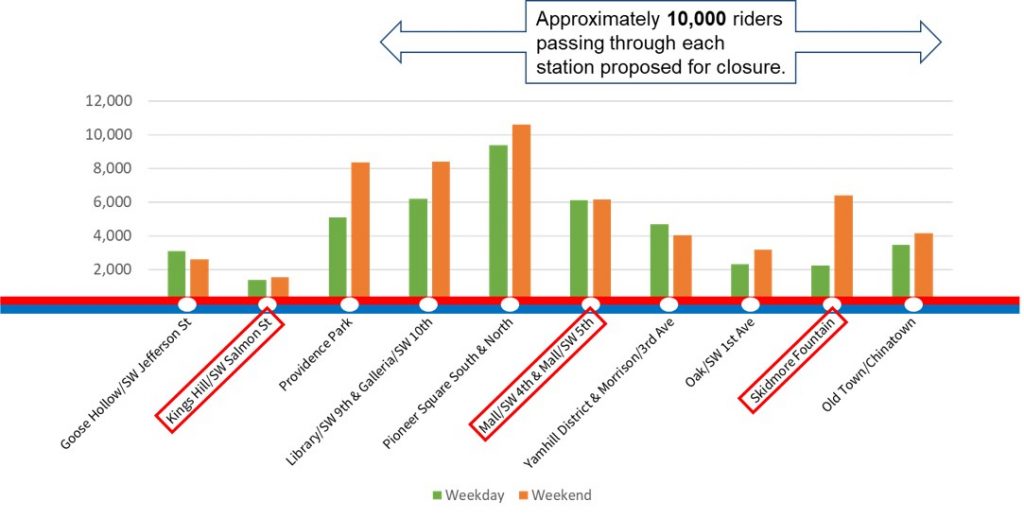 Station consolidation costs
TriMet estimates that if the consolidation proposal is approved by the Board, the station closures could lead to $460,000 in signal system upgrades to move trains more efficiently through Downtown. Up to $750,000 in costs are also expected to remove the stations and convert the areas for other use. Some of those costs will likely be offset as more people ride the improved service and operational/maintenance costs related to the stations are eliminated.
Making transit better
Serving more people at more times
Speeding up transit
Increasing reliability and resiliency
Providing equity and access
Transitioning to a clean energy bus fleet
Learn about other ways TriMet is making transit better.
MAX Blue Line History
All of the stations being considered for consolidation were planned and constructed during the early days of light rail development, before optimal station spacing was well understood. The Mall/SW 4th Ave, Mall/SW 5th Ave and Skidmore Fountain stations were built as a part of the original Eastside Light Rail Project between March 1982 and August 1986. The Kings Hill/SW Salmon St Station was added with the Westside Light Rail Project that began station construction in 1994.