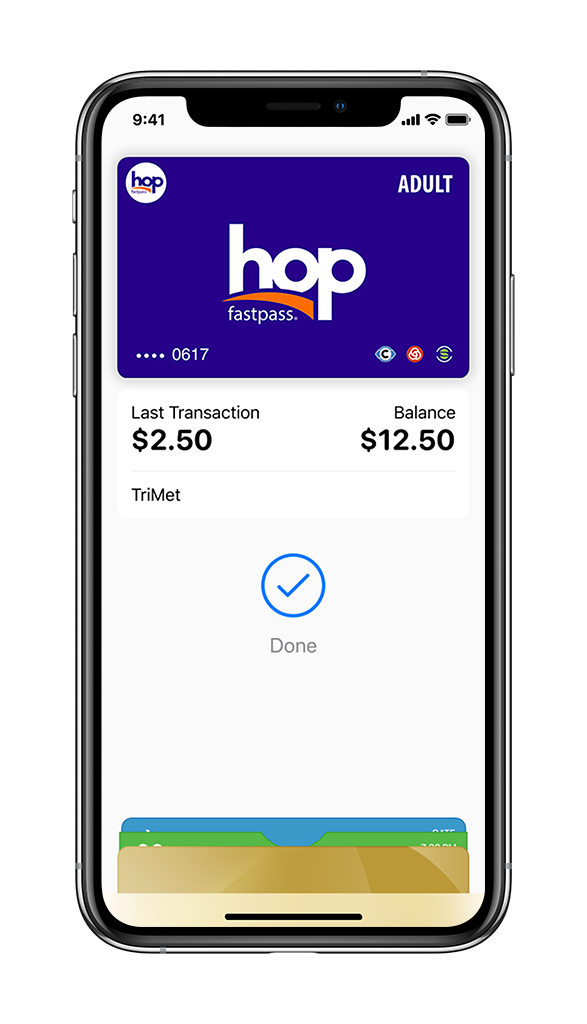 Starting today, riders in the Portland-Vancouver region can add a Hop Fastpass® card to Apple Wallet and use their iPhone and Apple Watch to ride TriMet, C-TRAN and Portland Streetcar. Hop is the first transit fare card in North America to launch in Apple Wallet. Riders will now be able to enjoy the true tap-and-go convenience of Express Transit with Apple Pay on iPhone and Apple Watch, and continue to enjoy all the benefits of Hop, including the ability to earn day and month passes and purchase Adult, Honored Citizen and Youth fares.
TriMet, C-TRAN and Portland Streetcar are also the first in the world to launch Apple Pay Express Transit on iPhone or Apple Watch with both a transit fare card and credit and debit cards, offering local riders and visitors multiple ways to easily pay for trips.
With Apple Pay Express Transit, riders can truly tap-and-go by holding their iPhone or Apple Watch near the reader — there is no need to wake or unlock the device, open an app or use Face ID or Touch ID.
"TriMet has long been a leader in the transit industry, focused on the customer experience and ways to simplify riding transit. Now with the Hop card in Apple Wallet, our riders and our region take a major leap forward in transit fare payment."

Doug Kelsey, TriMet general manager
"Apple Pay transforms everyday experiences and we're thrilled Portland-Vancouver residents will now be able to go quickly through their daily commute with just their iPhone and Apple Watch."

Jennifer Bailey, Apple's vice president of Internet Services
Enjoy the benefits of Hop on iPhone or Apple Watch
With a Hop card in Apple Wallet, riders will enjoy all benefits of Hop:
Earn a day pass or month pass with no upfront cost. Once the cost of a day pass is reached, the rest of the rides are free that day. Once the cost of a month pass is reached, the rest of the rides that month are free.
Easily reload value with Apple Pay.
Purchase Adult, Youth or Honored Citizen fares
It's easy to add a Hop card to Apple Wallet. Download the Hop Fastpass app from the App Store or make sure you have the latest app version. Select "Add a Hop card" and follow the instructions. Once the card has been purchased, select "add to Apple Wallet." Express Transit in Apple Wallet works with iPhone SE, iPhone 6, iPhone 6 Plus and later running iOS 12.3, and Apple Watch Series 1 and later running iOS 5.2.1.
Riders can also use Apple Pay Express Transit with a credit or debit card as an alternative option to a Hop card, and enjoy the same ease and convenience of tapping to ride with their iPhone or Apple Watch. This is ideal for visitors to the Portland-Vancouver area or residents who only occasionally ride public transportation. The adult fare amount will be automatically charged to the credit or debit card selected in Apple Wallet. (Note: Youth and Honored Citizen fares are not available with this option. Month passes will not be earned.)
Already have a plastic Hop card? Transfer it to iPhone or Apple Watch
Those riders with physical Hop cards can convert a plastic card into a Hop card on iPhone. In the Hop app, select the card to convert, then tap "Add to Apple Wallet." The card number will change, but the balance and progress toward earning a day or month pass will be transferred to the rider's iPhone or Apple Watch. Then the plastic card will be deactivated. (Note: Honored Citizen Photo ID (including Low-Income), LIFT and employer-issued Hop cards cannot be converted into virtual cards at this time.)
For more information about Hop Fastpass, visit myhopcard.com/applepay.
For more information on Express Transit with Apple Pay on your iPhone or Apple Watch, visit support.apple.com.
Physical plastic Hop cards are still available for purchase at hundreds of local retailers. Learn more at myhopcard.com or by calling 1-844-MYHOPCARD. Whether using a plastic Hop card, your iPhone or Apple Watch, just tap it against the Hop reader at a MAX, WES or C-TRAN Vine station or on board a TriMet bus, C-TRAN bus or Portland Streetcar. Tap for every ride to pay the fare.
Our partners
TriMet thanks our technology partners – Apple, INIT, MasterCard and moovel – for their ongoing development and innovation of the Hop Fastpass electronic fare system, and our technical consultants, Clevor Consulting Group and Jacobs for their technical expertise and project management. We also thank our transit partners C-TRAN and Portland Streetcar for helping us make Hop a regional fare system to benefit transit riders throughout the Portland-Vancouver area.
About Clevor Consulting Group
Headquartered in in Portland, OR, Clevor Consulting Group is a boutique consulting firm that focuses exclusively on electronic fare collection projects. Clevor is experienced with the design, technical requirements, integration process, financial systems, and security aspects of mobile wallet payment technology. Clevor led the project management and technical integration of the virtual Hop card in Apple Pay.
About INIT
As a worldwide leading supplier of integrated ITS and ticketing systems for buses, light rail, and trains, INIT has been assisting transportation companies in making public transport more attractive, faster and more efficient for more than 35 years. Today, more than 600 customers rely on our innovative solutions.
About Jacobs
Headquartered in Denver, Colorado and with a regional office in Portland, OR, Jacobs leads the professional services industry delivering sustainable solutions benefiting societal, environmental and economic outcomes with the development of infrastructure and industry. Jacob's payment systems group has developed innovative fare solutions that optimize clients' objectives and meet their passenger needs. Jacob's has provided technical and project management expertise throughout the planning, development, and implementation of the Hop Fastpass program.
About MasterCard
Mastercard (NYSE: MA), www.mastercard.com, is a technology company in the global payments industry. Our global payments processing network connects consumers, financial institutions, merchants, governments and businesses in more than 210 countries and territories. Mastercard products and solutions make everyday commerce activities – such as shopping, traveling, running a business and managing finances – easier, more secure and more efficient for everyone. Follow us on Twitter @MastercardNews, join the discussion on the Beyond the Transaction Blog and subscribe for the latest news on the Engagement Bureau.
About moovel North America (becoming REACH NOW)
moovel North America, a part of moovel Group (becoming REACH NOW), offers cities, public transit agencies and users access to multimodal transportation options through simple smartphone applications. A pioneer in Mobility-as-a-Service and the leading North American provider of mobile ticketing solutions for public transit, moovel NA (becoming REACH NOW) provides a next-generation mobile platform that streamlines the operations for transit agencies, and simplifies the travel experience for riders. moovel (becoming REACH NOW) is one of five joint ventures between the BMW Group and Daimler AG that is reinventing mobility. Led by CEO Nat Parker, moovel NA (becoming REACH NOW) is headquartered in Portland, Oregon.
About C-TRAN
C-TRAN operates regular route bus services within Clark County. C-TRAN also provides express commuter services between Clark County, WA and various points in Portland, OR, including downtown and other locations.
About Portland Streetcar
Portland Streetcar operates three lines around 16-miles of track in Portland's Central City. It has been in operation for 17 years and has serviced over 54 million riders since its inception.
About TriMet
TriMet provides bus, light rail and commuter rail transit services in the Portland, Oregon metro area. We connect people with their community, while easing traffic congestion and reducing air pollution — making the Portland area a better place to live.