TriMet rolling out extra service for Starlight Parade and Portland Timbers' home opener June 1
Downtown Portland will be hopping the evening of Saturday, June 1, when the Rose Festival's Starlight Run and Parade take to the streets and the Portland Timbers kick off their first home match of the season. TriMet will have extra trains and buses running to help keep people moving, but riders should plan ahead, allow more time and bring some patience along for the ride.  
Plan ahead and enjoy the Starlight
Whether you plan to join 25,000 Timbers fans at the newly remodeled Providence Park or the 300,000 expected for the Starlight events, TriMet will be the best option to avoid the parking crunch and hassles of driving. Up to 20 bus lines and all MAX lines serve the Portland City Center to get you to the Starlight festivities. They will run on Saturday schedules.
TriMet is also adding up to eight extra trains as well as special Lloyd Center Express bus service to keep people moving before and after the parade. The Lloyd Center Express buses will loop between the Lloyd Center/NE 11th Ave MAX Station and 2nd Avenue in Downtown Portland. They will run from about 5:30 p.m. to 9 p.m. and after the parade ends through about 12:30 a.m.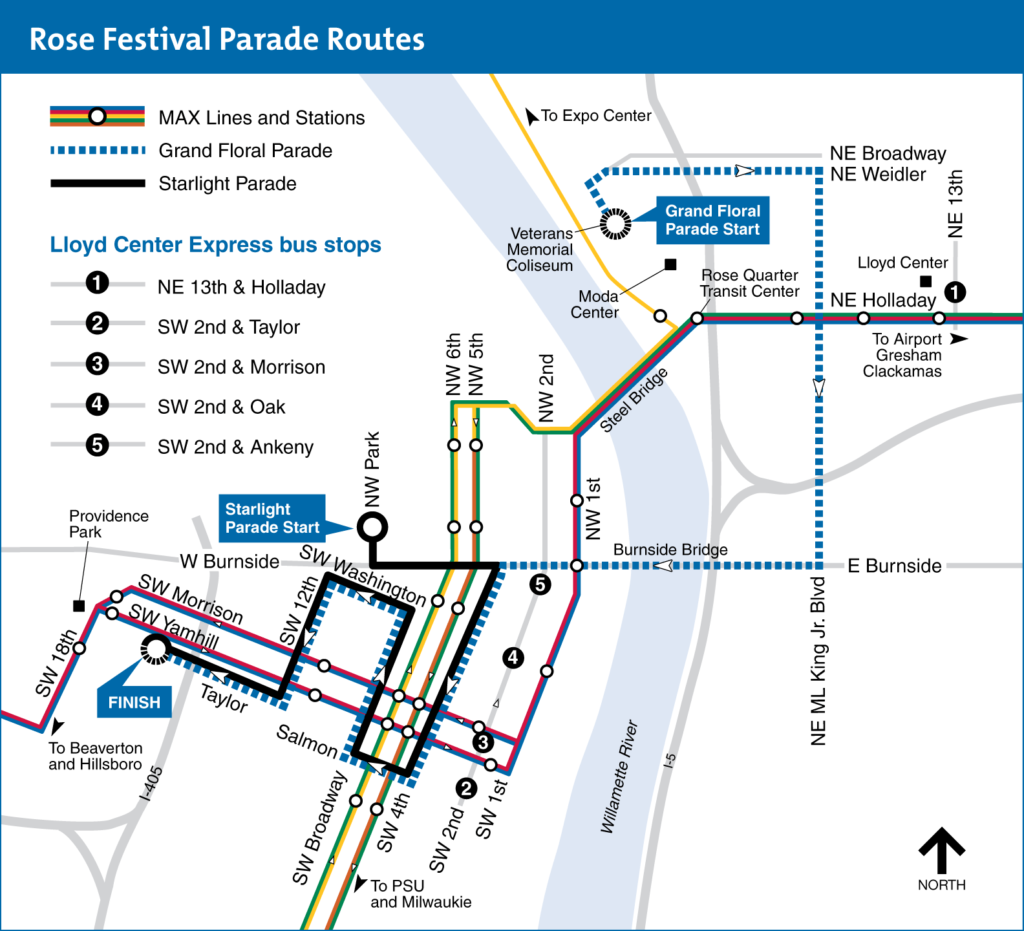 The Starlight Run begins at 7 p.m. with the Starlight Parade starting at 8:30 p.m. Some bus lines intersect the parade route and will be detoured. Those are lines12, 15, 16, 17, 19, 20, 24, 54/56 and 77. MAX trains will also hold at times. We encourage MAX riders on all lines to plan an extra 30 minutes, as trains stopping downtown will affect service throughout the system. Bus riders should plan an extra 15 to 30 minutes if your line runs through downtown. We have more tips for riding on Starlight night at trimet.org/rosefest, and we encourage riders to check trimet.org/alerts throughout the night.
By the way, keep an eye out for TriMet's new zero-emission battery electric bus in the Stars and Lights section of the parade!
Get on board to cheer on the Timbers
The Timbers home opener starts at 7:30 p.m., and TriMet's MAX Blue and Red lines drop you at Providence Park MAX Station, right across the street from the stadium. We now have four bus lines that offer easy access to Providence Park. Lines 15-Belmont/NW 23rd and 20-Burnside/Stark provide a direct connection to the stadium. Line 24-Fremont/NW 18th began serving the area in March and will have added service on Timbers and Thorns game nights. Line 6-ML King Jr Blvd stops just blocks away from the stadium on SW Columbia.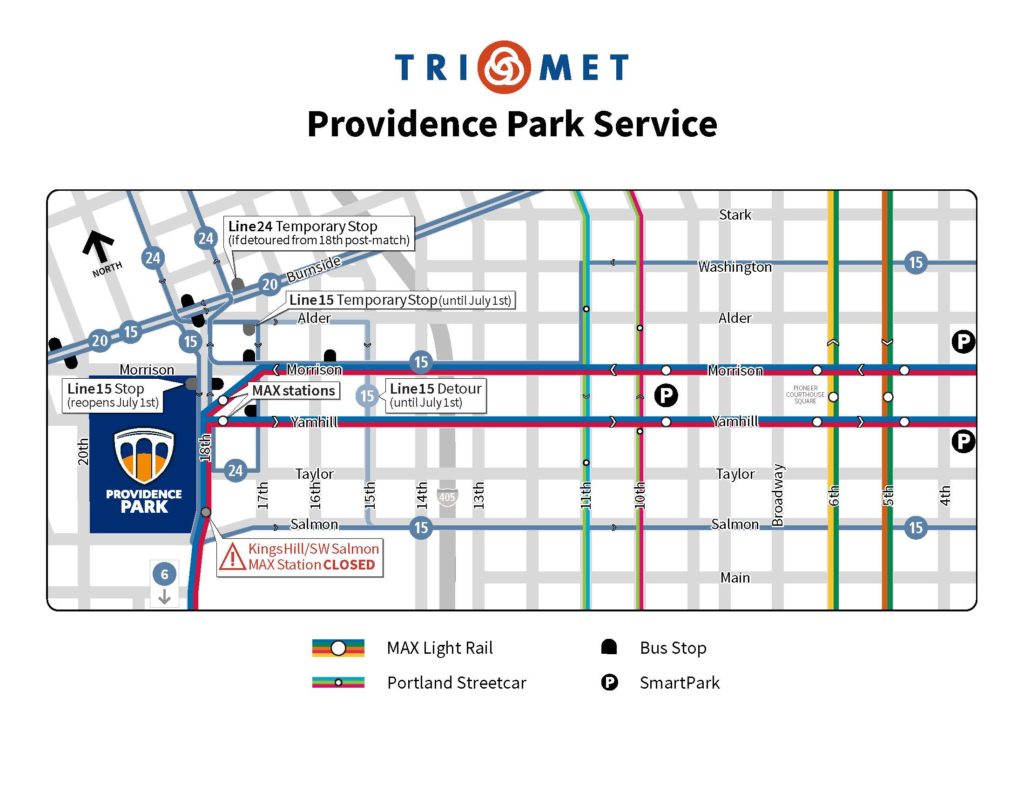 Thanks for your patience!
We want to thank riders in advance for their patience as the match and parade wind down. As everyone leaves Downtown Portland at the same time, the first trains and buses will be full, but as the crowds dwindle later vehicles will have more room. The new trip planner we're testing combines transit trips with other transportation options to help save time, save money over a trip solely using a ride service or where transit alone cannot get the entire way.
Please remember fares are required on all TriMet buses and trains. Our Hop electronic fare system, along with virtual fare cards and other phone payment options, make it easier than ever to pay for your ride.
Thanks for staying alert and aware around our buses and trains. Our operators will be watching out for you, but please watch out for our vehicles too. TriMet wants everyone to have a fun and safe night.