TriMet invites riders and non-riders alike to celebrate the benefits of public transportation on Get on Board Day
On Thursday, April 25, TriMet invites everyone to "Get on Board" for public transportation. We're taking part in a new national day to generate awareness of and advocacy for public transit. If you're new to transit, here's an opportunity to give it a try. We're also hosting an event — a party to celebrate transit — in Pioneer Courthouse Square. We'll be encouraging support for efforts to speed up and improve transit while showcasing transit's many benefits to our community.
Pioneer Courthouse Square
Thursday, April 25
10:30 a.m. – 1:30 p.m.
Why you should Get on Board
TriMet has been keeping the Portland metro region moving for nearly 50 years. Our bus, MAX Light Rail and WES Commuter Rail are safe, reliable, accessible and affordable. They're easy to use and offer a convenient alternative to driving a car. When you use transit, you help ease traffic congestion and reduce air pollution. Riding brings convenience, saves you money, reduces stress and creates community. Take it from some of our riders.
Trying transit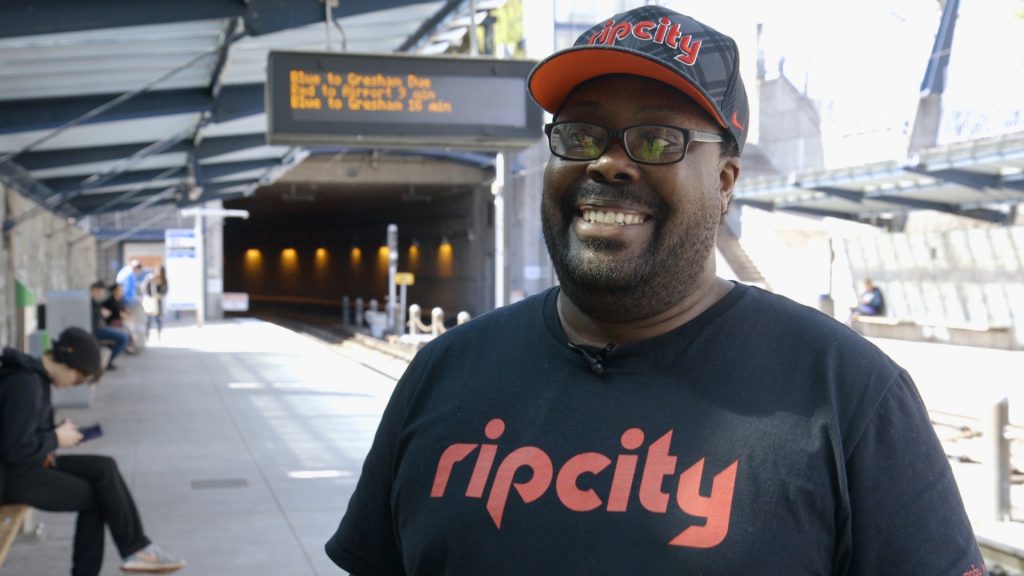 Waweru "Roo" Gatimu is a 39-year-old Portland native who rode the bus as a child growing up in the Kenton neighborhood. Now, he lives in the Pearl District. Typically, he drove his SUV to his software sales job in Beaverton. When he realized he was spending $160 per month on gas, he decided to give transit a try. Besides saving money, Roo is enjoying additional benefits of riding.
"It's been great, easy, carefree," said Roo as he waited for the MAX at the Sunset Transit Center.
"When I'm driving during rush hour traffic, it's a lot more stressful. With TriMet, I just pop in my headphones, read a book or look at my phone, and just ride along." Roo estimates riding MAX shaved half an hour — or more — off his rush hour commute.
Transit by choice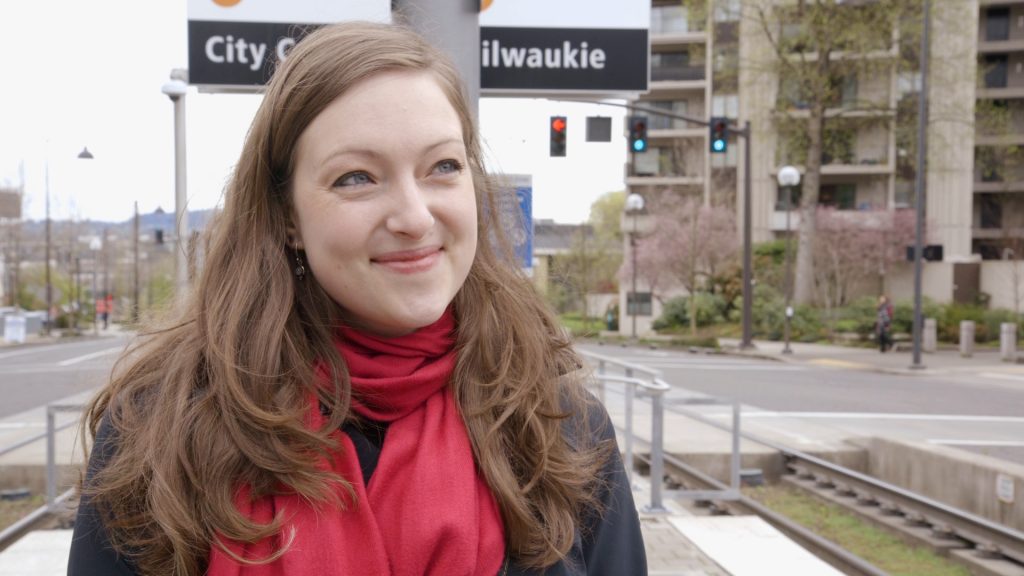 "It'll make your life easier. It'll make our city greener, and we really need that," said Lindsay Schuelke, a regular rider who moved to Portland from Wisconsin four years ago.
Lindsay has a driver license, but she doesn't own a car. When she needs to go somewhere, transit is her first choice.
"I base my plans on TriMet's schedules," she said. "It's so easy to look and find out when the next bus or train is coming. The first step is probably the hardest, but just change your habits a little, and you'll feel better about the choice once you get home."
Transit benefits everyone
Estimates show that thanks to TriMet there are 210,000 fewer car trips taken throughout the metro daily. In addition, TriMet service saves the region $150 million in annual congestion costs.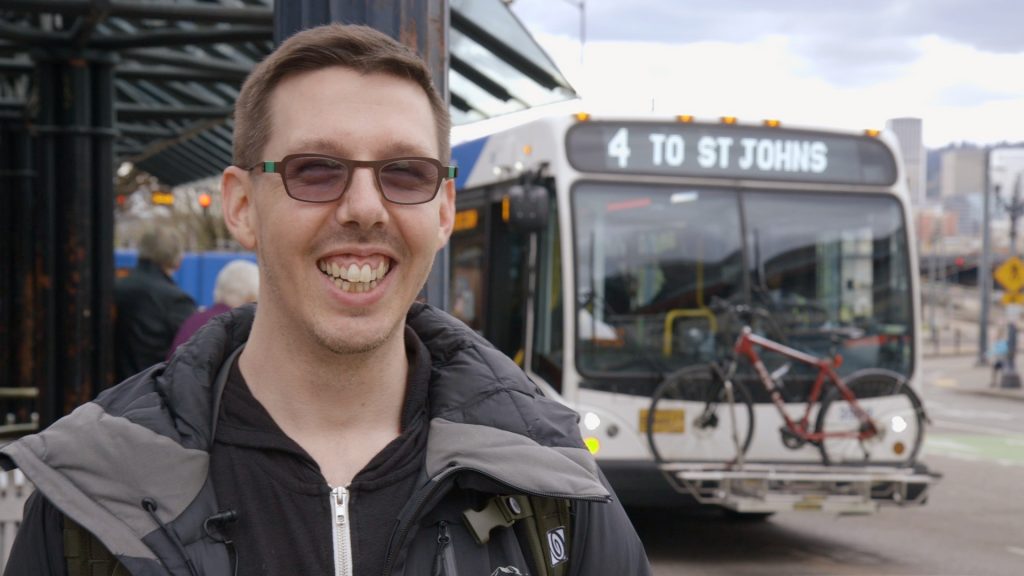 Traffic is a big reason North Carolina native Brandon Winter takes the bus. He's a car owner, but when he started riding to avoid paying for parking in Downtown Portland. Now, the 37-year-old tech employee works on the east side, but he still opts for the bus.
"The more people who take the bus, the fewer people who are driving," said Brandon. "The city definitely needs that. They need fewer people to drive around and more people to take transit because traffic's not fun."
Transit builds community
Every weekday — more than 300,000 times a day – someone hops on one of our buses or trains. For Brandon, the trip from St. Johns on Line 44 is more than a ride to and from work.
"You get to know the group of people that always ride with you, so it's like a fun, social activity," he said. He's also on a first name basis with his bus driver. "I became friends with him, which I didn't expect. You see him every day and you say hi, and then you start talking about music and books, and then all of a sudden you start talking every day."
Transit creates jobs
Lindsay also appreciates the men and women at the controls – whether she's riding a bus, MAX train or Portland Streetcar. She said she feels "well cared for" every time she's onboard.
"I feel like the operators and drivers are very aware, and they've got your back," she said. "The people are generally really appreciative and respectful too."
TriMet has 3,300 employees in its workforce; approximately half are bus or MAX train operators.
Transit drives the economy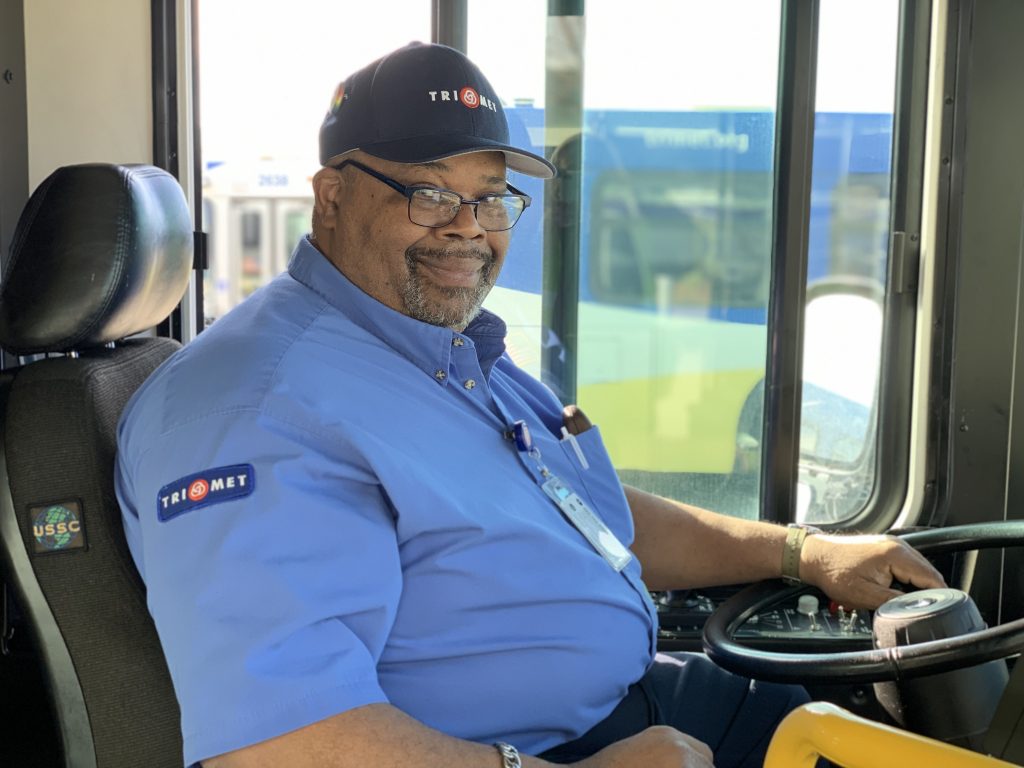 Here's one more reason to get on board for transit: It's good for our local economy. In addition to providing stable jobs with full benefits and competitive wages, TriMet spurs economic growth. Some $20 billion dollars in development has sprung up along the five MAX lines that stretch from Hillsboro to Gresham and North Portland to Milwaukie. We also offer WES Commuter Rail service and have 85 bus lines stretching to the far-reaches of our district – from Forest Grove, to Troutdale and Estacada.
Transit needs your support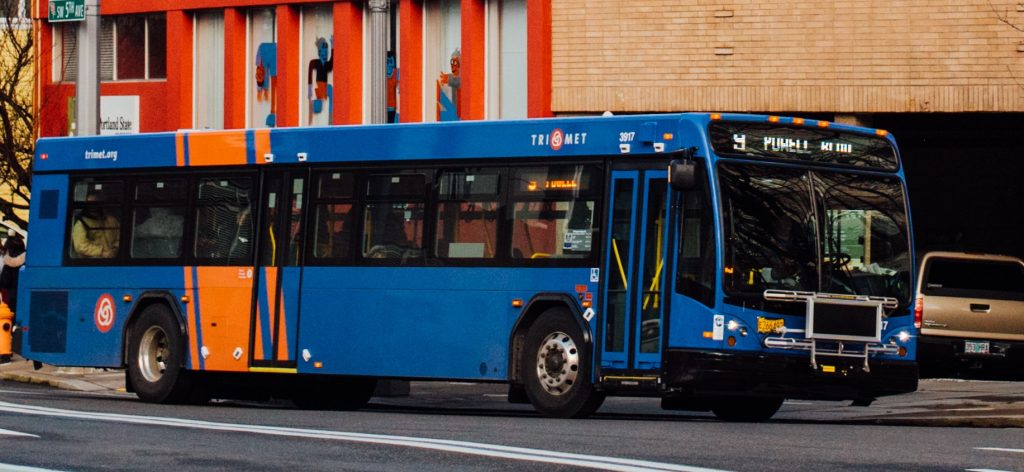 We're rolling out more and more service. Last fall, TriMet launched the largest single service expansion in agency history. We also established a significantly reduced fare for riders on a low-income and began our conversion to a non-diesel bus fleet. We were able to do it with the support the State Legislature and Governor Kate established through the Keep Oregon Moving Act. But with 400,000 more people expected to move moving to the Portland area by 2040, Keep Oregon Moving is just the beginning. In order to improve the region's livability – with safe, reliable, affordable and convenient transportation to jobs, school, appointments and entertainment — we need everyone to get on board.
"We all pay taxes," said Roo, "and we see buses, MAX and streetcars all over the city. If you're paying for it, why not try it? It's very simple. Leave the car at home and hop on the bus."
Get on Board Day
Get on Board Day is driven by the American Public Transportation Association, the leading force in advancing public transportation. To learn more, visit apta.com.