Annual Attitude & Awareness survey shows favorable opinions of TriMet's services and efforts, with riders often more positive than non-riders
TriMet's approval rating grew in 2018, according to our annual Attitude & Awareness survey released today. Three out of four residents polled have a positive opinion of TriMet, up two percentage points from 2017.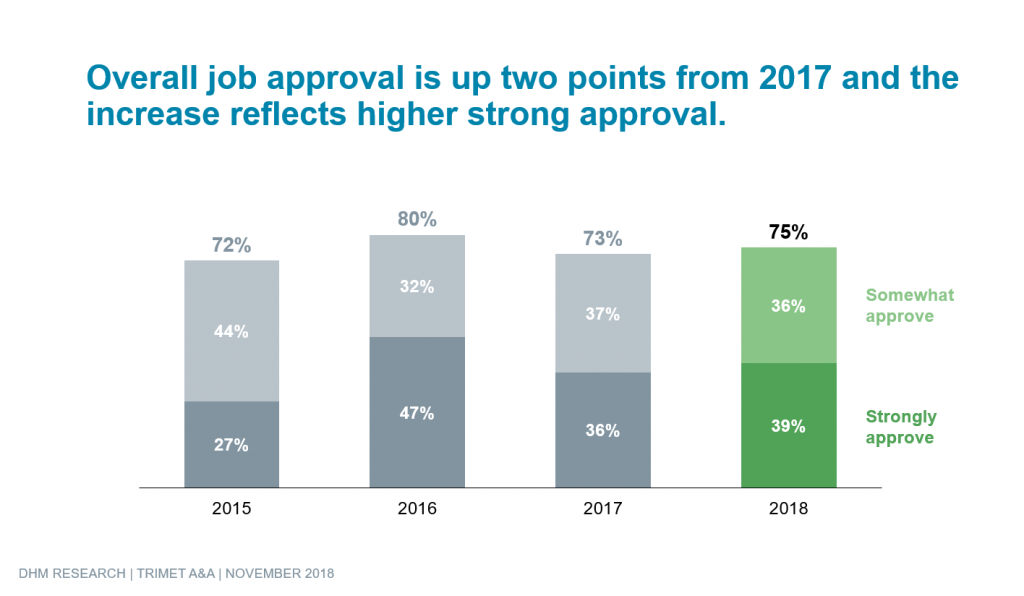 The survey also shows approval ratings were higher among those who ride TriMet and younger residents.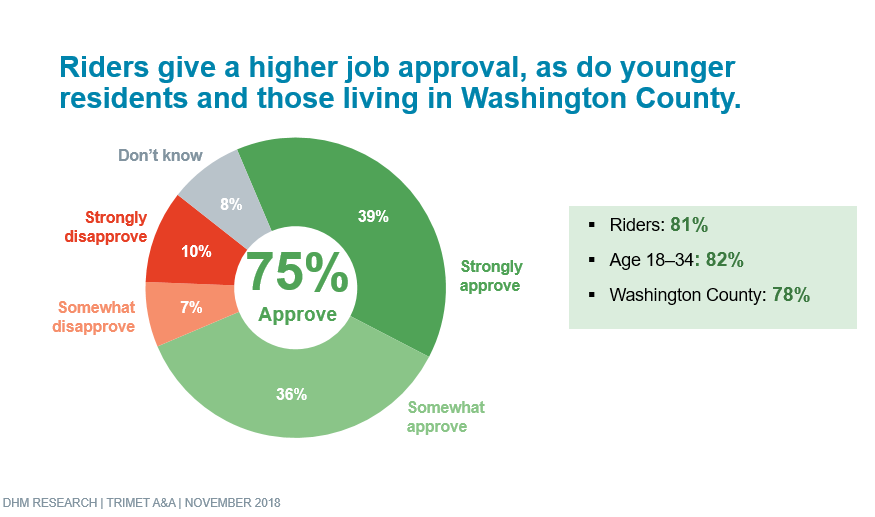 DMH, a Portland-based research firm, conducted the annual telephone survey of 807 residents in Multnomah, Washington and Clackamas counties in November 2018.
Service reliability
People see TriMet's bus and MAX service as reliable, with riders rating service more reliable than non-riders.
A majority of residents continue to find bus and MAX service safe to ride, at 68 percent and 65 percent respectively. The survey also found that safety ratings are higher for those who use the system than those who do not.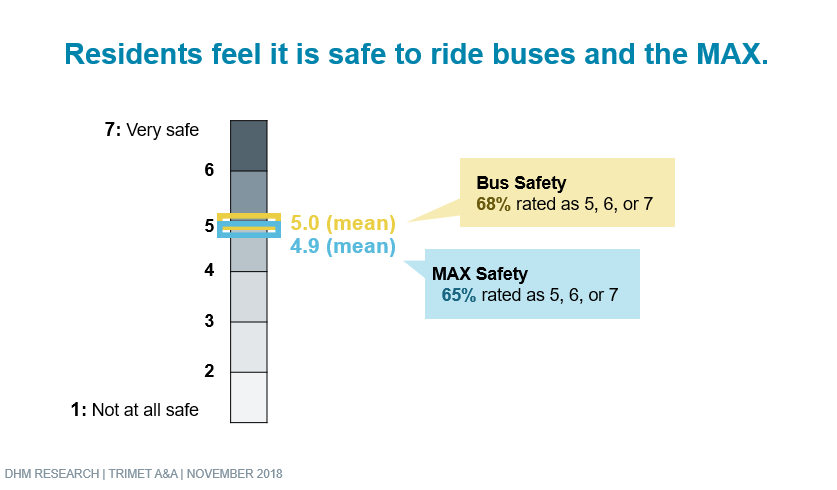 Safety, security and equity
When it comes to fare enforcement, 66 percent agree that TriMet should enforce fares, even if doing so sometimes feels intrusive or intimidating to some customers. Older residents, ages 55+, have a stronger opinion of that at 73 percent.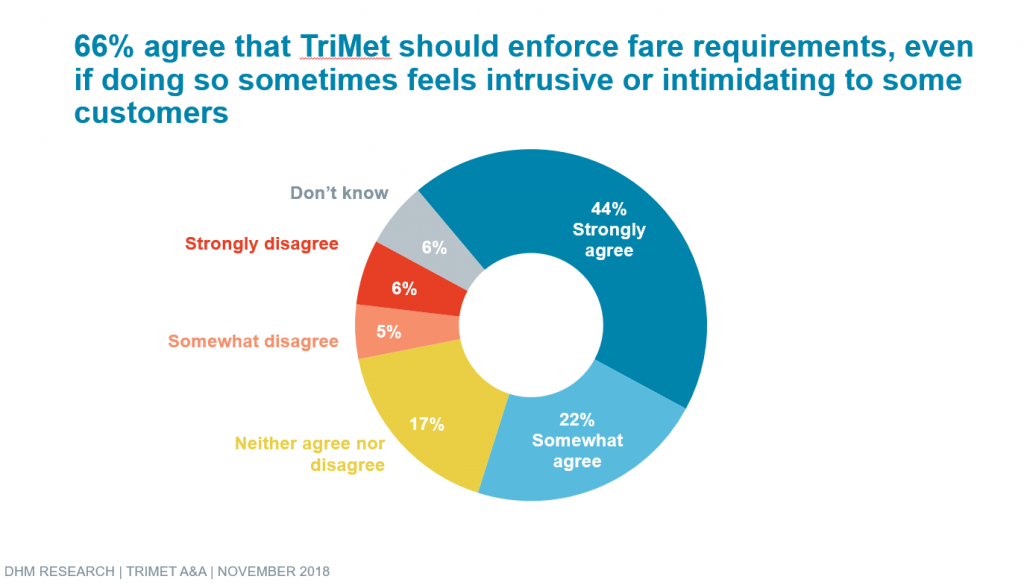 The majority of respondents feel neutral or agree that TriMet treats minority and non-minority populations similarly when it comes to applying rules and fare enforcement. Agreement is higher among people of color, with 63 percent strongly or somewhat agreeing.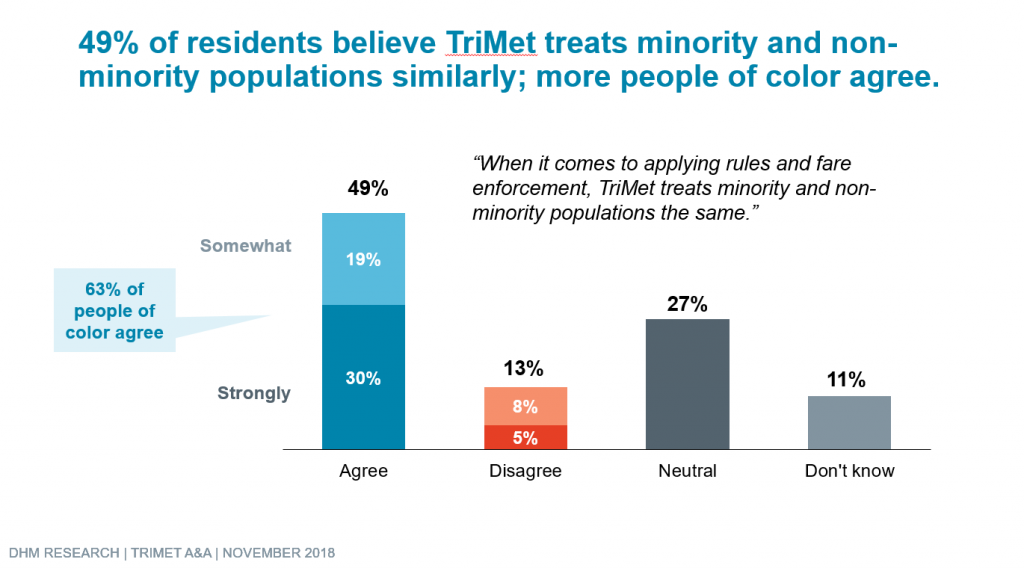 Fares and Hop Fastpass® awareness
Eighty-five percent of all those surveyed viewed TriMet as a good value, and awareness and use of the Hop Fastpass® electronic fare system continues to grow. Fifty-six percent had heard of Hop by November 2018, up from 45 percent in November 2017. The number of riders using Hop has more than tripled since 2017. Hop use is twice as high among transit dependent riders (40 percent) when compared to choice riders (20 percent).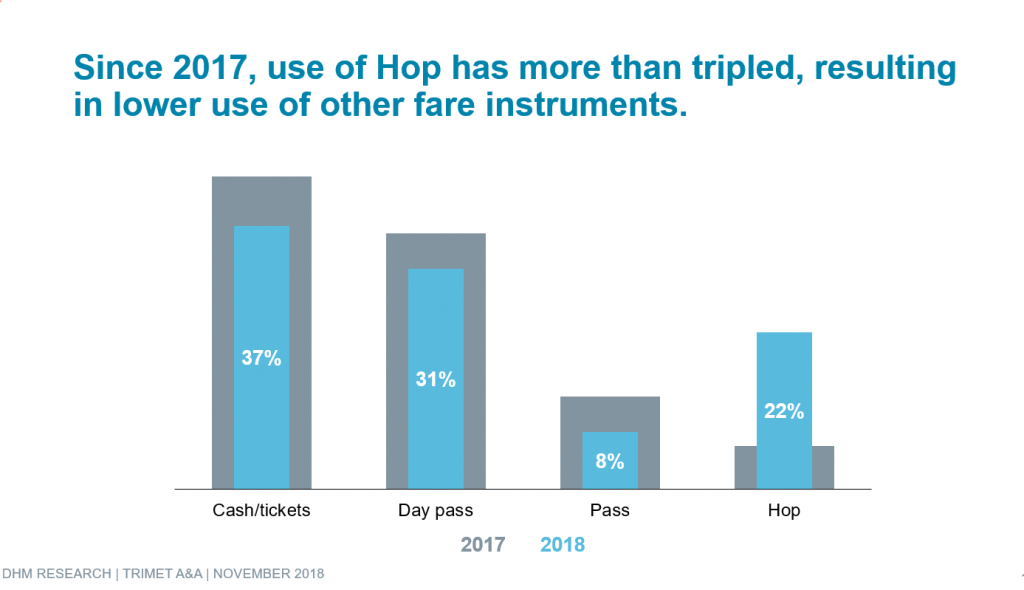 The survey also showed residents approve of TriMet's low-income fare program–launched in July 2018—along with other current and upcoming projects. Eighty percent approve of both TriMet's efforts to provide reduced fare for those on a low-income and our plans to add 80 zero-emission electric buses to the fleet over the next five years. Residents also support the Southwest Corridor Light Rail Project and the Division Transit Project.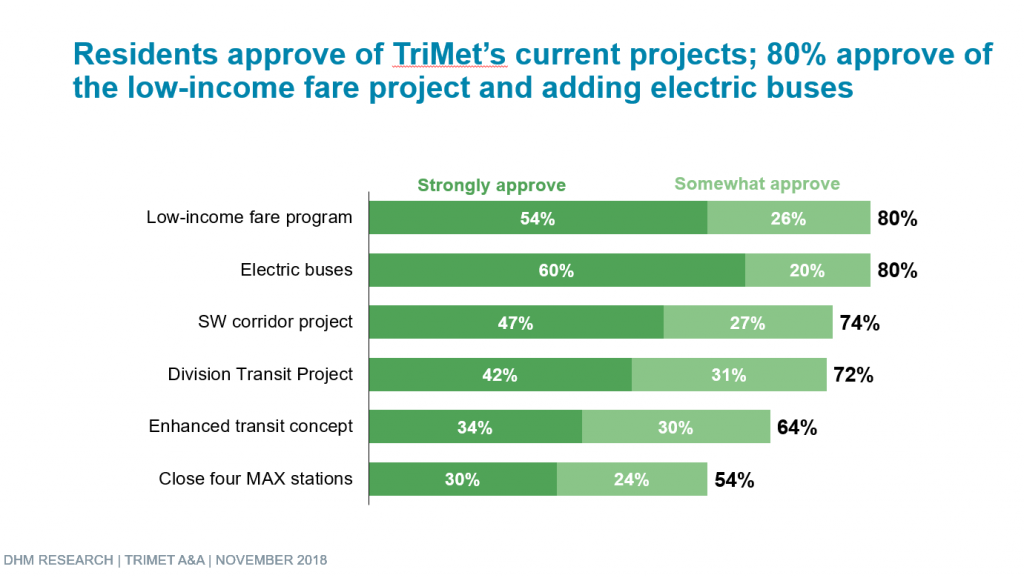 Congestion concerns
Traffic congestion is the top transportation concern, followed by the need for road expansion and repairs.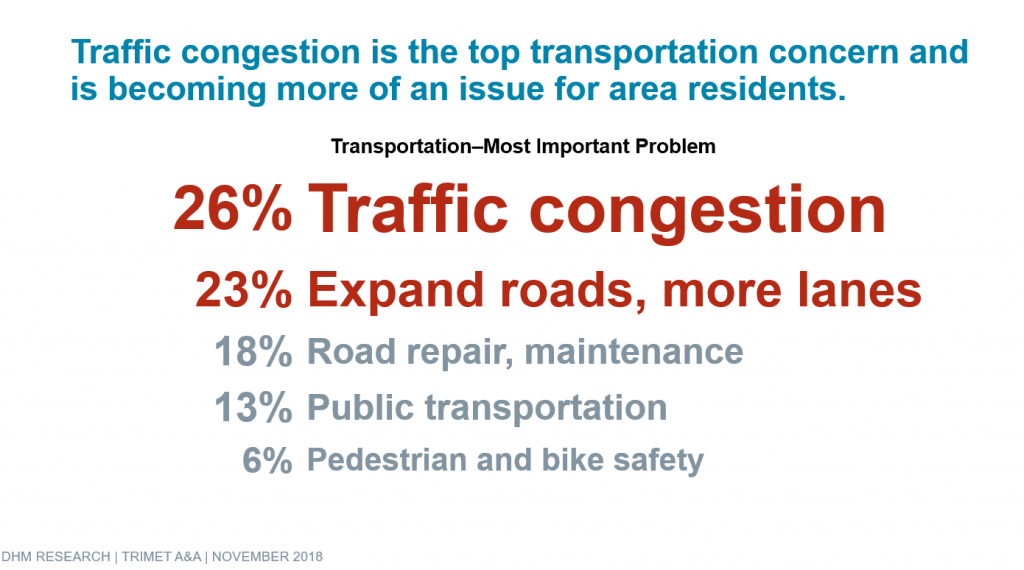 About the survey
DHM Research conducted TriMet's annual Attitude & Awareness Survey of 807 residents in the TriMet service district by telephone, between November 14 and 26, 2018. Forty-six percent resided in Multnomah County, 31 percent in Washington County and 23 percent lived in Clackamas County. Quotas by county, age and gender were used for a representative sample. The margin of error is +/- 3.5 percent at a 95 percent confidence level.