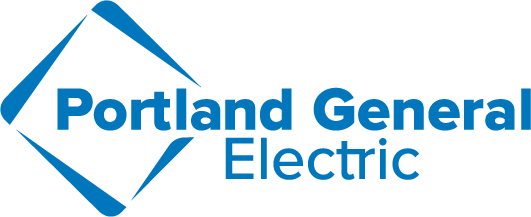 TriMet partners with Portland General Electric for a cleaner future with official launch of zero-emissions bus technology
In what is believed to be a transit industry first in the United States, TriMet's all-electric buses will be powered by 100 percent wind energy. TriMet and project partner Portland General Electric made the historic announcement on Tuesday, April 16, 2019. As Oregon's largest transit provider, TriMet has committed to a non-diesel bus fleet by 2040. The initial journey toward a non-diesel fleet now begins with battery-electric buses that will be powered by PGE's Clean Wind℠ renewable energy program.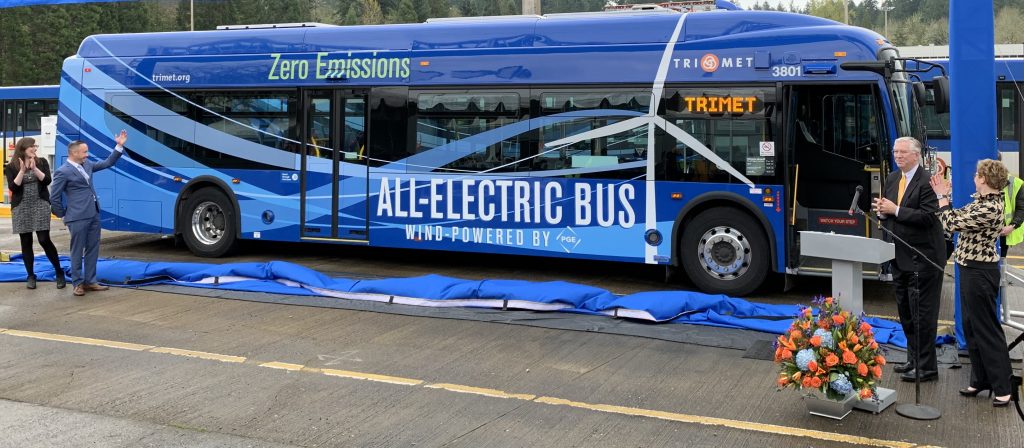 "Today, we are riding the winds of change. TriMet's commitment to a zero-emissions bus fleet by 2040 and support of wind power put the agency and our region at the forefront of a cleaner future."

Doug Kelsey,TriMet general manager
"We are proud to support TriMet's work to electrify transportation across our region. Powered by wind, this all-electric bus line is a sustainable transportation option for the community and another step closer to a clean energy future for Oregon."

Maria Pope, PGE president and CEO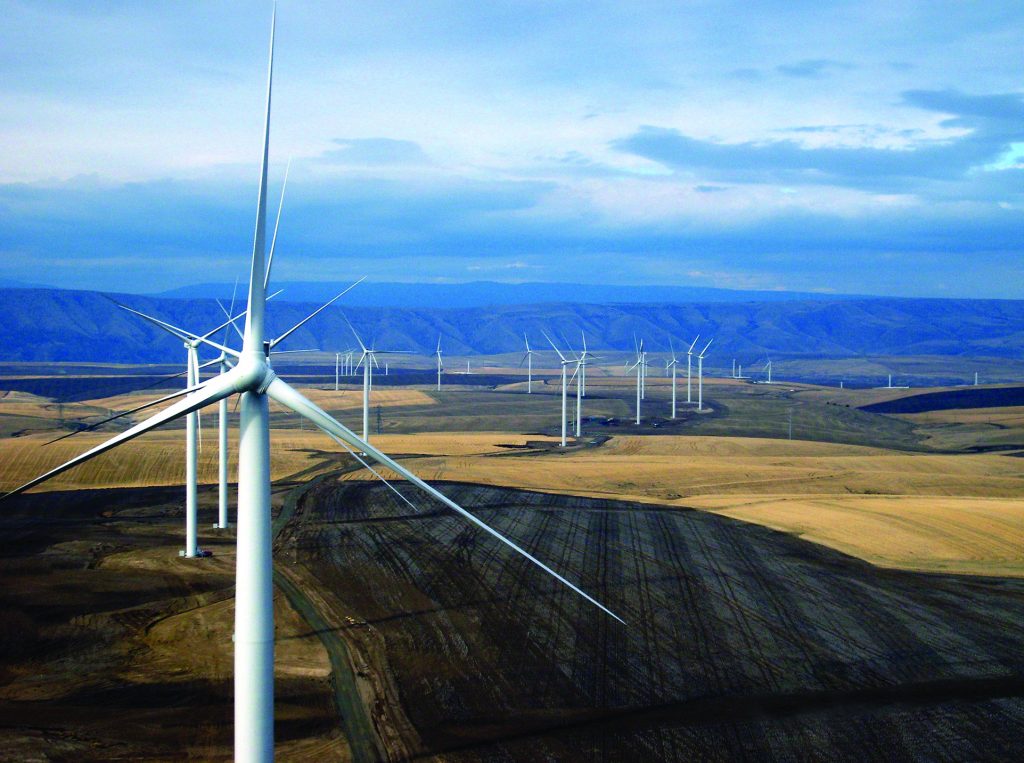 Fleet transition begins with official launch of first all-electric bus
TriMet's Board of Directors, on Sept. 26, 2018, approved the agency's ambitious plan to transition to a clean energy bus fleet. That transition begins on April 19, 2019, with the official launch of TriMet's first all-electric bus. The New Flyer Xcelsior CHARGE™ zero-emission bus has been conducting some initial testing in revenue service since early March. It will soon be joined by four matching electric buses, all of which will run on TriMet Line 62-Murray Blvd in Washington County, and all powered by renewable wind energy.
Reducing carbon emissions for a cleaner air future
As Oregon Governor Kate Brown has made climate action and a reduction in greenhouse gas emissions a priority for the state, TriMet's launch of battery electric buses is a critical first step to a green bus fleet.
"Zero emission transit is Oregon's best strategy to address greenhouse gas emissions from the transportation sector that are contributing to climate change," said Transportation Policy Advisor Brendan Finn. "Governor Brown is pursuing every avenue to reduce carbon emissions while supporting long-term economic growth, and she applauds TriMet and PGE for this groundbreaking effort."

Brendan Finn, Governor Brown's transportation policy advisor
"Shifting from fossil fuels to clean energy is essential to addressing the climate crisis, and it's exciting to see TriMet begin to phase out their diesel bus fleet. These electric buses are a tangible step toward a cleaner, more sustainable future for our region."

Meredith Connolly, Climate Solutions Oregon director
TriMet's electric buses have electric motors powered by energy stored in rechargeable battery packs instead of combustion engines fueled by diesel. These buses will reduce greenhouse gas emissions by about 100-140 tons per year compared to a 40-foot diesel bus and about 75 tons per year compared to TriMet's eight diesel-hybrid buses. Like our current hybrid buses and select MAX trains, the electric buses have regenerative braking. This means when the vehicle slows, kinetic energy is captured and can be used immediately or stored in the battery for later use.

TriMet already helps reduce carbon emissions every time a person chooses to ride our transit service over driving their car. In fact, we estimate that TriMet eliminates about 210,000 car trips every day. That reduces carbon emissions by roughly 57 percent compared to a single occupant vehicle and offsets the diesel emissions from our buses by roughly 21,000 metric tons per year.
Cleaner air outside, improved ride inside
Our electric buses will run much quieter than standard diesel buses. Without a rumbling engine, you'll notice less noise and a smoother ride. The buses are equipped with all of the features TriMet riders have come to expect, including accessibility with low-floor boarding and extension ramp, climate control and seating for up to 40 people. The electric buses will come with an adjustable safety panel around the operator's seat to provide security for our drivers while they control the bus as well as closed-circuit security cameras.
Federal funding + Keep Oregon Moving Act to fuel conversion
TriMet's first five battery-electric buses come thanks to a $3.4 million federal grant, plus an innovative partnership with PGE. The grant from the Federal Transit Administration (FTA) Low and No Emission (Low-No) Vehicle Deployment program initially paid for four buses. Under the PGE partnership, the utility will own and maintain the electric charging equipment. The savings from the partnership allowed TriMet to purchase a fifth bus, with more electric buses coming down the road. In August 2018, TriMet received a second FTA Low-No grant that will provide five additional electric buses.
In addition to these initial 10 electric buses, TriMet plans to purchase up to another 80 electric buses over the next five to six years with $53 million in funds generated by the Keep Oregon Moving Act. These first zero-emission buses will run in predominately low-income and minority communities.
Testing cutting-edge bus technology
The technology for battery electric buses is still emerging. Over the next five years, TriMet will put the electric buses through real-world testing in hilly terrains and local traffic conditions. We'll evaluate performance, cost and reliability of the buses and determine whether to accelerate our transition, slow it down or increase testing of other technologies and alternatives, including potentially hydrogen and renewable natural gas.
About TriMet
TriMet provides bus, light rail and commuter rail service in the Portland, Oregon, region. Our transportation options connect people with their community, while easing traffic congestion and reducing air pollution — making our region a better place to live. Visit trimet.org to plan your trip, check the arrival time of your bus or train, and get more information about our transit agency.
About Portland General Electric Company
Portland General Electric (NYSE: POR) is a fully integrated energy company based in Portland, Oregon, serving approximately 885,000 customers in 51 cities. For more than 125 years, PGE has been delivering safe, affordable and reliable energy to Oregonians. Together with its customers, PGE has the No. 1 voluntary renewable energy program in the U.S. With approximately 3,000 employees across the state, PGE is committed to helping its customers and the communities it serves build a clean energy future. For more information, visit portlandgeneral.com/cleanvision.
About New Flyer
New Flyer is North America's heavy-duty transit bus leader and offers the most advanced product line under the Xcelsior® and Xcelsior CHARGE™ brands. It also offers infrastructure development through New Flyer Infrastructure Solutions™, a service dedicated to providing safe, sustainable, and reliable charging and mobility solutions. New Flyer actively supports over 41,000 heavy-duty transit buses (New Flyer, NABI, and Orion) currently in service, of which 7,300 are powered by electric motors and battery propulsion and 1,600 are zero-emission. Further information is available at www.newflyer.com.