TriMet joins transit agencies across the U.S. in reminding riders that Monday, March 18 is Transit Driver Appreciation Day
Monday, March 18 is Transit Driver Appreciation Day. It's a day set aside by transit agencies across the country to show appreciation for the bus and train operators who keep us moving. Here in the Portland area, TriMet's riders already share a unique culture of gratitude. Just about every time you ride the bus, you'll hear riders thank their operator on the way out the door. On Monday, we're asking all riders to make a point of saying thanks – whether you're taking the bus or the train, WES Commuter Rail or LIFT Paratransit Service. Working with the public and being acknowledged are some of the top reasons why our operators say their work isn't just a job… It's the best job they've ever had.
TriMet light rail operator, Sher Kendell
Sher Kendell has been a TriMet employee for about six years. She currently works as a light rail operator and rail training assistant. Sher never expected to work in public transit, but the opportunity presented itself shortly after she moved to Portland.
"One day I was going down Burnside," said Sher. "I saw the light rail trains, and I said that's what I want to do."
Sher had family members and friends who had worked for TriMet. They told her that if she wanted to operate a MAX train, she'd have to drive a bus first.
"So I said, okay, I'll go drive a bus," said Sher, "just so I could do this."
With hard work, determination and a lot of training, Sher found herself at the controls of a MAX train just four years later.
"It's exhilarating," she said of becoming a rail operator. "It's fun, and it's not something you get to do in any other aspect of your life. I find so much joy in it."
Nothing says a job well done, said Sher, more than a rider going out of their way to recognize her work.
"I find it satisfying when I see someone get off my train, and they walk to my cab and give me a thank you wave. Then I know that I did them a good service." Sher takes pride in what she does and the role she plays in getting people where they need to go, safely and smoothly. "They'll say, 'Hey, that was the best ride I've had,'" she remembered with a smile.
Showing your appreciation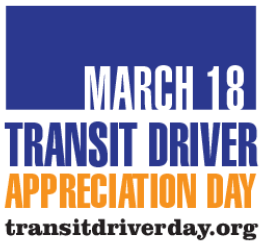 Our operators are out there day after day, but Transit Driver Appreciation Day comes just one day each year. We ask our riders and everyone in the greater Portland-Vancouver metro area to take a moment on Monday to show you care and that you value a service that keeps people moving – to jobs, schools, appointments and more while helping to strengthen the economy, decrease congestion, improve the environment and build our community.
Share a smile, a friendly wave or simply say thanks. You can also leave a commendation when you call 503-238-RIDE, text 503-238-7433 or tweet @trimethelp. We've built a special webpage at trimet.org/tdad where you can leave a kind word for your operator or post a message to social media with the hashtag, #tdad. For operators like Sher Kendell, little things like these make a difference.
"I like the 'thank yous,'" she said.
Our operators
TriMet employs more than 1,300 bus operators, 200 light rail operators and 60 operators for Portland Streetcar.