Transit-friendly holiday activities abound in TriMet's service area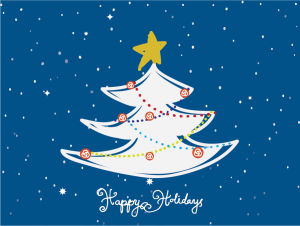 The holidays bring can't-miss activities that make celebrating the season special and unique where we live. TriMet makes it easy to experience the cheer and merriment offering safe, convenient rides that drop you close to many of the events. Use our online trip planner to plan ahead, and let TriMet do the holiday driving.
The Miracle of a Million Lights

TriMet's MAX Yellow Line can put you just a short walk away from one of Portland's most stunning light displays. The Miracle of a Million Lights at the historic Victorian Belle Mansion, is open nightly from 6 p.m. to 10 p.m. through Sunday, Dec. 23. More than a million twinkling lights decorate the house and grounds. To get there, just catch a MAX Orange or Yellow Line train and hop off at the Kenton/N Denver Ave MAX Station. From there, it's about a quarter mile walk to the mansion at 1441 N McClellan Street, where you can enjoy homemade apple cider, holiday cookies, and other refreshments while being entertained with live musical performances.
Peacock Lane
Soak in the holiday spirit as you take a stroll down Peacock Lane, Portland's Christmas Street,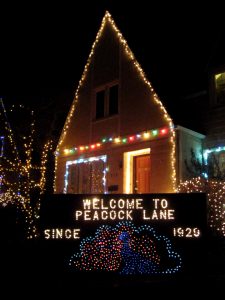 where every home is decked out top-to-bottom with holiday lights and displays. Several TriMet bus lines drop you within walking distance of the popular destination.
Line 15-Belmont/NW 23rd
Line 20-Burnside/Stark
Line 75-Cesar Chavez/Lombard
The attraction welcomes the public beginning Saturday, Dec. 15 through Monday, Dec. 31, from 6 p.m. to 11 p.m.
Ice skating, carolers and shopping in Hillsboro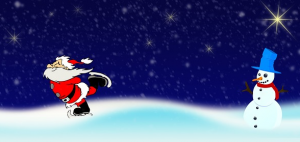 Celebrating its fourth season, Winter Village at Jerry Willey Plaza at Orenco Station, is a seasonal family centerpiece in Hillsboro. It's also just steps away from TriMet's Orenco/NW 231st Ave Station. MAX Blue Line trains serve the station every fifteen minutes or better, most of the day, every day. With the area's only open-air ice skating rink, Winter Village celebrates the holidays with carolers, dining, shopping and kids' activities, and is open through Sunday, Jan. 6.
Holiday concerts and 1.5 million more lights
Another transit-friendly destination is The Grotto's Christmas Festival of Lights. Billed as the largest Christmas choral festival in the world, it's open nightly through Sunday, Dec. 30. Two TriMet frequent service bus lines drop you just a short walk from The Grotto, and run every fifteen minutes or better most of the day:
12-Barbur/Sandy Blvd
72-Killingsworth/82nd Ave
You can also ride MAX Red Line to the Parkrose/Sumner Transit Center Park & Ride, where a free shuttle stops to take visitors to The Grotto. While there, enjoy the large light display and holiday music by many of the region's finest school, church and civic choirs.
Holiday Spirits Fest and Portland Saturday Market
Toasting during the holidays is a tradition, but please don't drink and drive. Let TriMet be your ride to and from Holiday Spirits Fest 2018 at the Portland Saturday Market on Saturday, Dec. 15 and Sunday, Dec. 16. Our MAX Blue and Red lines stop at the Skidmore Fountain MAX Station just steps from the market. The event highlights local distillers who offer free tastings along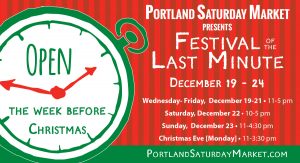 with cocktails and bottles for sale.
Transit is also a convenient option for going to the market's Festival of the Last Minute, Wednesday, Dec. 19 through Monday, Dec. 24. The open-air arts and crafts market is offering a free TriMet ticket ($2.50 adult fare) for purchases of $25 or more. Just bring your purchase to the market's red information trailer.
Be alert and stay safe during the holidays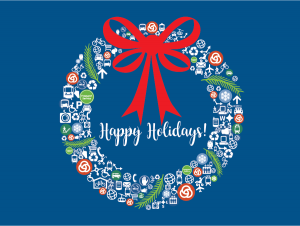 TriMet wants you to have a jolly and joyful time during the holidays, but please also be alert. Remember to take a moment, pause you devices, and look both ways before crossing tracks and streets. Make sure an umbrella, hood or other clothing doesn't block your view of approaching trains, buses or autos. At night, make sure you're visible. Wear clothing that's light colored or has reflective elements, and use safety blinking lights or carry a small safety light.