New stairway conveniently connects transit riders to the SE Tacoma/Johnson Creek MAX Station
MAX Orange Line riders have a new connection between the Springwater Corridor Trail and the SE Tacoma/Johnson Creek MAX Station. Monday, Dec. 3, TriMet opened a newly constructed stairway between the trail and a pathway 25 feet below it, which leads to the MAX station. Safety features include non-slip edging on the stair treads and steel handrails. The stairway also offers easier access to three bus lines that serve the MAX station:
The project, including shoring up the hillside, cost $192,000. While TriMet built the stairway, it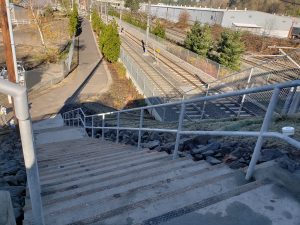 will be owned and maintained by Portland Parks & Recreation.
About MAX Orange Line
The MAX Orange Line opened Sept. 12, 2015. It runs 7.3 miles from Portland City Center to Milwaukie and Oak Grove in North Clackamas County. It was built with a deep commitment to sustainability and serves as a model for bringing principles of sustainability to future projects both inside and outside TriMet. In September 2018, the line averaged 12,870 boardings per weekday, with a ridership that continues to grow.