Elevator improvement program moves to NE 60th Ave MAX Station next
The elevator at TriMet's NE 82nd Ave MAX Station will reopen Thursday, Dec. 13, at 2 p.m., after undergoing a top-to-bottom overhaul. Crews replaced all the components of the elevator cab including electronics, mechanical and motor cooling equipment, and the control button panels and doors. We've also installed a new system to help keep the elevator equipment from overheating. The work is part of a multi-year, $22 million project to keep our elevators safe and make them more reliable far into the future.
More elevator improvements and closures ahead
With work complete at the NE 82nd Ave Station elevator, crews will move to the NE 60th Ave Station elevator for additional improvements that will enhance the major renovation done there earlier this year. The work includes installing a roof vent on the elevator building to improve air movement and help keep it cool during hot weather. We're also increasing fire safety measures by adding heat detectors at each elevator landing. After those renovations are made, we will begin work on the elevator at the Hollywood/NE 42nd Ave Transit Center in January.
Elevator improvements schedule
NE 60th Ave Station: Closed Tuesday, Dec. 18 – Wednesday, Jan. 9
Hollywood Transit Center: Closed Thursday, Jan. 10 into April
Since the elevators at these stations are the only way to get between the platform and street level other than the stairs, riders reliant on the elevator will have to adjust their trips and use another station during the work. We appreciate those riders' patience as we know the closures may create challenges. We have posted detailed directions on how to navigate around the closure at trimet.org/elevators.
Making Transit Better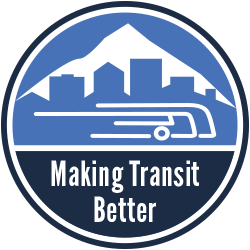 The elevator improvements are part of TriMet's commitment to make transit better. These elevators have been running since MAX service began in 1986. They are heavily used and, since they are outdoors, they are exposed to harsh weather elements. After work is completed on these elevators, we plan to upgrade three to five elevators at other stations each year in the coming years. It's part of our efforts to improve the overall rider experience, with ongoing upgrades to vehicles, stations and tracks.