Working together, TriMet and our partners have reduced delay times on some bus lines by as much as 60 percent
Some small and relatively inexpensive changes to Portland-area roads are having a big impact on TriMet's bus service. Recent transit priority projects, completed with the help of the Portland Bureau of Transportation (PBOT) and the Oregon Department of Transportation (ODOT), have reduced bus delays during peak travel times by up to 60 percent. Using simple techniques like re-configuring lanes and updating signs, buses can move through or past traffic. The improvements are the result of strategic partnerships built on a commitment to make transit better throughout the region.
"TriMet identified some key hot spots for congestion back in 2016 and shared them with the city," said TriMet Director of Planning and Policy Kerry Ayres-Palanuk. "With Portland's expected growth, we need to work together to make transit more attractive. That means speeding up our buses around traffic congestion and keeping them on time."
Little fixes, big impact
Line 21-Sandy Blvd/223rd – delays reduced up to 60 percent
Our Line 21-Sandy Blvd/223rd offers service between two busy transit centers, Parkrose/Sumner Transit Center in Northeast Portland and Gresham Transit Center. As a vital link in our system, transit centers offer a convenient location for riders to connect with additional service. When your trip includes a transfer, every minute matters. After PBOT restriped Northeast Sandy Boulevard and extended a right turn lane used by Line 21, delays on buses dropped up to 60 percent during the evening rush. With a longer turn lane, buses can bypass traffic waiting to access I-205.
Line 87-Airport Way/181st – delays reduced more than 35 percent
Line 87-Airport Way/181st travels between Gresham and the Gateway Transit Center, with service to 181st Avenue, Airport Way and 102nd Avenue. It's a line that helps our riders connect with jobs in the Columbia Corridor. We want to help them get to work on time. Back in May, PBOT redesigned an often-congested stretch of NE Holman St. Now buses bypass traffic waiting to turn on to I-205. As a result, delays to Line 87 are down more than 17 percent all day and nearly 37 percent during the evening commute.
Lines 35, 36, 54, 56 and 99 – delays reduced nearly 20 percent
Downtown Portland is a place where our service connects riders with work, school, services and entertainment. Five bus lines serve a stop on SW Harrison Street near 4th Avenue. They include Line 35-Macadam/Greeley, Line 36-South Shore, Line 54-Beaverton-Hillsdale Hwy, Line 56-Scholls Ferry Rd and Line 99-Macadam/McLoughlin. The stop is just blocks from our top destination, Portland State University, where thousands of our riders pursue their higher education goals. Before PBOT added a left turn lane, our buses were getting stuck behind vehicles turning left, sometimes for multiple light cycles. The improvements, implemented in June, decreased delays during the evening rush by 20 percent.
It's just the beginning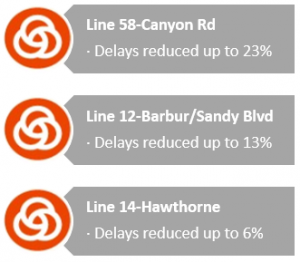 TriMet and our partners are making transit better together, and these projects are just the beginning. In the coming months, you'll see more simple fixes, and as a result, faster, more reliable bus trips. As transit use increases, congestion and air pollution decrease. So we're not only improving the ride, we're building on the livability of our community.
Regional partners, including Metro and the City of Portland are already taking steps to prioritize transit into the future. In June, city leaders adopted an Enhanced Transit Corridors plan, which identifies opportunities and strategies for improving bus speed, reliability and capacity. They are also considering a project known as Central City in Motion to improve transportation in the heart of the city. It includes investments in things like new bus lanes and crosswalks, to help buses get through traffic and make it safer and easier for riders to access our system.
If there's a spot where you see room for improvement, let us know about it. Give us a call or text us at 503-238-RIDE (7433). You can also reach us at trimet.org/customerservice or tweet us @trimethelp. As these improvements show, making transit better is a team effort, and we welcome your help.