TriMet encourages dressing bright, staying safe during dark hours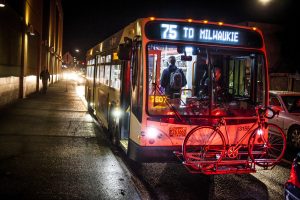 With daylight saving time ending Sunday morning, Nov. 4, 2018, TriMet reminds everybody to be extra careful and stay visible as daylight dwindles and traffic is at a peak. Whether walking, biking or driving, a few simple reminders can help keep everyone safe when it's dark.
  Stay in sight despite the night
Shine your light at night. Help our bus operators spot you at darker stops. Flashlights and wearable safety lights are simple and inexpensive ways to ensure you'll get noticed in the dark. These can be small lights that clip to your clothes, hat, bag and bike. Keeping a small flashlight or using a light on your phone works too. Please be careful not to shine it directly at the operator.

Brighten your outerwear. Research shows a pedestrian in dark clothing will not be seen by a driver until they are 55 feet away, giving the driver less than one second of reaction time. Be visible and wear light-colored clothing or a bright coat when walking or biking during dark hours. Light, bright accessories such as hats, gloves, scarves, shoes and backpacks will also boost your visibility.
Be reflective. Studies show the risk of being hit by a driver in the dark is considerably lower when wearing a safety reflector. Many clothing items have reflective elements. Reflective tape and stickers are inexpensive and can be purchased at most retail and sporting goods shops. They're also easy to tuck away in a purse or pocket until you need them.
Be aware, be alert, be safe
A study conducted at Carnegie Mellon University found pedestrians are nearly three times more likely to be struck and killed by vehicles in the days following the end of daylight saving time than in the days just before the time change. Take a moment when crossing streets or tracks to be alert and stay safe. Look up from your phone, remove an earbud if you're listening to something, and look and listen for oncoming vehicles.
Night Stop gets you closer to your destination
TriMet's Night Stop program allows our bus operators to drop you off along the route between stops – if it is safe to do so. Here's how Night Stop works:
Between 8 p.m. and 5 a.m., in neighborhoods outside Portland City Center and the Lloyd neighborhood, just ask your operator if they can drop you off at a non-designated stop along the route.
Be sure to make the request a block or two ahead of where you would like to get off the bus.
The operator will determine if there is a safe place to stop and let you out.
If the bus turns left in the same block as the requested stop, the drop-off will be after the turn is made.
A culture of safety
TriMet's core value is safety and it guides each decision we as an agency make. Our buses and trains pick up riders more than 300,000 times a day. Help our operators help you. While our operators are constantly looking and scanning, please obey signals and signs, and make sure you're visible whether crossing streets or tracks, or standing at a stop or station.