LIFT offers door-to-door transit service for people who are unable to use TriMet buses and trains due to a disabling health condition
TriMet provides transit service to get anyone, no matter their ability, where they need to go. Our transit service is one of the reasons The Insider, this year, named Portland one of the ten best U.S. cities for wheelchair-accessible travel. All of our buses and trains are accessible, and for those who are experiencing a disability or a disabling health condition that keeps them from riding our fixed route service, our LIFT paratransit service is a lifeline. LIFT is a door-to-door transit service, available to individuals who are unable to access or ride our buses and trains. It is operated by First Transit, in partnership with TriMet. Every year, more than a million rides are taken on LIFT. With LIFT, our riders enjoy greater independence and a stronger connection to their communities and the world around them.
Oralia's story
81-year-old Oralia Vendrell is new to LIFT. The former nurse, who grew up in Eastern Oregon, drives only short distances and often relies on her adult children for help getting around. "They're real good at taking me places," she said, "but sometimes I feel like I need to do things on my own. My health is declining, and I feel that I need a little help. I thought that maybe using the LIFT would give me more freedom."
Oralia lives in an affordable housing complex for seniors in Northeast Portland. Since moving to the area, she's taken a few rides on TriMet buses, but her daughter always traveled with her. "They feel that I can't go by myself on the bus," she said.
Over the summer, Oralia was sitting outside her apartment with a resident who uses LIFT regularly. She decided to ask how to get onboard. "She told me the driver carries cards, so why not take one from him. When he was helping her get on the bus, I asked him if he had any business cards. He gave me one, and that's how I got started."
Transit Mobility Center
Before she could take her first ride, Oralia needed to qualify. Because our buses, MAX and WES trains are fully accessible to seniors and people with disabilities, LIFT eligibility must be pre-determined. The application process includes an in-person interview and assessment at TriMet's Transit Mobility Center. The purpose is evaluate the best transit option based on an individual's abilities. Travel training is available for those who don't qualify to use LIFT, through our partners at Ride Connection.
The Mobility Center features a number of scenarios that simulate activities like crossing the street, waiting at a bus stop, boarding a bus and purchasing fare. It also tests a prospective rider's ability to safely navigate uneven sidewalks, gravel pathways, ramps and curbs. "I used my cane, and they put me through some obstacle courses," Oralia said. "Everybody was really nice, very accommodating. I had a good experience there."
Oralia qualified and started planning her first trip. She needed to pick up a prescription. She also plans to use LIFT for doctor's appointments and trips to the grocery store. Advance reservations are required to use LIFT. Riders understand that to accommodate other passengers, LIFT vehicles may stop and travel in other directions during a trip. Pick up times may be negotiated, but may not begin more than one hour before or after a desired departure time.
LIFT offers independence
Oralia welcomes the opportunity to use LIFT. She says it helps her maintain her independence. "I come from the school that as long as you can do it yourself, as long as you can use your body and your muscles, and you're able to do things for yourself, you use them, you know. I know there may come a time when I have to be waited on, but right now, I want to do as much as I can for myself."
Commitment to accessibility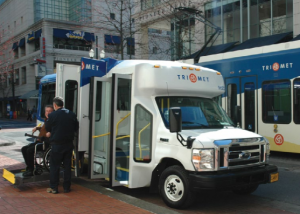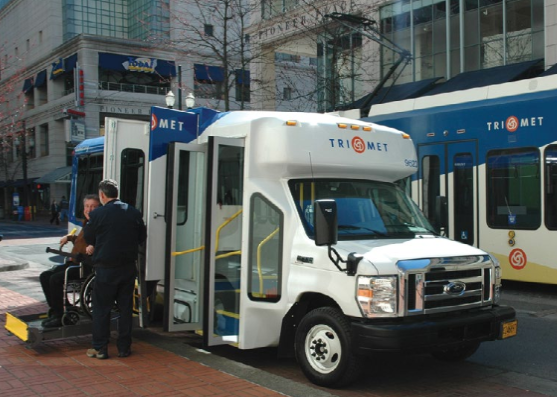 Our LIFT paratransit service meets and exceeds the guidelines of the Americans with Disabilities Act. It states in part that "no otherwise qualified disabled individual shall, by sole reason of such disability, be excluded from the participation in, be denied the benefits of, or be subjected to discrimination in programs, services or activities sponsored by a public entity". TriMet is committed to respecting the rights protected under the Americans with Disabilities Act as part of our mission to provide valued transit service that is safe, dependable and easy to use.