TriMet now offers affordable round-the-clock access to Portland International Airport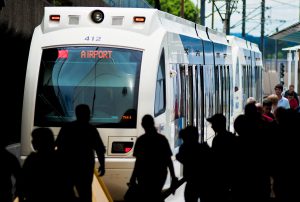 Catching a flight at Portland International Airport to join friends and family during the holidays? Let TriMet's MAX Red Line ease you through the holiday hustle and bustle. With trains providing direct service to and from the terminal about every 15 minutes most of the day, the Red Line is a simple and cost-effective way to get to PDX. Our new Line 272-PDX Night Bus, serves PDX between about 2 a.m. and 4 a.m., when the Red Line isn't running, creating a 24-hour connection to the airport. Line 20-Burnside/Stark, one of our two 24-hour bus lines, also connects to Line 272.
More MAX Red Line service for later flights
To help you get to and from later flights, TriMet's MAX Red Line provides more service this holiday season than last:
The last train from Beaverton Transit Center to PDX now leaves Beaverton at 10:51 p.m.
The last train from PDX to Beaverton Transit Center now leaves the airport at 12:26 a.m.
Later trips from Rose Quarter Transit Center to PDX depart at 11:55 p.m., 12:25 a.m. and 12:55 a.m.
Later trips from PDX to Gateway Transit Center depart at 12:56 a.m., 1:26 a.m. and 1:56 a.m.
Line 272-PDX Night Bus serves PDX between about 2 a.m. and 4 a.m. when the Red Line isn't running.
Our service runs on special schedules on holidays. Thanksgiving Day, Thursday, Nov. 22, buses and MAX will operate on Sunday schedules.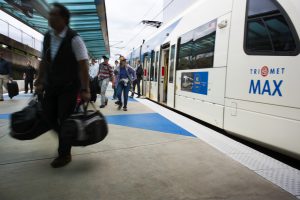 Plan ahead as several bus lines and our WES Commuter Rail do not run on Sundays. TriMet's Trip Planner and TransitTracker will be updated for trips planned for Thanksgiving Day and all other holidays. If you need help, you can reach our Rider Support team 24 hours a day via text message at 503-238-7433 and on Twitter at @trimethelp. Our staff also answers phones and will reply to your online submissions from 7:30 a.m. to 5:30 p.m. seven days a week.
MAX Red Line will keep more green in your wallet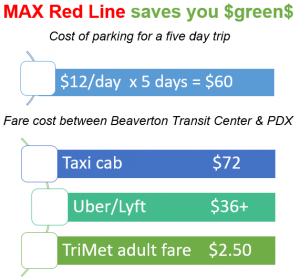 The savings add up fast when you take transit to PDX. At $12 a day, airport economy parking will cost you $60 for a five-day trip, and that's before adding the cost of gas. Also, it costs between $36 and $72 for one way rideshare and cab fare to PDX from Beaverton Transit Center. MAX Red Line costs only $2.50 for an adult fare to get you to PDX from anywhere in our system, and the same to get you home.
Tap on before taking off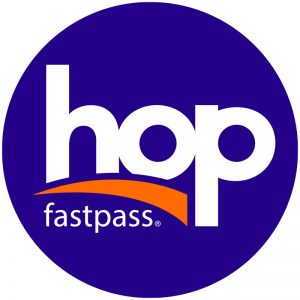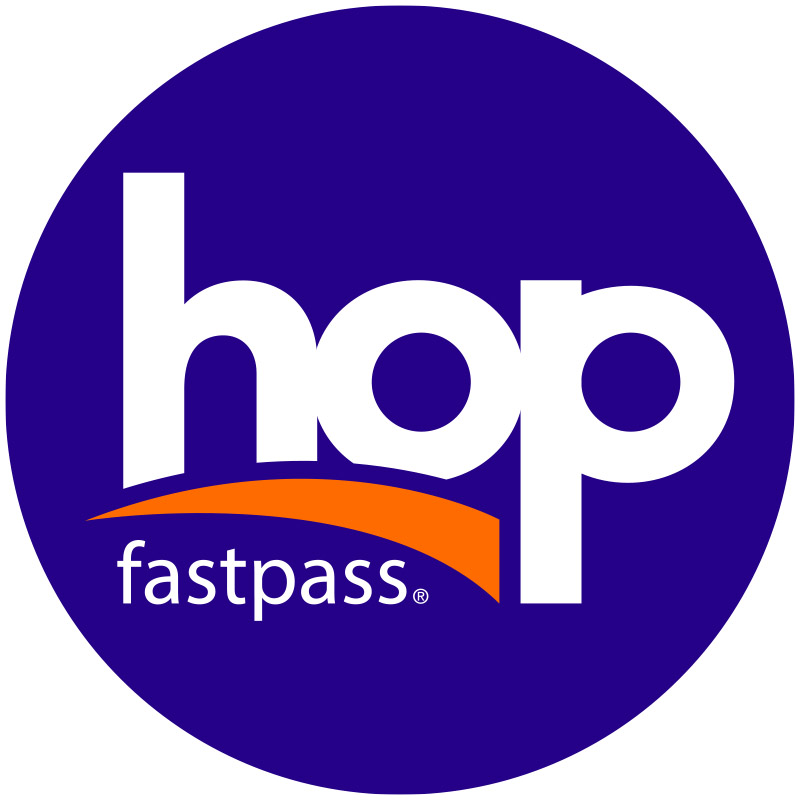 Paying fare is easy. Just use your phone equipped with a mobile wallet to tap the green Hop reader on the platform or on board the bus. You can also pick up a Hop Fastpass® card at one of hundreds of retail outlets and load money on the card before tapping the Hop reader, or buy a virtual Hop card at the Google Play store and load it into Google Pay, and tap a reader to get all the benefits of a plastic hop card. Just remember to tap every time you board, especially if you're making transfers, to validate.
TriMet connects to Union Station and Greyhound
If flying is not on your Thanksgiving itinerary, and you're taking Amtrak or Greyhound instead, TriMet can get you there also. MAX Green, Orange and Yellow lines, as well as various TriMet bus lines, serve Amtrak's Union Station and the Greyhound Bus Terminal.
About MAX Red Line airport service
More than 12,000 trips are taken each week on TriMet's MAX Red Line to and from Portland International Airport, It was the first train-to-plane connection on the West Coast. The Red Line serves more than 20 stations between Beaverton and the airport. Transfer between the Red Line and other MAX or bus lines at Pioneer Courthouse Square, Rose Quarter Transit Center, Gateway Transit Center, or other stations.