Some new rails in place, stations getting spruced up right on schedule
Work is going smoothly on TriMet's Hillsboro MAX Improvements project. During the first week of the MAX Blue Line disruption, crews removed and replaced a large section of rail and embedded it in concrete. They also installed five new electric switch machines as part of a complex network of track called a "double crossover." Signals equipment was upgraded, and we continue repairing the road surface along the track.
MAX stations getting some TLC
The four MAX stations that we closed through Downtown Hillsboro are also getting some attention. We're replacing the bumpy white warning strips at three of the stations with new strips that are more durable and easier to repair.. We're also cleaning station roofs, touching up paint, installing new lighting and completing minor repairs.
Making transit better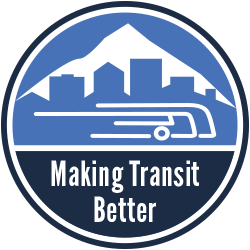 Hillsboro MAX Improvements began Monday, Sept. 17.The current, two-week disruption to the MAX Blue Line will continue through Saturday, Oct. 27. We'll keep working for another week after that, but MAX trains will start rolling through downtown Hillsboro again on Oct. 28. We're working to complete as many improvements to the MAX system as we can during these major track projects while minimizing – as much as possible – the inconvenience to our riders. Thank you for your patience as we work to make transit better.