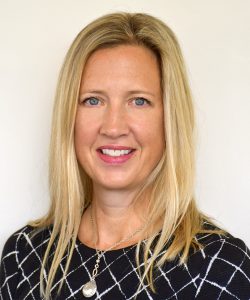 TriMet's Kimberly Sewell has been promoted to executive director of the Labor Relations & Human Resources Division. Sewell moves into the role from TriMet's Legal Services Division and takes over for the outgoing executive director, Randy Stedman, who will be retiring.
"Kim is an accomplished attorney and has been a top performer at TriMet," said TriMet General Manager Doug Kelsey. "She has provided leadership and direction to the legal team, collaborated with directors and managers throughout the agency, and successfully represented TriMet's interests and those of our employees in the courtroom."
Sewell has been with TriMet for 16 years. She served as our director of legal services for the past seven years and, prior to that, was TriMet's deputy general counsel. In her roles in the Legal Services Division, Sewell has developed a keen insight and understanding of employment and labor laws. She worked closely with the Labor Relations team, representing TriMet before the Employment Relations Board, resolving grievances, interpreting contracts and participating in negotiations and mediations.
Sewell also provided critical guidance to TriMet's Human Resources team. She helped establish TriMet's workers' compensation program, assisted on development of HR policies and procedures, and advised the agency on state and federal employee rights and equal employment opportunity laws.
"As TriMet expands the service we provide to our community, I look forward to leading the efforts to grow the TriMet team," said Sewell. "By attracting and retaining talented and diverse employees, we ensure a positive and productive workplace that better serves our riders and the region."
Prior to TriMet, Sewell worked as a staff attorney at Allstate. She served as a judicial clerk with Multnomah County and a legal intern at Portland's Federal Courthouse. Sewell received her Juris Doctorate from the University of Oregon's School of Law in 1996 after graduating from Long Beach State University. She is a member of the Oregon Public Employer Labor Relations Association and the Multnomah Bar Association.
Sewell enjoys mentoring young professionals and recently represented TriMet at the International Youth Leadership Conference. Her promotion is effective today, Thursday, Oct. 4.