What TriMet riders need to know as construction shifts into high gear October 13-27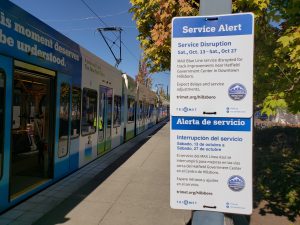 TriMet's Hillsboro MAX Improvements, underway for the past three weeks, shift into high gear in just a few days. MAX Blue Line service will be disrupted between Hatfield Government Center and Fair Complex/Hillsboro Airport MAX stations from Saturday, Oct. 13 through Saturday, Oct. 27. Unlike major projects in the past, this disruption will have less impact on riders but the benefits of the project will help improve the reliability of the MAX system and the experience for riders in Hillsboro. TriMet staff spent the past nine months developing plans to keep our riders moving during the construction.  We appreciate our riders' patience while we work to improve the MAX system.
What riders need to know
MAX Blue Line will be disrupted in Downtown Hillsboro between Saturday, Oct. 13 and Saturday, Oct. 27.
Shuttle buses will be serving stations between Hatfield Government Center and Fair Complex/Hillsboro Airport.
Plan an extra 10-15 minutes for trips.
Shuttle bus trips between Hatfield Government Center and Fair Complex are expected to take about 8-10 minutes longer than train trips, and less for stations closer to Fair Complex.
Buses will be timed to coincide with trains at Fair Complex, as much as possible.
Some MAX Blue Line schedules slightly changed October 13-27.
No other MAX lines affected.
The Fair Complex Park & Ride may fill up.
Use TriMet's online trip planner or contact our Rider Support for help navigating the disruption.
Learn more at trimet.org/hillsboro.
Keeping riders moving
While the bulk of the Hillsboro MAX Improvements will be done during the two weeks that trains don't run through Downtown Hillsboro, planning for the construction and the efforts to keep riders moving during that time started long ago. Money was earmarked for the improvements four to five years back. New curved rail, special trackwork, switch machines and the materials for other improvements was ordered starting 2 years ago. Staff began meeting in January 2018 to determine the best service plan during the MAX disruption, one that is safe for our riders, employees and the public. That involved work groups from throughout the agency coordinating vehicles, routes, personnel needs, communication and more. We took buses on the street to test the shuttle bus route and get stops as close as possible to the closed MAX stations. We did two overnight run-throughs at the Fair Complex station to make sure we could
turn trains there efficiently and safely, using the switches that allow trains to move from one set of tracks to another. Staff created brochures and signs to help inform riders and extensive public outreach was done. All the careful, in-depth planning ensures the safe, successful operation of the project from beginning to end.
Making Transit Better
The Hillsboro MAX Improvements is just the latest project to make transit better. In May, 2018, we completed similar improvements in the Providence Park area. In 2016 and 2017, we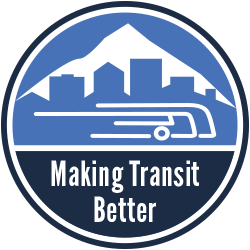 SW 11th Avenue, along 1st Avenue in Portland City Center and at the Rose Quarter Transit Center. We appreciate our riders' patience and understanding as we work to improve the MAX system and their ride.