Seven-week project will require traffic detours starting Monday, Sept. 17, MAX Blue Line disruption in October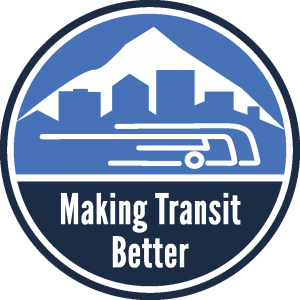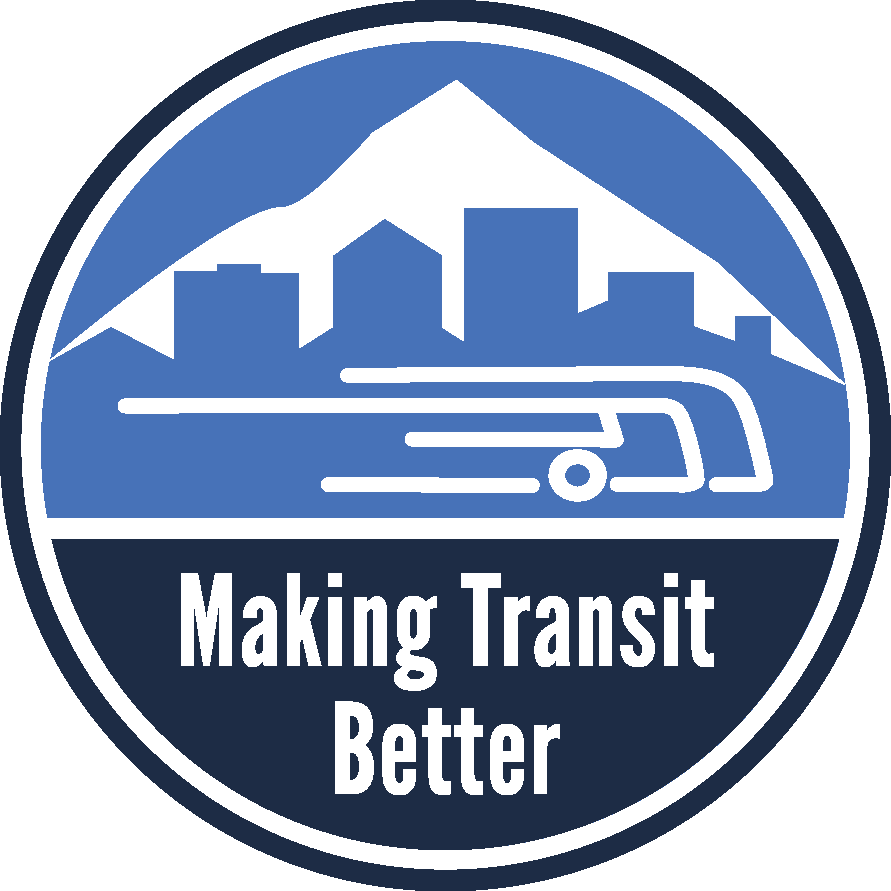 TriMet's Making Transit Better efforts move to Hillsboro, with a project unlike any other we've done. The Hillsboro MAX Improvements will revitalize the MAX system in Downtown Hillsboro – with work across more than one mile. Crews will complete a range of improvements from replacing sections of rail to improving the track bed, from installing new switch machines to upgrading equipment for the signal system, from replacing surface tiles at four stations to repairing roadway near the rails at three rail crossings.
The work will improve reliability and provide a smoother and better ride for MAX riders. It will also benefit pedestrians, cyclists and auto drivers. To complete these major improvements, we are taking a new approach with the project starting Monday, Sept. 17 and stretching over seven weeks, but only requiring a two-week disruption to MAX service, from Saturday, Oct. 13 through Saturday, Oct. 27. Despite the disruption, the project will have less impact on riders than past projects have as we will not need to reduce train service.
Traffic impacts Sept. 17 through Nov. 3
Beginning Monday, Sept. 17 through Saturday, Nov. 3, the eastbound lane of Washington Street will close between SW Adams and S 1st Avenue. Then, on Friday, Oct.12, the westbound lane of Washington will also close in that block through Saturday, Oct. 28. There will be other intermittent lane closures on SE 3rd Avenue at Washington between Tuesday, Oct. 9 and Wednesday, Oct. 17. Work will generally take place between 7:00 a.m. and 10:00 p.m., but may continue overnight. While track improvements are underway, crews will upgrade safety tiles at the closed stations and give the stations a deep cleaning. Learn more about traffic impacts, construction hours and possible noise in the area at trimet.org/hillsboro/closures.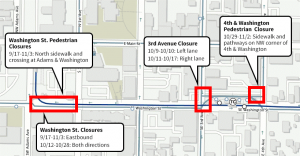 MAX Blue Line disruption Oct. 13 through Oct. 27
The Hillsboro MAX Improvements will require about three times as much work as our Providence Park MAX Improvements just completed in May that disrupted MAX Blue and Red Line service for one week. It'll also be one of the most complicated projects we've done yet as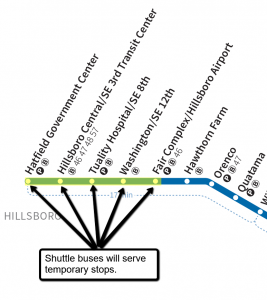 part of our ongoing program to replace and update sections of track. During the Hillsboro project, MAX Blue Line will be disrupted from Saturday, Oct. 13 through Saturday, Oct. 27. Fair Complex/Hillsboro Airport MAX Station will temporarily be the end of the line for MAX trains, and shuttle buses will serve temporary stops near the following stations:
Hatfield Government Center Station
Hillsboro Central/SE 3rd Transit Center
Tuality Hospital/SE 8th Ave Station
Washington/SE 12th Ave Station
Fair Complex/Hillsboro Airport Station
Plan ahead for minor delays during disruption
While the Hillsboro MAX Improvements will involve more work than other projects, it will have less impact on riders. MAX trains will continue to run with the same frequency as today. Shuttle buses also will be timed to coincide, as much as possible, with trains arriving and leaving the Fair Complex station. Riders who use the MAX Blue Line in Downtown Hillsboro should plan a little extra time for their trips during the closure in mid-October. Trips may take an extra 15 minutes due to transfers and shuttle buses mixing with other traffic. We thank our riders as well as neighbors nearby the construction, for their patience and understanding while the improvements are made.
Making Transit Better
We at TriMet continuously work to improve the reliability and resiliency of our bus and rail systems while growing our service and enhancing the customer experience. Since 2016, we have completed major track, rail and switch improvements on SW Morrison and Yamhill streets at SW 11th Avenue, along 1st Avenue in Portland City Center and at the Rose Quarter Transit Center – a project that improved the signal system and adjusted the track alignment going into the transit center – and on SW 18th Avenue alongside Providence Park Stadium.
TriMet staff work diligently to complete as many improvements to the MAX system as we can during these major track projects while minimizing – as much as possible – the inconvenience to riders. Thanks for your patience as we work to make transit better.
###