Special events and added qualification sites sign up riders for reduced Honored Citizen fare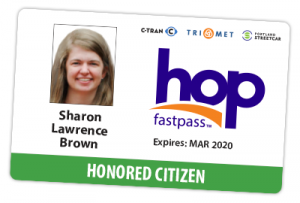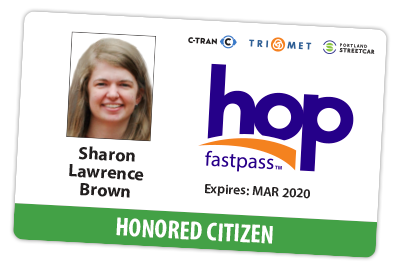 Since riders who make a low-income began qualifying for TriMet's reduced Honored Citizen fare in July, more than 2,600 people have taken advantage of the opportunity. This month, TriMet and our community partners are teaming up to help more riders who are struggling financially. We're holding events and adding locations where people can sign up for the greatly reduce fare. Honored Citizen riders pay half the price of an Adult 2½-Hour Ticket and less than one-third the price of an Adult 1-Month Pass.
Honored Citizen changes
On July 1, TriMet expanded our Honored Citizen fare program to allow qualification based on low income level, as well as age, disability and Medicare enrollment. The change means Oregon residents, ages 18 to 64, who earn up to double the federal poverty level qualify for a reduced fare. Eligibility can also be based on current enrollment in a qualifying program, like the Oregon Health Plan.
Once income is verified, applicants receive a receipt to take to the TriMet Ticket Office, where they get a personalized Honored Citizen Hop Fastpass™ ID card. Money can be loaded on to the card at the ticket office and savings begin immediately.
Hop makes riding transit even more affordable and equitable with passes earned as you ride and other cost-saving features. With Hop, you always get the best fare, never pay for rides you don't take and don't have to pay for a month pass upfront.
Ready to sign up for TriMet's Honored Citizen fare?
Those who make a low income and are interested in signing up for TriMet's Honored Citizen fare should attend one of the events listed below or visit one of TriMet's community partners during regular business hours. A government-issued I.D. and proper documents to verify income will be needed when applying. Get more information at trimet.org/lowincome. While this events will register those who qualify for the Honored Citizen fare based on their income, others who are 65 or older or who have a disability can learn how to sign up for the program at trimet.org/honoredcitizen.
Saturday, Sept. 8
9:00 a.m. – 3:00 p.m.
IRCO Community Health Fair
10301 NE Glisan St., Portland
Saturday, Sept. 15
12:00 p.m. – 6:00 p.m.
"El Grito" Community Celebration
Shute Park
750 SE 8th Ave., Hillsboro
Monday, Sept. 17 – Friday, Sept. 21
12:30 p.m. – 6:00 p.m.
PSU Campus Transportation and Parking Services Lobby
1812 SW 6th Ave., Portland
Saturday, Sept. 22
9:00 a.m. – 3:00 p.m.
PSU Campus Transportation and Parking Services Lobby
1812 SW 6th Ave., Portland
Monday, Sept.24 – Friday, Sept. 28
12:30 p.m. – 6:00 p.m.
PSU Campus Transportation and Parking Services Lobby
1812 SW 6th Ave., Portland
Saturday, Sept. 29,
9:00 a.m. – 3:00 p.m.
PSU Campus Transportation and Parking Services Lobby
1812 SW 6th Ave., Portland