Resolution passes recommending Metro adoption of Locally Preferred Alternative
A proposed light rail line serving the bustling, and growing, Southwest Corridor is years away, but the route the trains would run through southwest Portland, Tigard and Tualatin is coming into focus. The TriMet Board of Directors approved a resolution on Wednesday, Sept. 26, 2018, recommending that the Metro Council adopt the Locally Preferred Alternative (LPA) for that route.
High-capacity transit for fast growing region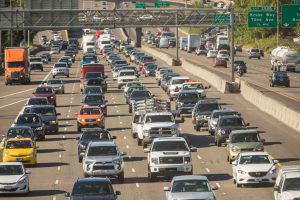 The Southwest Corridor Light Rail Project will create improved connections to some of the region's fastest growing communities and ease traffic congestion. It will link with the MAX Light Rail System in Downtown Portland, providing new access to opportunities throughout the metropolitan area.
The corridor is home to more than 10 percent of the region's population, with more than 70,000 new residents and 65,000 new jobs expected by 2035. It struggles with major traffic congestion along I-5 and Barbur Boulevard – and that congestion is expected to double in the next 20 years. Light rail will speed up commutes, connect people with new jobs, get students to schools and training opportunities and improve safety for people walking, biking and driving.
"This project extends frequent, high-capacity transit into a corridor that needs it today and will need it even more in the future," said TriMet General Manager Doug Kelsey. "Project partners and community members have worked long and hard to reach this moment. This is a demonstration that together we can work to substantially improve mobility throughout the Southwest Corridor."
Locally Preferred Alternative route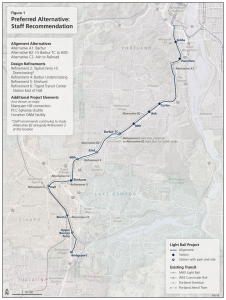 The preferred route for the Southwest Corridor Light Rail Project stretches 12 miles between Downtown Portland and Bridgeport Village in Tualatin. The LPA route features 13 potential stations and as many as seven Park & Rides with up to 3,500 parking spaces. It also allows for two miles of shared transitway for future express bus service. Project partners, including ODOT, Metro, Washington County, the cities of Portland, Tigard and Tualatin and others, determined the proposed route based on the Draft Environmental Impact Statement and community feedback. Among the factors that led to the creation of the route:
Serving future growth areas
Reducing impacts to existing housing and businesses
Reducing travel time for efficient transit operations
Safety for all modes of transportation
Cost
The expected $2.4-2.8 billion project will be funded with a number of sources, including a grant through the Federal Transit Administration's competitive New Starts program.