MAX lines make around 300 daily stops at Oregon Convention Center
Let TriMet beam you to Portland's premier pop-culture party, Rose City Comic Con, to catch all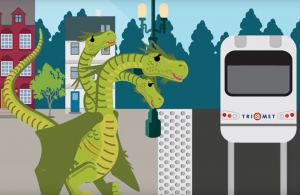 the costumes, exhibits, sci-fi superheroes and movie stars. The event will pack the Oregon Convention Center with an estimated 65,000 fans from Friday, Sept. 7, through Sunday, Sept. 9. Avoid  parking hassles and let TriMet teleport you right to the convention center's front door.
Transit delivers curb service to Comic Con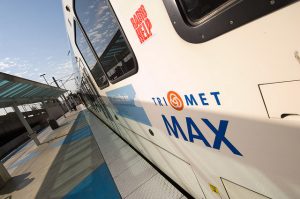 TriMet's MAX Blue, Green and Red lines combine to stop around 300 times a day at the Convention Center MAX Station. Our MAX Yellow Line also stops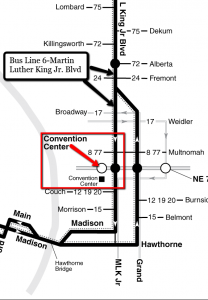 at the nearby Interstate Rose Quarter MAX Station, about a quarter-mile away. Our southbound Line 6-Martin Luther King Jr Blvd buses stop at the convention center's MLK lobby entrance. Also, Portland Streetcar's A Loop stops at the MLK lobby entrance every 15 minutes, and its B Loop stops just one block east of that.
Whether visiting from galaxies near or far, get help planning your trip
Our online trip planner can help you get to Comic Con from anywhere in the TriMet universe, with information on travel and walk times, transfers and cost. TriMet also has free Park & Rides where you can leave your car and easily connect with buses and trains.
Bring your fare and Hop your way to Comic Con
Taking TriMet is economical. A day pass costs $5 for adults and $2.50 for youth (ages 7-17) and honored citizens (ages 65+). Children six years and under ride free. Your fare is also accepted on C-TRAN and Portland Streetcar.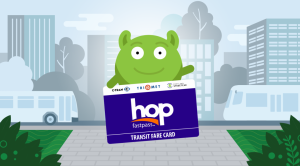 TriMet's Hop Fastpass™ offers several ways to pay. If you have a mobile wallet (Apple Pay, Google Pay or Samsung Pay), you can simply tap the green Hop reader on our buses or at rail stations with your phone to purchase Adult fare. It's a convenient option for those who only ride occasionally.
Frequent riders should opt for a Hop card. You can buy one at nearly 500 retail locations. Load money on it then tap and go. Plus, earn day and month passes as you ride! Learn more. You can also buy a virtual Hop card and load it into Google Pay. Tap your Android phone to a reader and get all the benefits of a plastic Hop card.
Enjoy your ride, have fun at Rose City Comic Con!
Once you hop off your TriMet ride at the Rose City Comic Con, we want you to have a blast! With hundreds of exhibitors and celebrity guests, the locally produced event is promising an out-of-this-world experience in a fun and family-friendly environment. When you're done with the fun, hop back on TriMet and relax as our operators get you safely back home.