New text service gives riders discreet way to contact TriMet staff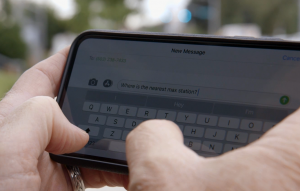 Riders with a question or safety concern can  now text TriMet – and customer service staff will be available 24 hours a day, 7 days a week to help.
TriMet is one of the first transit agencies in the country to offer a texting service to contact our Rider Support team.
Enhancing customer service and safety     
TriMet's Rider Support team members will still respond to phone calls, tweets and online inquiries from 7:30 a.m. to 5:30 p.m., seven days a week. However, the new text messaging service allows riders a quick, convenient and discreet way to ask questions or report concerns around the clock.
"Since we now have more transit service than ever before, including 24-hour service on some of our bus lines, it makes sense to have more ways for riders to reach us," said TriMet General Manager Doug Kelsey. "Adding the texting service lets riders contact TriMet when and how they choose, and we value their feedback and help keeping the system safe."
New text service, same customer service number
Riders can text with TriMet's Rider Support team members at 503-238-7433 (RIDE) – the same number used for years to call with questions, submit compliments and report issues. Staff will continue to answer phones from 7:30 a.m. to 5:30 p.m. seven days a week, and respond to online submissions and tweets to @trimethelp.
Tips for texting TriMet's Rider Support team
If it's an emergency, always call 911. If you cannot safely make a call, text 911.
For serious issues, contact the vehicle operator, if possible. MAX and WES trains have up to four emergency intercoms to reach the operator.
When texting TriMet with a security issue, share as much information as possible up front. Try to tell us the number of the vehicle you're in, the line and location, the direction of travel and a physical description if there's another individual involved.
The texting service is for more than reporting security concerns. Feel free to ask questions, share comments, or to tell us about something you think we'll want to know.
If you want real-time arrivals via text message, continue using TransitTracker and text your stop or rail station ID number to 27299 to get that information faster.
About TriMet's Rider Support team
TriMet provides safe, reliable and easy to use transit service in the Portland metro area. We value your ridership and experience on board. TriMet's Rider Support team is here to help with trip planning, with tracking down lost items like a backpack, purse or wallet, and to answer any other questions riders may have. Here's how to get in touch with the team.