Starting September 2, Line 2-Division and Line 4-Fessenden to serve former Line 4-Division/Fessenden route
Change is just around the corner on TriMet's longest and busiest bus line. Starting Sunday, Sept. 2, we're splitting Line 4-Division/Fessenden into two lines: Line 2-Division and Line 4-Fessenden. Combined, the lines will provide more than 100,000 weekly bus trips and serve 24 miles between Gresham, Downtown Portland, North Portland and St. Johns. The adjustment will improve reliability and help keep buses on time. Both lines will continue to offer Frequent Service, with buses arriving every 15 minutes or better, most of the day, every day.
Line 2-Division
Line 2 will serve Division Street, between Gresham Transit Center and inner Southeast Portland, with service to Downtown Portland.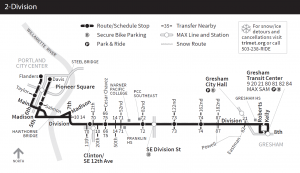 Line 2 will replace Line 4 at all stops between Gresham Transit Center and Downtown Portland. It will serve all existing Line 4 stops on the Portland Transit Mall.
While the fall service change does not take effect until Sept. 2, riders could see the new signs for Line 2 as early as Tuesday, Aug. 28.
Line 4-Fessenden
Line 4 will serve St. Johns and North Portland, with trips to N Lombard Transit Center and Rose Quarter Transit Center, extending to Downtown Portland.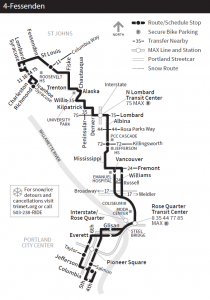 Plan your trip
Our online trip planner has been updated to reflect the changes we're making this fall. Go to trimet.org and select a date of September 2 or later to see if your trip is affected.
Fall service change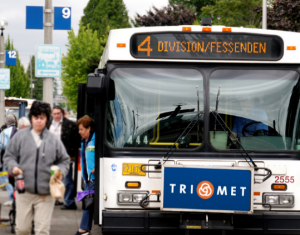 TriMet's fall service change brings the largest single expansion of bus service in agency history. In addition to splitting our longest bus line, we're bringing back 24-hour bus service, adding a bus line to serve Portland International Airport overnight, improving access to job centers and expanding our Frequent Service network. We're adding nearly one thousand weekly bus service hours, with buses running earlier and later, more trips on weekends and during midday, shorter wait times and better connections to jobs, schools, services and more.