Roll to the races on MAX to avoid traffic and parking hassles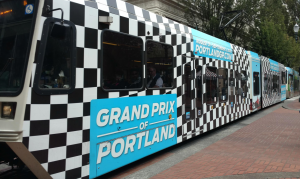 TriMet is your ticket to joining the excitement when INDYCAR racing returns to Portland. It's been 11 years since championship open-wheel race cars roared around the 12-turn road course, chasing the checkered flag at Portland International Raceway (PIR). When they return for The Grand Prix of Portland Labor Day Weekend, TriMet's MAX Light Rail will be the best way to get to PIR, avoiding traffic and parking hassles all the way to pit row.
Get the green flag all day, every day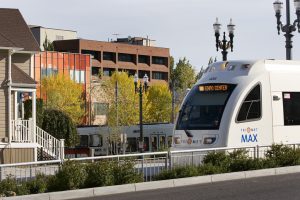 Racing action will be going full throttle from Friday, Aug. 31, through Sunday, Sept. 2, with events from about 8:30 a.m. to around 5 p.m. each day. Whether you want to attend Friday's midday autograph session, watch practice runs Saturday morning, or experience Sunday's main event in person, TriMet's MAX Yellow Line can get you to and from PIR as often as you need. The MAX Yellow Line serves the Delta Park/Vanport MAX Station, close to PIR. The main gate is less than a tenth of a mile from the rail station. Trains arrive every 15 minutes so you won't have to wait long to catch your ride.
Convenient and cost-effective
Taking TriMet to the Grand Prix of Portland just makes sense. It's convenient and easy. You can transfer to the MAX Yellow Line from other MAX lines at the Rose Quarter Transit Center. You can also transfer from five bus lines that serve the transit center on weekends.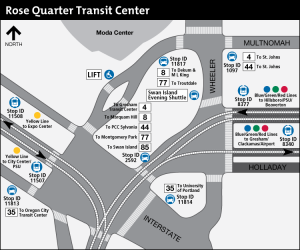 Line 4-Division/Fessenden
Line 8-Jackson Park/NE 15th
Line 35-Macadam/Greeley
Line 44-Capitol Hwy/Mocks Crest
Line 77-Broadway/Halsey
Get help planning your trip to the track
Our online trip planner makes it easy to plan a trip, with information on travel and walk times, transfers and cost. TriMet also has a number of free Park & Rides throughout the MAX system to help passengers connect with trains.
Need more help? Our Rider Support team is available seven days a week, between 7:30 a.m. and 5:30 p.m. Call 503-238-RIDE (7433), tweet to @trimethelp or use our online form at trimet.org/contact/customerservice.
Hop your way to the races
Taking TriMet is also economical. A day pass costs $5 for adults and $2.50 for youth (ages 7-17) and honored citizens (ages 65+). Children six years and under ride free.
TriMet's Hop Fastpass™ lets riders purchase some fares with a phone. Just tap the phone tied to a mobile wallet (Apple Pay, Google Pay or Samsung Pay) against the green Hop reader on our buses or at rail stations. Confirm the purchase and go. You can only pay the adult fare, but it's a convenient option for those who only ride occasionally.
Frequent TriMet riders should opt for a Hop card purchased from one of hundreds of local retailers. Load it up with value then tap and go. Plus, earn day and month passes as you ride! Learn more.
Go virtual with an Android device. Buy a virtual Hop card at the Google Play store and load it into Google Pay. Tap the phone to a reader and get all the benefits of a plastic Hop card.
TriMet's self-service ticket machines are another option. You can buy 2 ½ -Hour Tickets  or Day Passes from the machines for adults, youth and honored citizens. The machines are located at rail stations.