Earlier and later trips, more midday and weekend service, shorter wait times and better connections start September 2
The countdown is on for the largest single service expansion in TriMet history. Starting Sunday, Sept. 2, the Portland metro area will have more transit options than ever before. TriMet's fall service change includes the return of 24-hour bus service for the first time in more than 30 years. We're adding a new bus line to get workers and travelers to and from Portland International Airport late at night and early in the morning. We're also splitting our longest bus line and adding frequent service in East Portland to decrease wait times. The expansion brings more and better service, improved connections to jobs and other destinations, and increased access to safe, reliable transportation throughout the region.
http://https://www.youtube.com/watch?v=roPUIxHX_GU
24-hour service
Line 20-Burnside/Stark
Line 57-TV Hwy/Forest Grove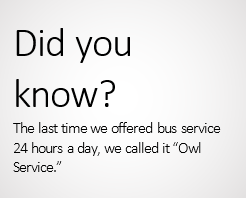 We're bringing 24-hour service to Line 20-Burnside/Stark and Line 57-TV Hwy/Forest Grove with added early morning and weekend trips. Combined, the bus lines span more than 45 miles between Forest Grove and Gresham. We're also making adjustments to keep the buses running on schedule and improve transfers between the two lines. The Line 20 will also provide a critical link to our new Line 272-PDX Night Bus.
Later trips on MAX and all night bus service to PDX
Line 272-PDX Night Bus
MAX Red Line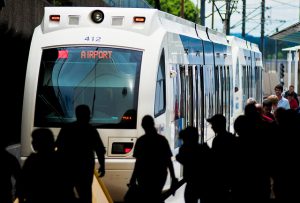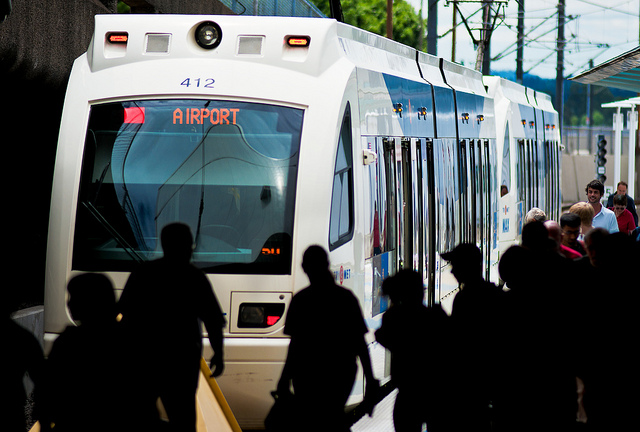 The Line 272-PDX Night Bus will run during the few hours when the MAX Red Line does not serve Portland International Airport. That means 24-hour transit access to the airport – a benefit to travelers and workers.
We're also extending the service day on our MAX Red Line, with later trips to and from PDX.
A new frequent service line
Thanks to strong ridership and pedestrian safety improvements made by the City of Portland, we're upgrading Line 73-122nd Ave to Frequent Service, so buses come more often. We're adding 16 weekday trips and 62 weekend trips. TriMet's Frequent Service lines run every 15 minutes or better, most of the day, every day.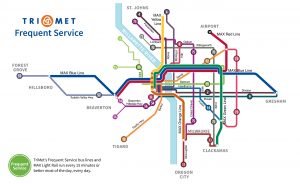 Better connections to jobs and services
Line 61-Marquam Hill/Beaverton
Line 64-Marquam Hill/Tigard
Line 66-Marquam Hill/Hollywood
Line 68-Marquam Hill/Collins Circle
Line 81-Kane/257th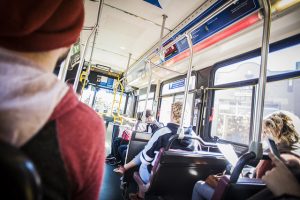 We're making investments to increase access to jobs, as well as medical and social services at Oregon Health & Sciences University and the other providers on Marquam Hill. Service will begin earlier and run later on lines 61-Marquam Hill/Beaverton, 64-Marquam Hill/Tigard, 66-Marquam Hill/Hollywood and 68-MarquamHill/Collins Circle. We're also expanding the hours of service on Line 81-Kane/257th as well as increasing the frequency with 21 added daily trips. This will improve access to employment opportunities in the Troutdale Reynolds Industrial Park.
Serving the suburbs
Commuting patterns and times are changing, so we're expanding service on Line 96-I-5/Tualatin to stretch throughout the day. With 25 additional weekday trips, riders get more options between Portland and this growing southwest community.
Splitting our longest bus line
Line 2-Division
Line 4-Fessenden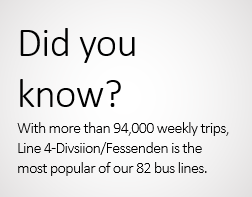 We're splitting our popular Line 4-Division/Fessenden route in two: Line 2-Division and Line 4-Fessenden. The adjustment will make service more reliable and help keep buses on time. Both new lines will continue to offer Frequent Service, with buses running every 15 minutes or better the majority of the day.
A more comfortable ride
To help ease crowding and make for a more comfortable ride, we're adding trips on Line 17-Holgate at the height of the commute.
Keep Oregon Moving
Our historic service expansion comes after the Oregon Legislature passed Keep Oregon Moving. The new law, signed by Gov. Kate Brown in 2017, created the state's first-ever stable and recurring source of funding, just for transit. In addition to offering more and better service, we're using the funds to make transit more accessible by giving riders who earn a low-income options to qualify for reduced fare.
Funding our future
This fiscal year (FY2019), we're putting about $8 million in service improvements on the streets. Keep Oregon Moving will fund approximately $4 million. The employer payroll tax, which began a 10-year expansion of transit service in 2016, will fund the remaining $4 million.
When it comes to keeping the region moving, our bus, MAX Light Rail and WES Commuter Rail service are part of the solution. By offering safe, reliable, easy-to-use transit options, we're doing our part in making our community the best place to live in the country.