Upgrades coming to Willow Creek/SW 185th Ave Transit Center starting August 6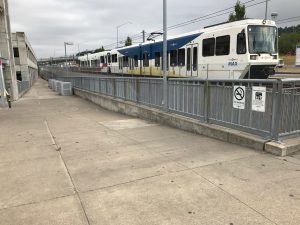 TriMet will be upgrading safety features and convenience for all riders, especially those using mobility devices, at the Willow Creek Transit Center. Portions of sidewalk adjacent to accessible parking spaces will be replaced bringing them into compliance with Federal Americans with Disabilities Act (ADA) accessibility guidelines. Some changes we'll be making include: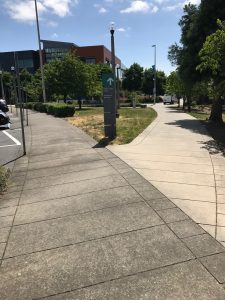 Reducing the angle of the slope on portions of sidewalk
Modifying the layout of the railings that guide riders on to and off the platform, providing safer navigation
We're also replacing the white bumpy safety tiles—used to warn riders of the track way—at the pedestrian  crossing on both the
east and west end of the platform. Warning tiles will also be installed in existing ADA ramps near the boarding areas where buses pick up and drop off.
What riders and neighbors can expect, and when
Construction begins Monday, August 6, with most of the work expected to be complete by early September. Willow Creek/SW 185th Ave Transit Center serves bus Line 52-Farmington/185th, Line 59-Walker/Park Way, Line 88-Hart/198th and the MAX Blue Line. Bus and MAX service will not be affected, but here's what riders and neighbors can expect:
Some accessible parking spaces will be relocated temporarily next to the current spaces.
Temporary pedestrian ramps may be installed so riders can access the MAX platform.
There will be some saw cutting and jack hammering so expect some noise and occasional dust during construction hours.
Work hours are 7 a.m. to 3:30 p.m. weekdays. There will also be some work done during the weekends when we'll be replacing the safety tiles at the pedestrian rail crossings.
As this will be an inconvenience at times, we thank riders and transit center neighbors in advance for your patience and understanding while the improvements are being made.
Commitment to accessibility
TriMet is deeply committed to serving all the people of our community. We formed the Committee on Accessible Transportation (CAT) to advise the TriMet Board of Directors on plans, policies and programs for seniors and people with disabilities. The CAT team has helped us design the improvements coming to Willow Creek. Learn more about accessibility on our buses and trains here.