Use Park & Rides and let TriMet do the driving during ODOT'S upcoming roadwork starting July 8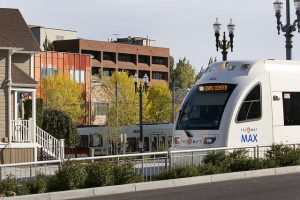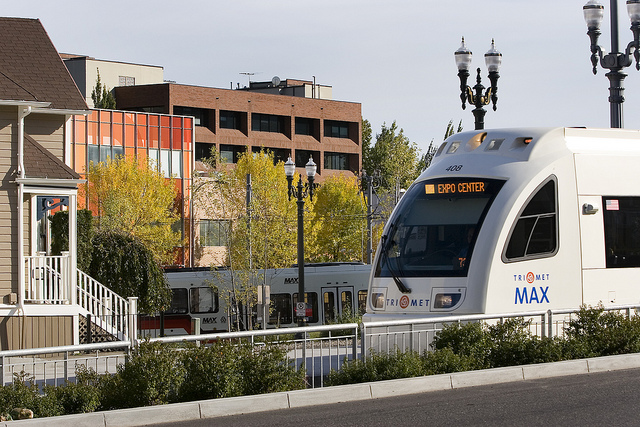 Jump on TriMet's MAX Light Rail to avoid the traffic jams expected during Oregon Department of Transportation's (ODOT) highway improvements this summer. ODOT's I-84 at I-5 Rehabilitation Project and I-5 Paving Project will close ramps and stretches of I-5 for days at a time. ODOT warns drivers to expect major delays during the closures. Get around the congestion by taking MAX. We have free Park & Rides where you can park your car and easily connect with trains.
MAX/Park & Ride options between Vancouver and Downtown Portland
The first ramp closure starts Sunday, July 8, and will shut down the I-5 southbound ramp to I-84 eastbound until Monday, July 23. During that time, for the weekends of July 13 and July 20, all lanes of I-5 southbound between the Fremont and Marquam bridges will also close.
MAX Yellow Line is the best option around the closures. It runs between the Expo Center and Downtown Portland, serving two Park & Rides along I-5:
Expo Center Park & Ride
2060 N Marine Dr.
300 spaces (free before 10 a.m.)
*Additional spaces available weekdays between July 8-20, July 25-Aug. 6 and Aug. 17-27 for a fee.
Delta Park/Vanport Park & Ride
1940 N Victory Blvd.
300 spaces
MAX Red Line runs between Portland International Airport and Downtown Portland, and serves two Park & Rides; however, these lots tend to fill early.
Parkrose/Sumner Transit Center Park & Ride
9525 NE Sandy Blvd, Portland, 97220
193 spaces
*This Park & Ride typically fills up around 7:00 a.m. on weekdays.
Gateway/NE 99th Ave Transit Center Park & Ride
1321 NE 99th Ave, Portland, 97220
690 spaces
*This Park & Ride typically fills up around 7:30 a.m. on weekdays. It is also served by MAX Blue and Green lines.
Other closures, other MAX/Park & Ride options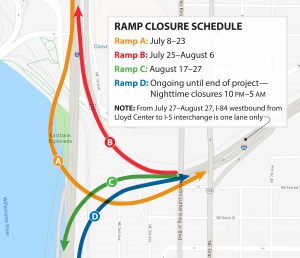 ODOT has additional closures planned that will close I-84 ramps to I-5, all lanes of I-84 except one and I-5 northbound between Marquam and Fremont bridges. TriMet has a number of Park & Rides on the MAX Blue Line east of Gateway Transit Center and on the MAX Green Line south of Gateway. Click here to view a map of Park & Ride locations. Also visit trimet.org/parkandride to find information about Park & Ride locations, including spaces and use.
Whether using a TriMet Park & Ride or any public parking lot, be sure to lock your car and stow all personal items out of sight. Experts suggest leaving your car "showroom" clean inside – as if you just drove it off the showroom floor at the car dealer.
Get help planning your trip around the closures
TriMet's online Trip Planner makes it easy to plan a trip, with information on travel and walk times, transfers and cost. Need more help? Our Rider Support team is available seven days a week, between 7:30 a.m. and 5:30 p.m. Call 503-238-RIDE (7433), tweet to @trimethelp or use our online form at trimet.org/contact/customerservice.
Go by bus
During the closures, in addition to MAX, consider TriMet bus service or C-TRAN bus service, which has express service between Vancouver and Downtown Portland. Do plan extra time as C-TRAN warns the trips may take longer due to traffic, but the more people opt for transit during the closures than driving their own car, the better. Visit trimet.org or c-tran.com.
Don't forget your fare
Use Hop Fastpass™ to ride both TriMet and C-TRAN. It's easy. All you need is your phone with a credit card stored in the mobile wallet. Just tap it to the reader on a rail platform or inside a bus, verify the purchase and ride. This is a great option for those who don't ride transit often.
Those riding more should opt for a Hop card. Purchase a card at a local retailer or ticket office and load money on to it. Tap for every ride. You'll get benefits including earning free trips the more you ride, lost-card protection and auto-reload.
Or buy a virtual Hop card at the Google Play store and load it into Google Pay. Tap the phone to a Hop reader and get all the benefits of a plastic Hop card.
Learn more at myhopcard.com.