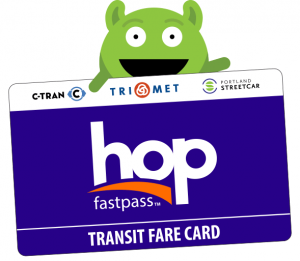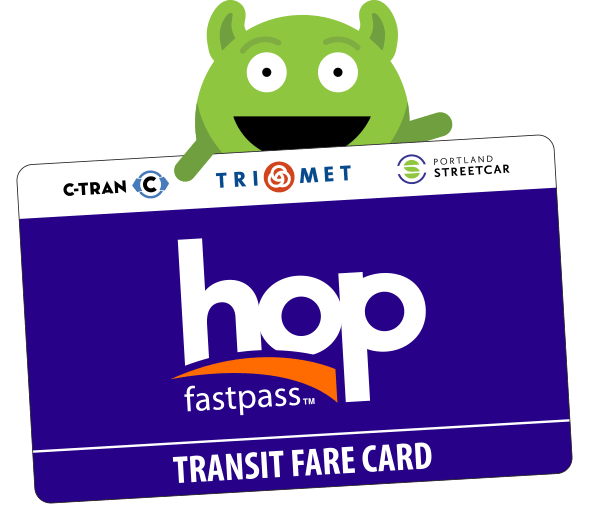 Hop Fastpass™ recorded its ten millionth tap in July. This comes days before TriMet and our partners mark the one-year anniversary of our launch of the regional cutting-edge, electronic fare system. Each tap represents a ride on TriMet, C-TRAN or Portland Streetcar to jobs, schools, services, social outings and more!
With Hop riders can…
Buy a card and reload almost anywhere – 400+ locations available
Board quickly and easily – no need for exact change and no paper ticket to keep up with
Save money by earning passes – 30,000 month passes earned so far
Set up auto-load and never get stuck without a fare
Enjoy lost-card protection – funds are stored on registered accounts, not on the card
Hop back in time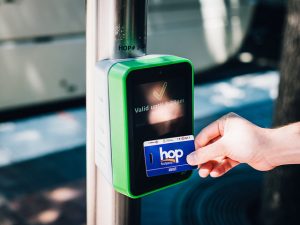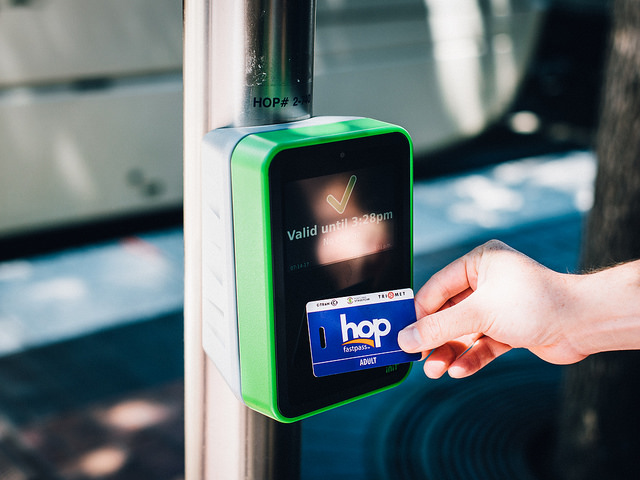 On July 17, 2017, the launch of Hop brought a new way to pay for riding transit throughout the Portland-Vancouver Metro area. Purchase a Hop card, load value and then tap the card to ride. Benefits were immediate – cost savings, convenience and state-of-the-art technology.
What makes the system unique is automatic fare capping. With paper passes – whether for a day or a month – you pay up front. With Hop, you tap and ride until you reach the cost of the pass – then the rest of the rides for that day or month – are free.
During Hop's first year, TriMet expanded the system, giving more options for paying with Hop.
In August, Hop readers began accepting taps from smartphones equipped with Apple Pay, Google Pay and Samsung Pay.
In April, the Hop virtual card became the first account-based regional virtual transit card on Google Pay – in the world!
Also in April, fare revenue from Hop surpassed the TriMet Tickets mobile app – proof the new way to pay is catching on!
What's next for Hop?
It's been a year since Hop's public launch, but there's much more to come. Work is underway to convert our 253 ticket vending machines to Hop. Instead of a foil paper ticket, riders will receive a ticket enabled with Hop technology – so everyone can tap to ride. Later this fall, we'll also introduce Hop on our LIFT paratransit system.
Get to know Hop!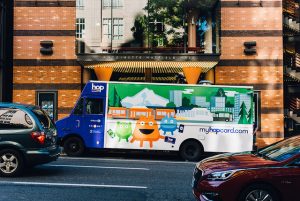 Over the last year, we've handed out 100,000 free Hop cards through community events, community-based organizations and local employers. Watch for special events this summer for a chance to pick up a Hop card so you can get hopping and start saving! Go to myhopcard.com for more information including answers to common questions and how-to videos.