Take TriMet to the festivities to avoid congestion and parking hassles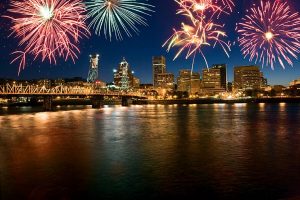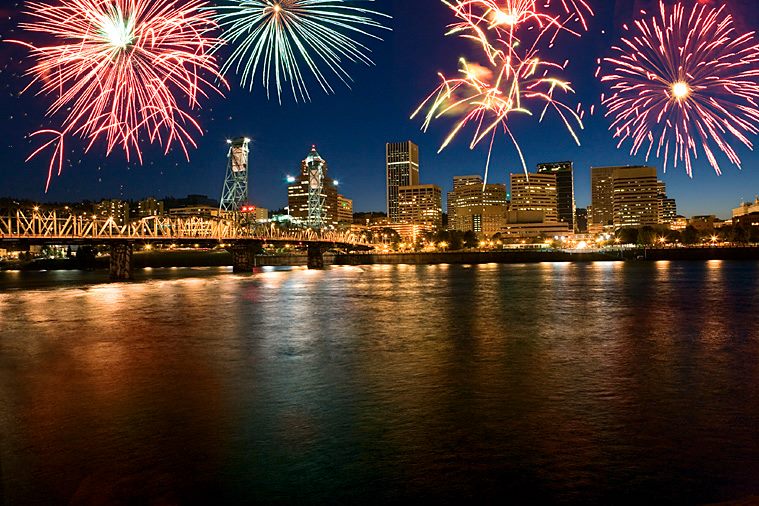 Let TriMet take you to Fourth of July festivities. The 31st annual Waterfront Blues Festival kicks off its four-day schedule on the Fourth. The evening caps off with a fireworks show.
Go by transit
What better a time to liberate yourself from parking problems and congestion than Independence Day? All MAX lines and up to 20 bus lines serve the Portland City Center. Find one of our Park & Rides near you and ride TriMet to the festivities in Downtown Portland. Plan
ahead. Service schedules will change on the Fourth of July. All MAX lines run on regular Saturday schedules and bus lines run on Sunday schedules. Check out our holiday schedules. We expect large crowds, especially by fireworks time at 10 p.m., so TriMet will have extra buses and MAX trains on hand about 10:30 p.m. to help people get home after the shows.
Also, the Hawthorne Bridge will be closed to vehicles for the fireworks show.Three TriMet bus lines – 4, 6 and 14 – will be detoured to the Morrison Bridge from 8:15 p.m. to 11 p.m.
Be patient, alert and enjoy the holiday safely
With the Waterfront Blues Festival kicking off on the same day as a national holiday, crowds could be larger than in the past on the Fourth of July. TriMet's Tilikum Crossing, Bridge of The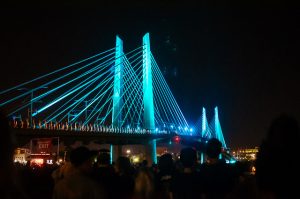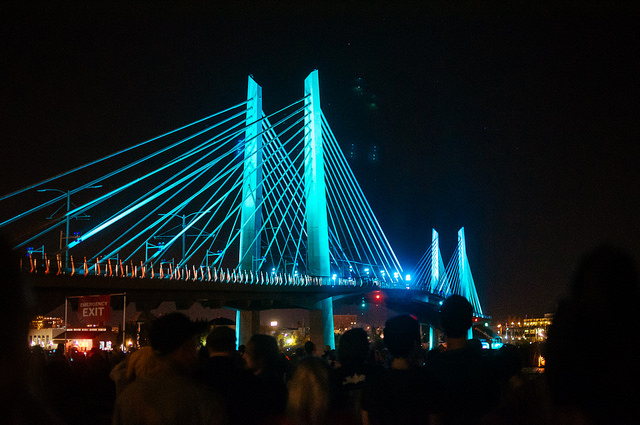 People will provide a great view of the fireworks. It will remain open to TriMet and Portland Streetcar vehicles as well as pedestrians and bicyclists. Whether on Tilikum Crossing or elsewhere near our buses and trains, please be aware, safe and visible when crossing streets or train tracks. Obey signals and only cross at designated crossings.
Take TriMet through the weekend
Long after the Fourth of July fireworks display is over and the crowds have cleared, the show will go on at the Portland Waterfront.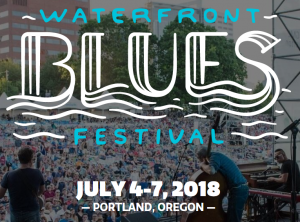 The Blues Festival continues through Saturday, when music fills the air from noon until 11 p.m. each day. Travel to and from there on TriMet to avoid traffic and parking costs.
Check TriMet Alerts before you go.
Remember, fares are required on all TriMet buses and trains.
Pay your fare with your phone. Just tap the phone tied to a mobile wallet (Samsung Pay, Google Pay or Apple Pay) against the green Hop reader on our buses or at MAX stations. Confirm the purchase and go. You can only pay the adult fare, but it's a convenient option for those who only ride occassionally. Learn more.
Use a Hop card, purchased at one of hundreds of local retailers, load it up with value and then tap and go. Learn more.
Go virtual with an Android device. Buy a virtual Hop card at the Google Play store and load it into Google Pay. Tap the phone to a reader and get all the benefits of a plastic Hop card.