Line 73-122nd Ave buses to run every 15 minutes or better most of the day, seven days per week starting fall 2018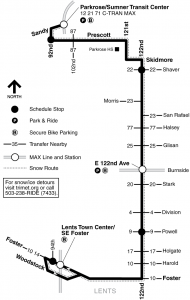 TriMet riders in East Portland will get better north-south bus service this fall when our Line 73-122nd Ave goes frequent service. TriMet's frequent service lines run every 15 minutes or better, most of the day, every day. With more trips coming more often, riders of Line 73 will gain better access to jobs, school, shopping and recreation.
Here's a look at the Line 73 service increase by the numbers:
16 more weekday trips
30 more Saturday trips
32 more Sunday trips.
Frequent service on Line 73 begins Sunday, Sept. 2.
A north-south connector
Our Line 73 predominantly serves East Portland's 122nd Avenue, between Parkrose/Sumner Transit Center and Lents Town Center/SE Foster, with weekday service between 4:15 a.m. and approximately midnight and weekend service between 7 a.m. and approximately midnight. It connects with additional bus service, as well as MAX Blue and Red Lines, providing more than 4,000 rides on an average weekday. TriMet and the Portland Bureau of Transportation (PBOT) have partnered to improve transit – and access to it – along 122nd Avenue. As we've increased bus service on 122nd, PBOT made capital improvements, installing sidewalks and improving crossings so people can travel safely to and from bus and MAX stops.
Expanding TriMet's Frequent Service network even more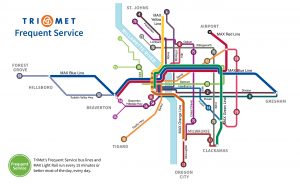 More than half of the trips taken on our buses each week occur on frequent service bus lines. The Line 73-122nd Ave will not be the only new frequent service line come September. The Line 4-Division/Fessenden will split into two lines, and both will continue to have frequent service, bringing the total number of bus lines in our Frequent Service network to 14. MAX Blue, Green, Orange, Red and Yellow lines also offer frequent service, with trains running every 15 minutes or better.
Keeping the Portland Metro region moving
The upgrading of Line 73 to frequent service is part of the largest service expansion in TriMet history. That comes in part from the Keep Oregon Moving Law, passed by the Oregon Legislature and signed by Gov. Kate Brown in 2017. Under the new law, we're increasing bus service by nearly a thousand hours per week starting this fall. We're also improving the ride, adding new buses to our fleet while retiring older ones and investing in cleaner technology with the purchase of five zero-emission electric buses. And, we're expanding access to transit, offering riders on a low-income the option to qualify for reduced fare. With earlier and later trips, more frequency, shorter wait times and better connections, TriMet keeps the region moving.