Maurice Henderson brings background in strategy, innovation and transportation to TriMet operations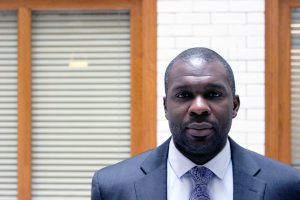 TriMet General Manager Doug Kelsey has selected Maurice Henderson II as TriMet's new Chief Operating Officer (COO). Henderson comes to TriMet from the City of Portland, where he served as Chief of Staff and Director of Strategic Initiatives for Mayor Ted Wheeler. Prior to joining Wheeler's office, Henderson was Assistant Director of the Portland Bureau of Transportation where he brings operational experience that will complement his duties at TriMet. While at PBOT, he worked closely with TriMet leadership to elevate the importance of transit in the city, including efforts to help keep buses moving despite growing traffic congestion, while also enhancing pedestrian and cyclist safety. He fills the position vacated when Kelsey was promoted to General Manager by the TriMet Board of Directors in March.
Since coming to Portland in 2015, Henderson has overseen a number of strategic opportunities and achievements including:
Created and executed strategy for Mayor Wheeler's new administration including policy priorities and key performance metrics.
Led Portland to a top three finalist position in the U.S. Department of Transportation/Vulcan Smart Cities Challenge.
Partnered with government, private and academic agencies to streamline coordination and promote efficiencies at various levels of government.
Prioritized an unprecedented $600 million "Build Portland" investment in long neglected local infrastructure and safety improvements to roads, town centers, sidewalks and parks.
Orchestrated a two-year Intelligent Communities/Smart Cities intelligent sensor project with AT&T to enhance Portland's ability to track pedestrian, traffic, parking, air quality, and eventually bicycle data that will enhance Climate Action and Vision Zero
safety efforts.
Prior to his work in Portland, Henderson served in a variety of top roles in the administrations of three Washington, D.C. mayors and worked as a top press aide to former Virginia Governor Tim Kaine.
Henderson joins TriMet as the agency prepares to launch its largest expansion of bus service in agency history while pursuing new opportunities to enhance the customer experience.
"Maurice has been a strong partner with TriMet and advocate for transit through his roles in the Mayor's office and the Bureau of Transportation," said TriMet General Manager Kelsey. "His innovative approaches, strategic thinking and demonstrated leadership will be vital at a time of expansive growth, change and technological advancement for TriMet."
Leading TriMet operations
As COO, Henderson will lead the agency's Transportation and Maintenance divisions. He will also oversee TriMet's Information Technology (IT) Division and provide leadership to the Safety and Security Division. Henderson's top priority will be to ensure a commitment to policies and practices that demonstrate safety as the agency's fundamental value. Additional responsibilities include providing critical transportation and urban planning leadership, oversight of the deployment of capital projects and development and oversight of the TriMet business plan.
Henderson begins work for TriMet Monday, July 16. His starting salary is $200,000 annually.
Additional background
Henderson spent eight years with the District of Columbia, where he held a variety of positions including Chief Administrative Officer in the DC Office of the Chief Technology Officer and Assistant Director for Performance Management & Transformation in the DC Office of Contracting & Procurement. He previously served as Chief Operating Officer at the DC Sports & Entertainment Commission. His portfolio includes more than a decade of work in managing and providing communications for political campaigns. Henderson holds a Master of Public Administration from Sojourner-Douglass College in Baltimore, Md. and a Bachelor of Arts in Leadership Studies from the University of Richmond. He is currently continuing his education with the Bloomberg Harvard City Leadership Initiative. Henderson is a member of Conference of Minority Transportation Officials (COMTO).