Overnight work to affect late-night trips to/from airport June 27-28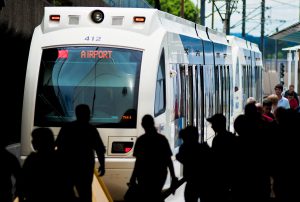 TriMet's next MAX improvement project will help keep our trains running on time on the MAX Red Line. Unlike our Providence Park MAX Improvements in May, this work will only create a minor impact on service.
Plan extra time for late-night trips
MAX Red Line disruption
Shuttle bus running between
Mt Hood Ave and PDX stations
Trips to PDX:
12:01 a.m.
12:37 a.m.
1:11 a.m.
Trips toward Downtown Portland, Beaverton:
12:24 a.m.
12:56 a.m.
1:24 a.m.
Wednesday night, June 27, into the early morning hours on Thursday, June 28, our crews will replace a piece of rail equipment, called a switch machine, near the Portland International Airport. While much of the work will take place in the three hours that the Red Line doesn't run, crews will need a little more time. Because of that, we will have a shuttle bus between Mt Hood Ave MAX Station and the airport for the last few trips of the night. The shuttles will leave the Mt Hood and airport stations at the regularly scheduled times. Plan an extra 10-15 minutes for the transfer between the train and bus. Trains will resume service through the area at the start of service Thursday morning.
MAX switch improvements
Switch machines allow trains to move from one set of tracks to another. The switch machine we're replacing, between Portland International Airport and NE 82nd Avenue, is one of the oldest and most used switches on the Red Line. The project is part of a larger program we kicked off last year to improve MAX on-time performance, our measure of reliability.
About MAX Red Line service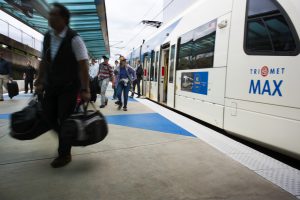 Millions of riders have enjoyed TriMet's MAX Red Line service to Portland International Airport since it began in September 2001. The first train-to-plane connection on the West Coast, MAX serves as an ideal way to bypass traffic. The Red Line serves more than 20 stations between Beaverton and the airport. Transfer to the Red Line from other MAX or bus lines at Pioneer Courthouse Square, Rose Quarter Transit Center, Gateway Transit Center or other stations. Plan a trip to the airport.