New MAX system improvements, adjustments reduce delays
As hot weather returns, TriMet riders may experience less heat-related delays this season due to improvements our crews made on sections of the MAX system. Trains traveling along the entire MAX Blue Line – between Gresham and Hillsboro – will operate at normal speeds in temperatures up to 100 degrees.

The same applies to trains running on the entire MAX Red Line between Portland International Airport and Beaverton Transit Center.
Until now, when temperatures reached 90 degrees, all MAX trains throughout the light rail system were required to go 10 miles per hour slower in high-speed areas above 35 mph. While the trains on the Blue and Red lines will no longer need to slow, the restriction remains on the MAX Green Line between Gateway Transit Center and Clackamas Town Center as well as on the Transit Mall in Downtown Portland, and throughout the MAX Orange and Yellow lines.
When the region experiences extreme temperatures above 100 degrees, all MAX trains on all lines throughout the system will still be limited to traveling no faster than 35 mph for the safety of our riders, employees and equipment. Also, our WES Commuter Rail trains operate at a maximum speed of 30 miles per hour when temperatures exceed 95 degrees as directed by Portland & Western Railroad (PNWR), which owns the trackway. If temperatures soar to 105 degrees, PNWR will suspend WES service and shuttle buses will provide service to WES stations.
Why higher temperatures lead to lower speeds
During high temperatures, we lower speeds for two important reasons: safety and science. The overhead power wires on the MAX system are made of copper, which will expand and sag as temperatures soar.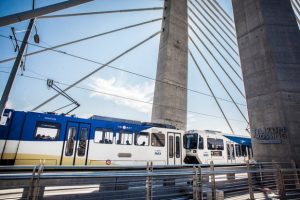 Also, the rails, made of steel, can swell and bow or kink in extreme temperatures. A one-mile stretch of rail can expand up to a few inches. Operators slow the trains so they will be able to see any such issues and avoid damaging the electrical wires and the pantograph (the arm that transfers power from the wire to the train), which would lead to extended delays for riders.
TriMet's solution: Fighting gravity with gravity
Because the overhead copper wires expand significantly in high temperatures, we have a system of pulleys with counterweights attached to the wires to keep them taut. The expansion of the wire can make the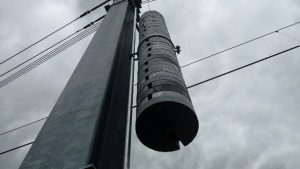 counterweights reach the ground. To prevent that, our maintenance crews have modified sections of the overhead wire system on the MAX Blue and Red lines using round weights that take up less space than the original rectangular cast iron weights. This allows more room for movement to maintain tension on the wires. They're also making adjustments based on a formula they developed to best calculate the tension changes needed as temperatures change.
Another solution: Tie anchors
Rail expansion during high temperatures – also called a sun or heat kink – becomes a problem if the track moves enough to bend or bow out. In kink-prone areas of the MAX system, crews have installed rail tie anchors that clamp over the railroad tie to secure it into the ground on both sides of the tie.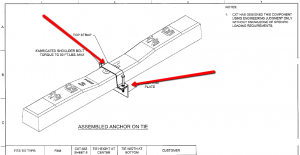 These have proven to keep the rail in place, even on extremely hot days when rail temperatures can soar 20 to 30 degrees above that of the air temperature. This step has saved about 25 to 30 minutes of time throughout each service day, which adds up to more than 150 hours of increased on-time performance over the course of a year.
More improvements coming down the track
TriMet's maintenance and operations crews will monitor the improvements on the MAX Blue and Red lines to assure safe operations. Meanwhile, work will be done on the Green, Orange and Yellow lines with the hope of eliminating the need to slow down in those sections of the light rail system in the future.
TriMet thanks our riders for their patience as we work to provide transit service that is safe and reliable. We are always working to improve on-time reliability, provide better service and more of it while making your ride smoother, safer and more dependable. See other ways we're making transit better.