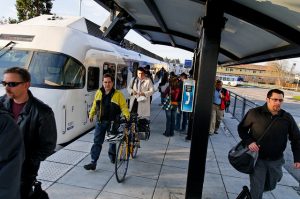 As dawn begins to unveil the railroad tracks that snake northward from the Wilsonville WES Commuter Rail Station, Glenice Driskell steps into the familiar, warm, and quiet railcar. The comfortable cabin has become her faithful connection between home and school at Portland Community College's Sylvania campus where she attends classes two full days a week. She also works about 30 hours per week, so her treasured time is a gift that WES delivers each day she commutes.
"Oh my gosh! It's perfectly on time. You never really have to worry about that," Driskell said. "You don't have concerns about whether you're going to make it or not."
WES facts
Trains run every 30 minutes
Mornings: 5:16 a.m. to 9:55 a.m.
Afternoons: 3:28 p.m. to 8:02 p.m.
14.7 mile line:
Beaverton – Wilsonville
5 stations
4 Park & Rides, nearly 700 spaces
448,530 rides (FY 2017)
Like clockwork, Glenice settles into her soft seat on WES every Monday and Wednesday, when she takes the 18 minute trip between Wilsonville and the Tigard Transit Center WES Station. From there, it's a 30-second walk to transfer to the Line 78-Beaverton/Lake Oswego bus for the short trip to PCC Sylvania.
"It's just a really easy way to get there. You completely avoid traffic and for me, I don't have a car so it's really nice to have an option that's just kind of relaxed in the morning," said Driskell who's just one of many students and staff at PCC who enjoy riding WES.
Creature comforts, convenience, and conductors
On a chilly, damp morning Nam Danh prepares to board WES at Beaverton Transit Center. He travels the entire 14.7 mile WES route to and from Wilsonville where he works for aerospace company Rockwell Collins. The father of a toddler, he uses WES to beat the rush-hour traffic jam blues, and often naps during much of the entire trip that takes only 27 minutes.
"You get a cushioned seat, and it's reclining too," Danh says. "Every time I hop in here I just recline the seat and doze off."
Danh also appreciates the fact that WES trains are equipped with hi-speed WiFi and come with their own conductors—people like Tad Johnson—who not only check fares, but also offer safety, security and a familiar face.
"A passenger told me that not having the stress of being on the highway was one thing, and when he stepped off the train downtown it was like stepping out of his front door," Johnson said.
Fast, efficient, on-time service
WES travel times
Beaverton – Wilsonville: 27 minutes
Beaverton – Tigard: 11 minutes
Wilsonville – Tigard: 18 minutes
Johnson says WES may be the least-known, best-ever commuter option for all points between Beaverton and Wilsonville. The train makes only three stops in between, at Hall/Nimbus WES Station, Tigard Transit Center, and Tualatin WES Station.
"You can go from Beaverton to Tigard in 11 minutes on WES as opposed to 30 to 45 minutes on the 76 Line bus which is a great bus, but if you're trying to get from Beaverton to Tigard you can bypass (all the stops) in between," said Johnson.
Danh agrees saying when he drives to work, he's usually slowed by traffic jams on highway 217. "I never like that," Danh said. "I think that once people who ride the bus or ride MAX and they haven't been on WES, they will see the difference right away."
About WES
WES, or Westside Express Service, is a commuter rail line that began service in Febuary 2009. It runs on existing freight tracks to serve the communities of Beaverton, Tigard, Tualatin and Wilsonville. Since April 2017, WES has an on-time performance average of more than 94 percent. TriMet owns and maintains the railcars and stations, but the vehicles are operated by Portland & Western Railroad who also owns the track on which WES trains run. Learn more about riding WES.