Workshops and online tool solicit public feedback for first-ever statewide stable funding dedicated to public transportation
TriMet is starting a conversation this month with riders and the greater community. We're asking for help in shaping priorities for new funding for public transit under the Keep Oregon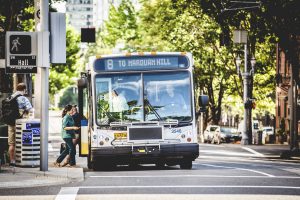 Moving law that was passed by the Oregon legislature and signed into law by Gov. Kate Brown last year. It provides the first-ever ongoing funding source to improve and expand general public transportation throughout Oregon. For TriMet, it could mean an additional $35 million – $55 million each year. How should the money be spent? We're hosting a series of workshops and launching a new online tool so the public can join us in shaping the region's public transit system of the future.
Expanding and improving transit
TriMet's goal is to deliver more and better service, where people need it and when people need it. With the new funding and guidance from the new law, we plan to submit a plan for consideration by the Oregon Transportation Commission to:
Expand and improve bus service, connecting communities throughout the region
Improve or extend bus service to low-income communities
Reduce fares for low-income populations
Increase safety and security on the system
Study the feasibility of adopting cleaner technologies, like electric-powered buses
The Keep Oregon Moving law can only be used for bus service. It can't be used for light rail or to increase TriMet employees' salaries or benefits.
Want to have a say?
Join the conversation by attending one of the following future service workshops, organized through a partnership between TriMet and Immigrant and Refugee Community Organization (IRCO).
Milwaukie
Wednesday, May 23, 6:00-8:30 p.m.
Milwaukie High School
2301 SE Willard St. — Milwaukie
North Portland
Thursday, May 24, 6:00-8:30 p.m.
Self Enhancement, Inc.
3920 N Kirby Ave. – Portland
East Portland
Wednesday, June 6, 6:00-8:30 p.m.
Ride Connection
9955 NE Glisan St. – Portland
Hillsboro
Thursday, June 7, 6:00-8:30 p.m.
Civic Center
150 E. Main St. – Hillsboro
RSVP is requested. Light dinner will be provided along with childcare and interpretative services.
Can't make it to a workshop? Pick your priorities online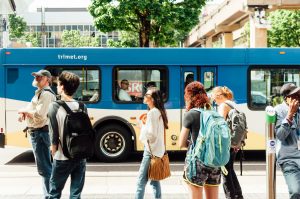 TriMet created an online survey tool to help us learn about the community's priorities for transit. Using a hypothetical budget of $100, participants can select where they would like to see funds spent. More early morning, late night or weekend service? Smart traffic signals and bus-only lanes to keep transit moving during periods of congestion? A greater security presence? Let us know at trimet.org/futureservice.
Join us at a listening session
It's everyone's transit system, and we want to hear from you. In addition to the workshops, TriMet is hosting seven community listening sessions. These are casual opportunities to share your thoughts about what's working and what's not, meet the TriMet Board member representing each district and say hello to TriMet General Manager Doug Kelsey.
Tigard
Wednesday, May 16, 5:00-6:00 p.m.
Tigard Ballroom
8900 SW Commercial St.
Downtown Portland
Thursday, May 17, Noon-1 p.m.
White Stag Building
70 NW Couch St. – Portland
Rockwood
Tuesday, May 22, 5:00 p.m.-6:00 p.m.
Human Solutions
124 NE 181st Ave. – Gresham
Oregon City
Tuesday, May 29, 5:00 p.m.-6:00 p.m.
Abernethy Center
606 15th St. – Oregon City
Hillsboro
Civic Center
Wednesday, May 30, 5:00-6:00 p.m.
150 E Main St. – Hillsboro
N/NE Portland
Thursday, May 31 – 5:00-6:00 p.m.
Legacy Emanuel Hospital
Lorenzen Conference Center
2801 N Gantenbein Ave. – Portland
Lents
Tuesday, June 5 – 5:00 p.m.-6:00 p.m.
TEAM Events Center
9201 SE Foster Rd. – Portland
RSVP is requested. Light snacks will be provided.
Understanding what Keep Oregon Moving means to workers
The Keep Oregon Moving law created a new, employee payroll tax of one-tenth of one percent specifically to fund public transit. For minimum wage earners in Oregon, that adds up to about 39-cents per week or $20 per year. Those earning more will be asked to pay more. The tax would cost workers with an annual salary of $100,000, about $100 per year. Employers will be responsible for deducting the tax from wages. The transit funding element of the Keep Oregon Moving law takes effect July 1.
Better transit
TriMet is working to provide more and better service while making your ride smoother, safer and more reliable. See how we're making transit better.