Full station makeover begins May 20, street lane closures begin May 14
TriMet's renovation of some of our oldest MAX stations continues with a full makeover of the E 162nd Ave Station beginning May 20. The station will remain open during the project, which is expected to take about six months. Some of the improvements we're making include:
Installing new, larger wind-screens
Updated lighting and security cameras
New shelter roofs
New signs and digital TransitTracker displays
Deep cleaning, painting and surface repairs
New tactile warning strips

Check out the video of the E 122nd Ave Station that reopened on April 30, 2018 following a full makeover.
Temporary platforms keep station open
The station will remain open to riders throughout construction. To make that possible, temporary wooden platforms will be built in each of the left turn lanes on Burnside at 162nd Avenue. Each temporary platform will include a shelter, Hop reader, ticket machine, validator, lighting, tactile warning strip, trash can, security cameras and customer information.
Where to board during construction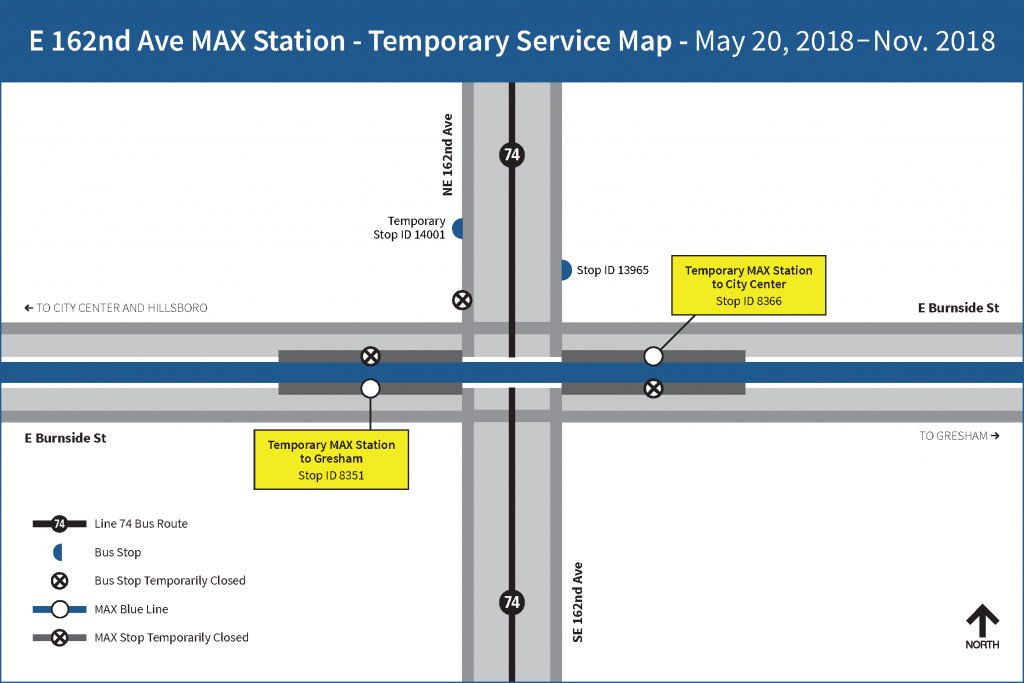 Westbound trips to City Center and Hillsboro: Board at the temporary platform just east of 162nd (Stop ID 8366)
Eastbound trips to Gresham: Board at the temporary platform just west of 162nd (Stop ID 8351)
The Line 74-162nd Ave southbound bus stop nearest the station will close and a temporary stop will be placed farther north at the 100 block of NE 162nd (Stop ID 14001).
Traffic impacts
The construction will affect turns on both 162nd Avenue and Burnside Street, and will also close Burnside during weekday daytime hours.
Starting Monday, May 14
Left turns from Burnside onto 162nd Avenue will not be allowed for the duration of the project.
Starting Sunday, May 20
Left and right turns from 162nd Avenue onto Burnside will not be allowed Mondays through Fridays from 9:00 a.m. to 4:00 p.m.
No through traffic on Burnside. Drivers traveling east and west on Burnside must turn right onto 162nd Avenue Mondays through Fridays from 9:00 a.m. to 4:00 p.m.
Making Transit Better
TriMet is reinvesting in the MAX system to enhance the rider experience and improve on-time performance. Renovations to the E 162nd Ave MAX station are part of a larger commitment—a multi-year program that began in 2015—to make improvements to 14 stations between Hollywood/NE 42nd Ave Transit Center and Cleveland Ave. Learn more about our Making Transit Better efforts.