Albertsons and Safeway to end paper ticket/pass sales, transition to Hop cards only beginning August 1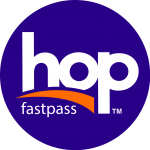 More people are enjoying the benefits of Hop Fastpass™ as the next phase of the electronic fare system rollout nears. Beginning in June, riders will notice changes coming to ticket vending machines at rail platforms as TriMet transitions them to Hop machines. The machines will begin dispensing paper Hop tickets – 2 ½-hour and 1-day Hop tickets – with embedded chips. Also, beginning August 1, major retail outlets Albertsons and Safeway will transition to selling Hop cards only. The Hop card allows benefits that paper fares cannot such as getting the best fare without the upfront cost of a pass, only paying for the rides taken, easy reload options and lost-card protection.
Ticket machines convert to Hop machines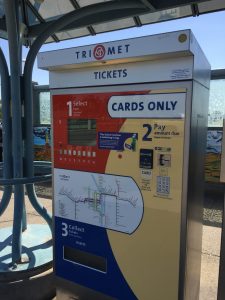 Next month, TriMet crews will begin converting the machines on rail platforms that riders use to purchase fares to Hop machines that dispense Hop tickets. It takes a few days for crews to change out a machine so expect the transition of 246 TriMet ticket vending machines to take about four months.
What does this mean for riders? They still can use cash and payment cards at the machines to purchase fares. Instead of traditional paper tickets, they will get a Hop ticket.
        Purchase 2 ½-hour or 1-day Hop tickets.
        Use the tickets to ride buses, trains and streetcars.
        Tickets come pre-validated, but remember to tap for each transfer.
The Hop paper tickets have a chip embedded in them. When riders tap at a card reader, this technology communicates to the Hop system and provides proof of payment. TriMet staff and Transit Police will carry devices that allow them to verify the Hop ticket. Those using an Honored Citizen or Youth Hop ticket may be asked for ID as proof of eligibility for the reduced fare. Unlike the plastic Hop card, the paper Hop tickets cannot be reloaded for future travel.
The Hop tickets can be used to transfer between transit systems as long as the fare on the service transferring to is less than or equal to the fare on the service transferring from. For example, riders can use the Hop ticket to transfer from TriMet to Portland Streetcar, but not from TriMet to C-TRAN Express. Those who ride a combination of TriMet, Portland Streetcar and C-TRAN would benefit more by purchasing a reloadable Hop card.
Major retailers begin transition to Hop only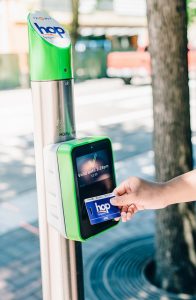 Major retailers Albertsons and Safeway will transition to Hop card sales only and phase out their traditional paper ticket stock beginning August 1. (They will continue to sell LIFT paper tickets.) Kroger stores Fred Meyer and QFC will continue to sell both Hop cards and the old-style paper tickets until they transition to Hop cards only at a later date. Smaller retailers as well as convenience stores such as Plaid Pantry already only sell Hop cards. Riders can reload money on their Hop cards at any store that sells the cards. Some 400 outlets currently sell and/or reload Hop cards with the goal to expand that to more than 500 retail outlets in the future. The Hop card does cost $3, but that is a one-time fee unless the card is lost or destroyed. Riders can learn more about paper tickets and transitioning to Hop at trimet.org/papertickets.
Hop cards are easy to use – and better than paper
Get the best fare so you save as you ride
Get the savings of a day or month pass without the upfront cost of a pass. For an Adult, a month pass is $100. With Hop you can avoid that upfront cost and pay as you go!
Use the Hop card for two trips—more than 2½ hours apart—in one day and earn a day pass, which gives you free rides the rest of that day.
Paying with the Hop card, reach the cost of a month pass and ride free the rest of the month.
Don't waste money on fare you don't use
With a paper month pass, if you don't end up riding 20 days in a month you end up wasting money. With the Hop card, you only pay for the rides you take.
With a paper day pass, if you don't end up riding twice in the day more than 2 ½ hours apart, you're out money. Again with the Hop card, you only pay for the rides you take.
Easily reload money just about anywhere, anytime
Go to myhopcard.com and add money to a Hop card or set up auto-load (requires card registration).
Use the Hop Fastpass app (download free from Google Play and iTunes) to add value.
Call 1-844-MYHOPCARD and add money using a payment card.
Add money to a Hop card at the Customer Service desk (or, in the future, at the checkout lane) at a growing number of stores. At any Plaid Pantry convenience store, reload with cash only.
Enjoy lost-card protection
Hop is account-based, which means the value is stored in the user's account rather than the card itself. If the card is registered, and the user reports a lost card, the balance in the account is protected and the user must pay only for a replacement card. Replacement cards can be purchased at any participating retailer.
It is important to report a lost or stolen card as soon as possible, so the card can be deactivated. If the card is registered, you can deactivate it yourself online.
Let Hop do the math
Hop is a regional account-based, electronic fare system. Pay fare on TriMet, C-TRAN and Portland Streetcar by tapping at readers at MAX, WES and Vine stations and on board buses and streetcars. The system automatically deducts the cost of the ride from the user's balance. When transferring to a higher-priced service, the fare difference will be deducted from the account. For example, if a rider takes the Portland Streetcar and pays the $2 adult fare and then transfers to TriMet where the adult fare is $2.50, the Hop system deducts $0.50 from the rider's account.
Hop has many convenient ways to pay
Hop card: Purchase a plastic Hop card at a local retailer or ticket office and load money on to it. Tap for every ride.
Hop virtual card in Google Pay: Buy a virtual card at the Google Play store and load it into Google Pay. Tap the phone to a Hop reader and get all the benefits of a plastic Hop card.
Mobile wallet: Pay fare with a bankcard stored in an Google Pay, Apple Pay or Samsung Pay mobile wallet. While a great option for less frequent riders including tourists and visitors, users can only buy an Adult fare and do not get all the benefits of a Hop card.
Contactless credit/debit card: Tap a contactless credit or debit card (with near field communication) to the card reader.
Learn more about the ease and benefits of Hop.
About Hop
Hop is the next generation of transit fare, offering a cash-free, hassle-free option that's valid throughout the Portland-Vancouver metro area. Use it to pay fare on TriMet, C-TRAN and Portland Streetcar. It's one more way TriMet is Making Transit Better. Hop Fastpass – a better way to pay!