May 26 ceremony to dedicate "We Choose Love" tribute wall mural
On May 26, 2017, a horrific attack on a MAX train approaching the Hollywood MAX station claimed the lives of two men, seriously wounded another and forever touched the lives of so many others. One year after the tragedy the Hollywood Boosters, Hollywood Neighborhood Association and TriMet will host a commemoration at the Hollywood Transit Center.
Commemoration of Heroism & Community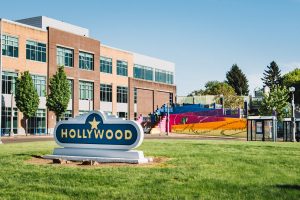 4-4:30 p.m., May 26, 2018
Hollywood Transit Center
1410 NE 42nd Avenue
View the invitation on Facebook
The event will honor the young women initially targeted by the attack; Taliesin Myrddin Namkai-Meche and Ricky Best, who lost their lives; and Micah Fletcher, who was critically hurt. It will also recognize the outpouring of community support and love that transformed the walls of the transit center in the days following. During the commemoration, the tribute wall mural, currently underway, will be dedicated. People may begin gathering in Hollywood Transit Center at 3:30 p.m. with the ceremony at 4 p.m. Buses will serve temporary stops outside of the transit center during this time.
"We Choose Love"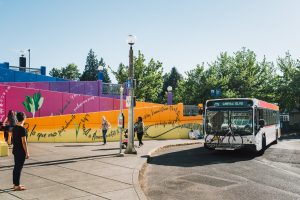 The gray walls of the transit center – more than 2,000 square feet in all – are transforming with color, images and words. The mural entitled "We Choose Love" reflects the spontaneous memorial where loved ones, neighbors and strangers wrote messages of grief, love and resilience in colored chalk.
Sarah Farahat and a team of other artists, educators and activists began painting the mural two and a half weeks ago. While their work will continue after May 26, the walls facing NE Halsey Street will be complete for the dedication. Learn more about the mural.
Meanwhile, TriMet is slowing the timeline for the plaque to commemorate those at the center of the May 26 attack. While initially we had planned to unveil it on the one year anniversary of the attack, we have determined that more time is needed.
The following video shows the progression of the mural being created at the Hollywood Transit Center.