Survey shows strong satisfaction among TriMet riders, potential impact of shared mobility options on transit use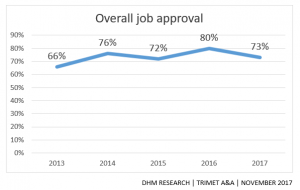 Opinions remain high of the job TriMet is doing according to our 2017 Attitude & Awareness survey released today. Overall nearly 3 out of 4 residents polled in the survey had a favorable opinion of TriMet, however, approval ratings were higher among those who ride TriMet. Seventy-nine percent of all riders and 86 percent of frequent riders approve of TriMet's performance.
DHM, a Portland-based research firm, conducted the annual telephone survey of 800 residents in Multnomah, Washington and Clackamas counties in November 2017.
Riders up, trips down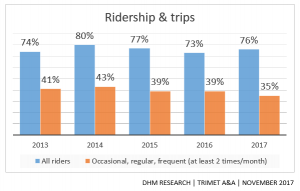 The survey found the total number of people using TriMet went up in 2017 compared to 2016. Nonetheless, riders may be making fewer trips overall as the proportion of frequent riders has gone down. The survey also pointed to some possible reasons for the shift. When asked why they were riding less, nearly a quarter of respondents cited lifestyle reasons (fewer trips, retirement and/or telecommuting). Respondents were also asked about their use of ride hailing or car sharing services. About four in ten said they used shared mobility to some degree.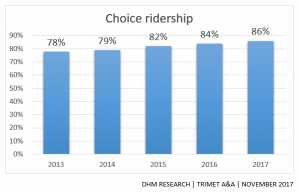 Eighty-six percent of riders said they used transit by choice, while fourteen percent of riders identified as transit-dependent. Top reasons for riding more included service, comfort and convenience, followed by close proximity to stops and stations. Riders used transit trips most often for recreation, work or getting to the airport – 64 percent, 34 percent and 30 percent respectively. One in four took TriMet to go shopping and to conduct personal business.
Service reliability
Residents continue to find bus and MAX service reliable, at 79 percent and 81 percent respectively. TriMet operational and system improvements have increased the on-time performance of both, with buses on time an average of 83.5 percent in 2017 (up from 81.1 percent in 2016) and MAX trains running on time an average of 85 percent in 2017 (up from 83.1 percent in 2016).
Safety & Security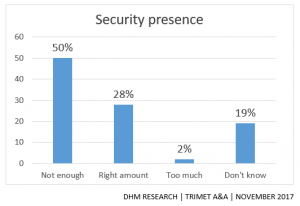 Questions about security were added to the survey, following the deadly May 26, 2017 attack. Half of all residents surveyed said there was not enough security presence on TriMet, which TriMet is working to address with added police and unarmed contract security personnel. About three in ten respondents felt the security presence was the right amount.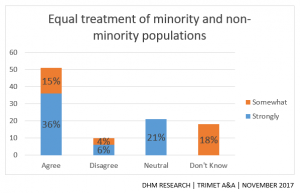 The approval of the safe operation of TriMet buses rose one percent to 76 percent in 2017. The opinion of MAX safe operation dropped five percent to 73 percent.
When it comes to applying rules and fare enforcement, 10 percent of respondents expressed concern that TriMet treats minority and non-minority populations inequitably.
Fares & Value
Eighty-six percent of all those surveyed viewed TriMet as a good value. Almost half (45 percent) had heard of the Hop Fastpass™ electronic fare system by November 2017. Roughly half of those were aware of its fare-capping benefits, allowing riders to earn day and month passes without the upfront cost and without paying for trips they don't take.
The survey showed high awareness of TriMet projects and initiatives, including interest in the low-income fare program launching in July. Forty-five percent of riders expressed interest in the program. It will allow adults at or below 200 percent of the federal poverty level to be eligible for TriMet's discounted Honored Citizen fare.
Regional concerns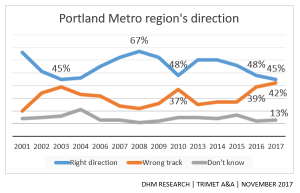 Fewer than half (45 percent) of respondents thought the Portland Metro area was going in the right direction, declining for the third straight year. Social issues related to homelessness and hunger were a top concern at 36 percent followed by affordable housing at 14 percent. The top transportation concern is traffic congestion at 29 percent, followed by road repair and maintenance at 20 percent.
About the survey
DHM Research conducted TriMet's annual Attitude & Awareness Survey by telephone between November 8 and 14, 2017. Eight hundred residents in the TriMet service district participated. Forty-six percent resided in Multnomah County, 31 percent in Washington County and 23 percent lived in Clackamas County. Quotas for county, age and gender were used for a representative sample. The margin of error is +/- 3.5 percent at a 95 percent confidence level.