Groundbreaking technology brings Hop card benefits to Google Pay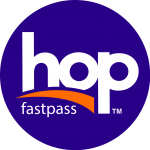 The virtual Hop Fastpass™ card is now available to all Google Pay users, making it the first account-based regional virtual transit card on Google Pay in the world. Google Pay users can now add value to their virtual card and tap with their phone to ride on TriMet, C-TRAN and Portland Streetcar.
TriMet worked with Google to launch the virtual card in Google Pay starting with a beta last December. The virtual card provides all the benefits of a plastic Hop card, with Adult, Honored Citizen and Youth fares available. Users only pay for the rides they take, earn day and month passes without an upfront cost, enjoy easy loading and auto-loading options and get lost-card protection.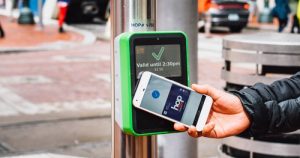 "TriMet continues exploring innovations to improve the experience of our customers," said TriMet General Manager Doug Kelsey. "The combination of Hop and Google Pay puts transit riders in the Portland-Vancouver region on the cutting edge of technology while truly getting the best value with daily and monthly fare caps as they ride."
"We're excited to work with TriMet to help ease the daily journey for commuters. Google Pay aims to create an effortless, immersive mobile transit experience for users, removing the friction of getting a ticket and saving valuable time for busy commuters." said Pali Bhat, Google's VP, Product Management, Payments
The first 1,000 people to buy a virtual Hop card will get it for free courtesy of Google, with a $3 credit applied within 24 hours of purchase.
How to use Hop with Google Pay
Download the latest version of the free Hop Fastpass mobile app from the Google Play store.
Purchase a virtual Hop card for a one-time $3 fee.
Choose Adult, Honored Citizen or Youth virtual cards. (Proper ID required for boarding with Honored Citizen and Youth virtual Hop cards.)
Load value on your virtual Hop card.
Save your virtual Hop card to Google Pay.
Hold your smartphone against the Hop reader, validate your payment and go!
Learn more at myhopcard.com.
New to Hop? What you need to know
Hop is a regional, state-of-the art electronic fare system. It works like a reloadable gift card, with the added benefits of a loyalty card, and much more.
Convenience
Hop makes it easier to use the region's three largest transit providers. Riders use the same card — plastic or virtual in Google Pay — to board or transfer between TriMet, C-TRAN and Portland Streetcar. Go from MAX to a C-TRAN bus – tap the Hop reader to validate the transfer and pay nothing more. Transfer from Portland Streetcar to a TriMet bus – tap to validate – and Hop deducts only the difference of the fare.
Cost savings
Hop earns you passes without the upfront cost and without paying for rides you don't take. Instead of buying a month pass, which can cost up to $100, the pass is earned with each tap to ride. It works the same way for day passes. Take two trips more than 2 ½ hours apart – earn a day pass. Once the value of a month pass is reached (within a calendar month) – riders continue to tap but will ride free for the rest of the month.
Safety and security
There is no personal or financial information stored on a Hop card – whether a plastic or a virtual card. Credit and debit card information is assigned secure tokens, which are stored securely with the bank processor, not within Hop systems.
Registration
Hop account registration brings additional benefits, including lost-card protection. If your Hop card or smartphone containing your virtual card is lost or stolen, the registered account can be frozen and the value transferred to a new card. However, plastic Hop cards cannot be converted to virtual cards.
Equity
To keep the Hop system equitable for all users, virtual Hop cards will cost the same as physical Hop cards – $3. To date, TriMet has distributed more than 90,000 Hop cards free of charge at community events and to community-based organizations and employers.
Teaming up for transit riders
TriMet thanks our technology partners – Google, INIT and moovel – for their ongoing development and innovation of the Hop Fastpass electronic fare system.
About INIT
INIT's (Innovations in Transportation, Inc.) back-end processing software, MOBILEvario, serves as the core intelligence for Hop's account-based payment fare system. It manages and processes the multi-agency fare structures in real-time, recognizes and processes revenue sharing, as well as manages accounts and automates reconciliations.
As a worldwide leading supplier of integrated ITS and ticketing systems for buses, light rail, and trains, INIT has been assisting transport companies in making public transport more attractive, faster and more efficient for more than 30 years. Today, more than 400 customers rely on our innovative hardware and software solutions.
About moovel N.A.
moovel N.A. LLC, a part of moovel Group GmbH, enables seamless multimodal experiences and connected transit commerce through mobile applications, including the Hop FastpassTM app and the TriMet Tickets app. The mobile ticketing applications built by moovel N.A. are used by 16 transit authorities in the U.S. and allow customers to book and pay for public transit tickets via their smartphone. This makes moovel N.A. the leading provider of mobile ticketing technology for U.S. based transit apps. Led by CEO Nat Parker, moovel is headquartered in Portland, OR.
About CH2M
Headquartered in near Denver, Colorado and with a regional office in Portland, OR, CH2M leads the professional services industry delivering sustainable solutions benefiting societal, environmental and economic outcomes with the development of infrastructure and industry. CH2M's payment systems group has developed innovative fare solutions that optimize clients' objectives and meet their passenger needs. CH2M has provided technical and project management expertise throughout the planning, development, and implementation of the Hop Fastpass program.
About C-TRAN
C-TRAN operates regular route bus services within Clark County. C-TRAN also provides express commuter services between Clark County, WA and various points in Portland, OR, including downtown and other locations.
About Portland Streetcar
Portland Streetcar operates three lines around 16-miles of track in Portland's Central City. It has been in operation for 16 years and has serviced over 54 million riders since its inception.
About TriMet
TriMet provides bus, light rail and commuter rail transit services in the Portland, Oregon metro area. We connect people with their community, while easing traffic congestion and reducing air pollution — making the Portland area a better place to live.