Track improvements lead to traffic detours as early as April 30, disrupt MAX Blue and Red lines May 6-11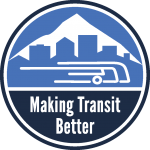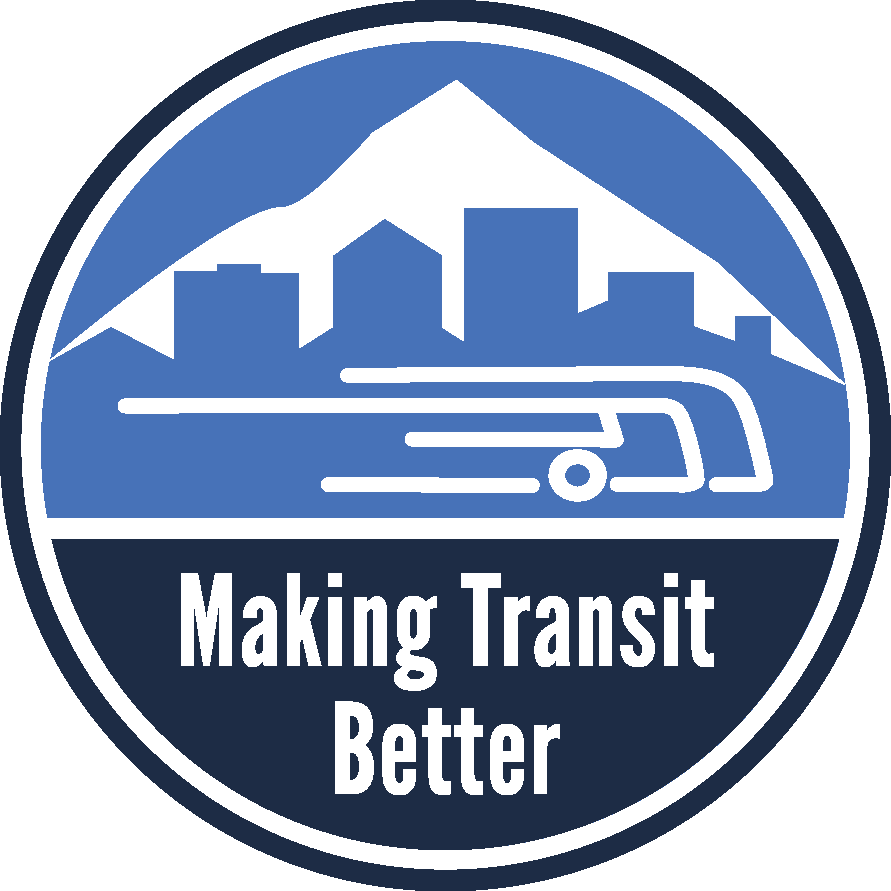 TriMet's Providence Park MAX Improvements will bring benefits to riders, pedestrians, cyclists and auto drivers, but before the long-term gains come some short-term changes. The construction will require some street and crosswalk closures starting as early as April 30, as well as disruption to MAX Blue and Red lines and additional street closures Sunday, May 6 through Friday, May 11. Detours, shuttle buses and free bike rides on BIKETOWN will help keep people moving during the project. We thank riders and the public for their patience and their understanding as we work to make these important improvements.
Providence Park MAX Improvements
Crews will replace switches and sections of rail on SW 18th Avenue that were installed in the mid-1990s as part of the Westside Light Rail Project. We'll also be improving the track bed and the drainage for switch machines, while upgrading the materials used next to the rails to reduce spalling and potholes from forming. The project will increase the reliability and resiliency of the MAX system, improve the ride quality for our customers and create a smoother surface for pedestrians, cyclists and autos.
Transit service adjustments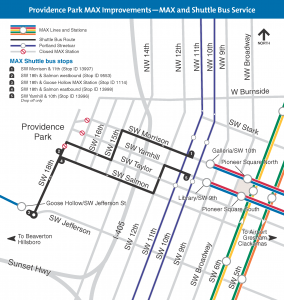 MAX Blue and Red lines will be disrupted from Sunday, May 6 through Friday, May 11. Only Blue Line will be serving the west side with fewer trains running. Shuttle buses will provide service between Goose Hollow/SW Jefferson St Station and the Library/SW 9th Ave, Galleria/SW 10th Ave stations. The Blue Line between Downtown Portland and Gresham as well as the Orange Line will have fewer trains running during commuting hours. We encourage riders on the affected lines to plan an extra 15 to 30 minutes for trips. We also encourage regular Blue and Red Line riders traveling on the west side or through Downtown Portland to consider altering their trips to avoid commuting hours, taking regular TriMet bus service, carpooling, working from home or using alternate transportation. Some bus lines will experience stop changes during the project. Riders can get line-by-line details and view an animated map of the service at trimet.org/providencepark.
Traffic adjustments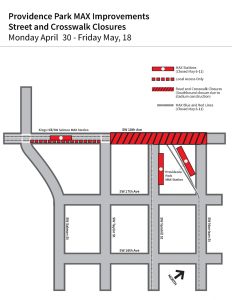 The construction and MAX disruption will close some streets, crosswalks and sidewalks.
April 30-May 18: SW 18th Avenue
Beginning as early as Monday, April 30 through as long as Friday, May 18, travel along SW 18th Avenue will be adjusted.
SW 18th Avenue closed northbound between Salmon and Morrison streets. (Southbound closed between Burnside and Taylor streets due to Providence Park stadium construction.)
Crosswalks across SW 18th Avenue at Yamhill and between Yamhill and Morrison streets will be closed, along with the north crosswalk at Taylor Street.
Sidewalks on the east side of 18th Avenue between Morrison and Taylor streets may have limited work zone closures.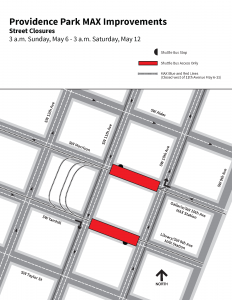 May 6-May 12: SW Morrison and Yamhill streets
From 3 a.m. Sunday, May 6 through 3 a.m. Saturday, May 12 some streets will be closed as MAX trains turn back eastbound at SW 11th Avenue.
SW Morrison Street closed between 10th and 11th Shuttle bus access only.
SW Yamhill Street closed between 10th and 11th Shuttle bus access only.
BIKETOWN free in May
BIKETOWN, Portland's bike sharing program, just announced rides will be free in May 2018. With 1,000 bikes at more than 120 stations, including at SW 18th and Jefferson Street near the Goose Hollow MAX Station, this may be the perfect time to give it a spin. BIKETOWN staff will be adding extra bikes at the SW 18th and Jefferson hub during the Providence Park MAX Improvements.
The perfect time to Hop
May is also the perfect time for riders to switch to the Hop Fastpass™ transit fare system. With Hop, riders only pay for the rides they take while still getting the benefit of a month pass but without the upfront cost. After reaching the cost of a month's pass, the rest of the rides that month are free. Same on a daily basis – use the Hop card for two trip more than 2½ hours apart in one day and earn a day pass. Hop is good on TriMet, C-TRAN and Portland Streetcar. Learn more about the cost savings and other benefits of Hop at myhopcard.com.
Making Transit Better
We at TriMet continuously work to improve the reliability and resiliency of our bus and rail systems while growing our service and enhancing the customer experience.
In 2016 and 2017, we completed major track, rail and switch improvements on SW Morrison and Yamhill streets at SW 11th Avenue, along 1st Avenue in Portland City Center and at the Rose Quarter Transit Center, a project that improved the signal system and adjusted the track alignment going into the transit center as well.
TriMet staff work diligently to complete as many improvements to the MAX system as we can during these major track projects while minimizing – as much as possible – the inconvenience to riders. We appreciate your patience and understanding as we work to make transit better.