TriMet Board of Directors and Kelsey reach contract agreement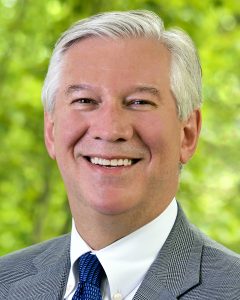 New General Manager Doug Kelsey is officially in the driver's seat at TriMet. The TriMet Board of Directors has reached a contract agreement with Kelsey a week after appointing him as its choice to lead the agency. Kelsey has served as TriMet's Chief Operating Officer since November 2015. The Board selected Kelsey following an international search for candidates and extensive community outreach on the priorities for TriMet and its leadership. Kelsey signed a three-year contact with an annual salary of $298,500.
"It's an exciting time at TriMet as we expand service to meet the growing demand of the region," said Kelsey. "While we move full steam ahead, I am committed to improving our communication and collaboration with the community since we are stronger when we work together. I would also add that improving diversity and equity is a top priority so that our agency reflects our community that we, at TriMet, are so proud to serve."
At their February 28 meeting, the Board of Directors heralded Kelsey's long demonstrated track record of success as well as his work at TriMet. Those achievements include:
Implemented a strategy to significantly improve rail on-time performance from 75 percent in November 2015 to more than 88 percent by November 2017. Kelsey has directed improvement in bus on-time performance as well, from 81 percent to 86 percent in one year's time.
Implemented the agency's first comprehensive strategic business plan – to provide focus and a clear strategy for the future.
Used key performance indicators for internal assessment and accountability to improve the customer experience.
Proven his commitment to safety by launching a rail safety review that has led to a more than 200 percent reduction in rail rule violations in just a year.
Focused on improving diversity within the operations division – increasing hiring in 2017 for both women and minorities to 22.4 percent and 25.1 percent, respectively.
The Board also noted that Kelsey has the skills necessary to lead the agency in navigating the challenges ahead as the agency implements HB 2017 and launches an aggressive expansion in service.
Kelsey, a Canadian citizen, was granted a new visa in order to accept the General Manager position.  Prior to TriMet, he worked at TransLink, the regional transportation authority in the Vancouver, B.C. metro area, where he served in many capacities including Chief Operating Officer.
TriMet's previous General Manager Neil McFarlane retired on February 21, 2017 after a 27-year career at TriMet, including serving as General Manager since July 1, 2010.