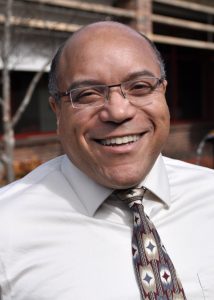 TriMet General Manager Doug Kelsey has made his first hire as head of the agency, naming Roland Hoskins as the Executive Director of Maintenance Operations. Hoskins comes to TriMet from just down the road. He currently serves Assistant General Manager of Administration at Lane Transit District (LTD) in Eugene, Oregon. Hoskins brings to TriMet expertise in labor relations along with outstanding public and private leadership.
"Maintenance is the backbone of our operations and as we expand transit service, we must increase our maintenance workforce to continue providing safe and reliable service," said TriMet General Manager Doug Kelsey. "Roland brings valuable experience in employee and labor relations while expanding the leadership strengths of our executive team."
As Executive Director of Maintenance Operations, Hoskins will manage TriMet's $129 million maintenance efforts. He will oversee TriMet's maintenance of fixed-route buses, light rail vehicles and non-revenue vehicles. Hoskins will help lead the agency's ongoing investments in MAX maintenance and infrastructure to improve safety, reliability and on-time performance. Hoskins also will provide executive oversight of TriMet facilities. He will start at TriMet on April 9, 2018.
Hoskins has more than 30 years expertise in business management, human resources, labor relations and organizational development. He has been with LTD since January 2015. LTD provides more than 10 million trips annually on its buses and Bus Rapid Transit Line throughout the Eugene-Springfield metro area. Hoskins directed the agency's finance, administration, human resources, and procurement departments and managed its $185 million operational and capital budget. Prior to his work in the transit industry, Hoskins worked for Lane County as Director of Youth Services as well as Labor Relations Manager and served in management and operational roles at IBM and UPS.