In observance of Transit Driver Appreciation Day, TriMet urges riders to thank their operator on Friday, March 16
TriMet's bus, light rail, commuter rail and streetcar operators are transit heroes – providing safe, reliable service day after day, at almost all hours of the day and night and in any kind of weather! They keep their cool under difficult circumstances, watching for pedestrians, cyclists and all of the other drivers on the road. They help people get to work and school, to run errands, see a friend or visit family. They care – about our riders and our community. On Friday, March 16, TriMet invites the public to help celebrate these operators with a show of thanks to mark Transit Driver Appreciation Day.
Our operators are everyday heroes.
"On July 4th, my stepdad was on a ladder working on the outside of the fence trimming hedges. He fell off the ladder and hit the back of his head on the sidewalk right next to the bus stop on Strawberry Lane. We don't know how long he'd been laying there, but (a TriMet operator) was the first one to notice him and call in for an ambulance. He was in the hospital for 18 days before he passed. If it wasn't for (this operator), we may not have had those 18 days with him. My family and I are extremely thankful for the attention and compassion shown… and I cannot express my gratitude enough."
Our operators help those in need.
"A homeless man entered, clearly in need, tattered coat, hands red from the cold. The driver greeted him and let him sit down and later gave him a bus ticket (I think the driver paid for it himself). Later, before the man left the bus, the driver gave him his entire lunch for him to take with him… Your drivers are kind and caring to the Portland community, but this driver went above and beyond."
Our operators are compassionate.
"I catch the 8:36 a.m. bus into Portland at 128th and Foster. We talk whenever I ride the bus with her and about a month ago, I lost my companion dog after 13 years. She surprised me with an adorable stuffed animal puppy. She is switching her shift… I am hoping that I will see her in the afternoon but will miss her very much. You have great drivers…."
Our operators care.
"It was my daughter's first day riding the bus to school by herself. We spent weeks practicing the ride together. The worst-case scenario happened. She missed her stop and ended up in downtown Portland. She let the driver know what happened and a return route was figured out for her and she was walked to meet the return bus. She even managed to arrive at school on time! I'm sure my daughter has learned some valuable life skills from this experience, including that TriMet is here to help."
So many reasons to say thanks!
In 2017, TriMet operators were instrumental in providing safer, more reliable and more courteous service, resulting in an improved rider experience.
TriMet operators by the numbers:
Bus – 1,298
Light rail – 191
Streetcar – 58
Total – 1,547
Join the celebration
Tell your operator thank you, share a smile or give a wave.
Give an official commendation by visiting trimet.org/thanks, calling 503-238-RIDE or tweeting @trimethelp.
Leave a thank you note for your driver at trimet.org/tdad.
Take a photo or share a nice comment on social media and use the hashtag #TDAD
Mayor of Portland makes it official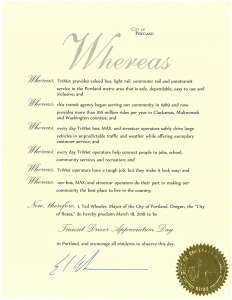 Transit Driver Appreciation Day holds special significance in Portland, where Mayor Ted Wheeler issued a proclamation, making it official. "Every day TriMet operators help connect people to jobs, school, community services and recreation," the proclamation states. "TriMet operators have a tough job, but they make it look easy. Our bus, MAX and streetcar operators do their part in making our community the best place to live in the country." Wheeler signed the proclamation this week, encouraging all residents in the "City of Roses" to observe the day.
About Transit Driver Appreciation Day
Transit Driver Appreciation Day falls on March 18, which is the day horse-drawn vehicles (the very first buses) are believed to have debuted in Paris in 1662. TriMet will observe Transit Driver Appreciation Day on Friday, March 16, 2018, when there are more riders using the transit system, more operators on the job and more opportunities to say thanks. Join us.