Free service beginning at 8 p.m. on December 31, with extended MAX service through about 3 a.m.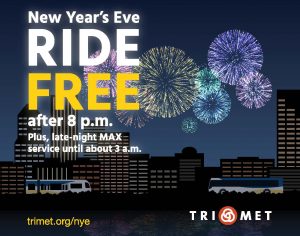 Tis the season for traditions and at TriMet that means providing free service on New Year's Eve to help people celebrate safely. Beginning at 8 p.m. on Sunday, Dec. 31, TriMet service will be free.
Buses and MAX Blue, Green, Orange and Yellow lines will run on Sunday schedules, with extended late-night MAX service running approximately every 30 minutes until about 3:00 a.m. MAX Red Line will run on Sunday schedule with extended late-night shuttle bus service to Red Line stations between Gateway Transit Center and Portland International Airport. Riders traveling late towards the airport can take a MAX Blue or Green Line train to Gateway Transit Center and transfer to a shuttle bus. Find out about TriMet's New Year's Eve service, plan your trip on our website, and then on New Year's Eve night just hop on board – no stop at the ticket machine or farebox and no tap at the Hop reader!
Rides on Portland Streetcar will also be free through 10:30 p.m.
Celebrate responsibly
Have fun, but please celebrate safely – and responsibly.
Be alert and pay attention around buses and trains.
Pause devices and look both ways when crossing streets or tracks.
Be respectful of operators and other riders, and behave appropriately on board.
Don't leave personal items unattended or behind.
If you see something suspicious, say something to a TriMet employee or call 911.
New Year's Day service
On Monday, January 1, 2018, buses and MAX trains will run on Sunday schedules. WES Commuter Rail will not be in service. The 503-238-RIDE Rider Support office and TriMet Ticket Office at Pioneer Courthouse Square will be closed. Portland Streetcar also will run on Sunday schedule.