TriMet encourages extra safety and awareness during darker commutes
On Sunday, Nov. 5, 2017 daylight saving time comes to an end and TriMet encourages everyone to take precautions to see and be seen in the darker months.
Your safety checklist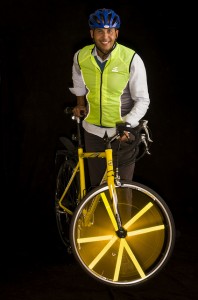 Safety is a team effort. Research shows that auto drivers won't see a pedestrian in dark clothing at night until they are 55 feet away, giving a driver less than one second to react. It takes the average vehicle going 30 mph 90 feet to stop, so whether walking, biking or driving the following reminders can help keep everyone safe when it's dark out.
Light up the night
Safety lights or flashlights are great ways to see and be seen. These can be small wearable lights that clip to your clothes or bags, as well as lights you attach to the front and back of your bike. Keeping a small flashlight or using the feature on your phone is another helpful way to make sure you can see at night. A light also helps our bus operators spot you at darker stops. Just please be careful not to shine it directly at the operator.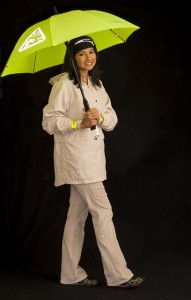 Brighten up your attire
Wear light colored clothing that will show up in headlights. The brighter the better. White, yellow, green and orange colors really stand out and help others see you. Light, bright coats, hats, scarves and backpacks help too.
Reflectorize
Add reflective items to boost your visibility. Many clothing items have reflective elements. Reflective vests, tapes or stickers can be purchased at most retail and sporting goods shops, and are easy to store in a purse, backpack or even a coat pocket until you need them.
Take a moment
Take a moment when crossing streets or tracks to be alert and safe. Look up from your phone, take out an earbud if listening to music and look and listen for oncoming buses and trains. Be aware of other distractions as well. Bicyclists, remember train tracks can be slippery especially in the rain. Get more tips at trimet.org.
Don't block your view
Umbrellas, hoodies and other clothing can block your view when walking. Make sure you peek around them before you go. Be alert and aware for vehicles that may not be visible when crossing in front of a stopped bus or train. When a train passes a station, always be alert for the possibility of a second train coming from the opposite direction.
Be on the lookout behind the wheel
Practice extra caution when driving during winter's rain and low light. Darkness can reduce depth perception and peripheral vision, and the glare of headlights from an oncoming vehicle can significantly impact a driver's vision. Drivers can increase visibility by using their headlights, leaving a safe distance between vehicles and scanning the environment continuously looking for people walking and bicycling.  Slow down at crosswalks and take care when making turns – even at a traffic signal. Follow the speed limits, put the phone out of reach and avoid other distractions that can take your attention off the road.
Night Stop gets you closer to your destination
TriMet's Night Stop program allows our bus operators to drop you off along the route between stops, if it's safe to do so. Here's how to use Night Stop:
When riding between 8 p.m. and 5 a.m., in neighborhoods outside Portland City Center and the Lloyd District, just ask your operator if they can drop you off at a non-designated stop. Be sure to make your request at least one or two blocks ahead of the destination.
The operator will determine if there is a safe place stop and let you out.
If the bus turns left in the same block as your requested stop, the drop-off will be after the turn is made.
About TriMet
For nearly 50 years, TriMet has provided valued transit service to Clackamas, Multnomah and Washington counties that is safe, dependable and easy to use. TriMet connects people with their community, while easing traffic congestion and reducing air pollution – making the region a better place to live. Find out more at trimet.org.