MAX Red Line takes you directly to PDX or take TriMet to other transit hubs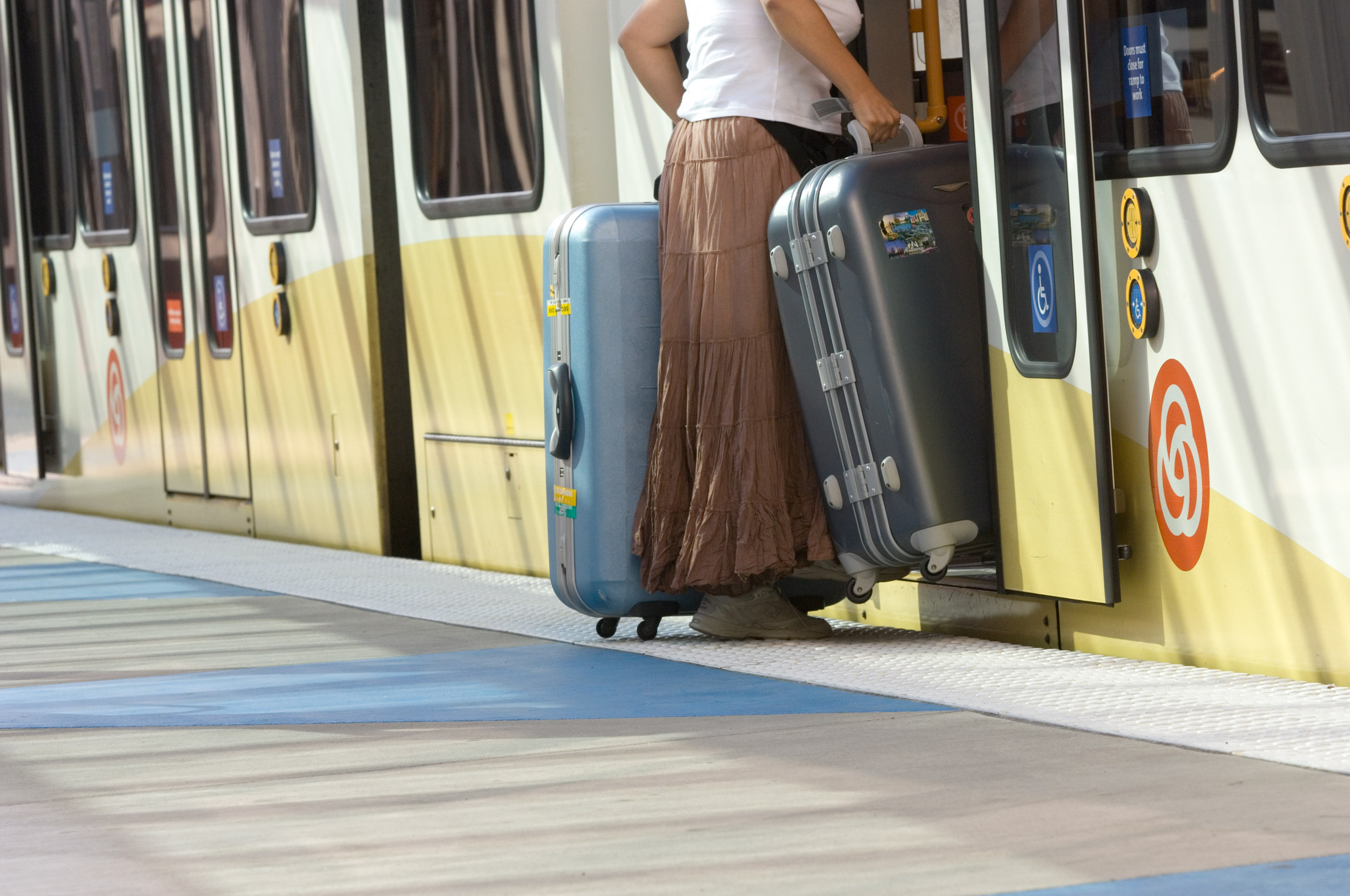 Flying home for mom's famous turkey, followed by hours of napping in front of the TV this Thanksgiving? Let TriMet remove the stress of travel to and from the airport and burden of airport parking by taking MAX Red Line directly to Portland International Airport (PDX). The Red Line provides direct trips between Beaverton and the terminal at PDX every day, including holidays, with trains running about every 15 minutes most hours of the day.
The Red Line serves over 20 stations along the route, making connections very convenient. You can transfer to the Red Line from Beaverton Transit Center, Pioneer Courthouse Square, Rose Quarter Transit Center and many other stations across the system. From downtown Portland it's only a 38 minute ride to PDX. In addition to doing the driving, we'll even help plan the quickest route from your front door to the airport with TriMet's online trip planner.
Not traveling by air? We'll get you to trains and buses too
If your travel plans involves trains or buses, TriMet can get you there as well. MAX Green, Orange and Yellow Lines, as well as various bus lines, serve Amtrak's Union Station and the Greyhound Bus Terminal. Use TriMet's online trip planner to plan a trip to Union Station or Greyhound.
Thanksgiving Day schedule
Our service runs on special schedules for the holidays. On Thursday, November 23, buses and MAX will operate on reduced Sunday schedules, and our customer service offices will be closed. Plan your trip accordingly, as several lines do not have service on Sundays, and Portland Streetcar operates on a reduced schedule as well.
Tap on before takeoff!
Flying involves enough tickets, so eliminate the need for another by picking up a Hop Fastpass™ card at a retail outlet before you head out. Just load money on the card, then tap the reader on the platform or on board the bus. Learn how easy it is. Or just tap your phone equipped with a mobile wallet to pay your fare. Just remember to tap every time you board, especially if you're making transfers, to validate.