TriMet operator receives highest honor for continuing to go above and beyond during his career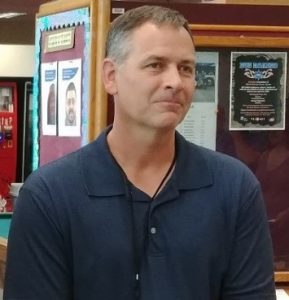 After 29 years of outstanding dedicated service, TriMet bus operator Jonathan Boos recently joined very rare company as one of only three active Gold Grand Master Operators in the organization. On Friday, September 8, TriMet recognized and celebrated Boos for achieving this significant milestone very few reach.
Boos, a Beaverton resident, began his impressive career at TriMet in 1988 and has consistently exemplified professional integrity and TriMet's core values. His dedication, hard work and commitment ensure that his riders get to and from their destinations swiftly and safely. TriMet recognizes and honors Boos for going above and beyond for the agency, our riders and our community. He has driven riders all over the greater Portland metropolitan area for the last 29 years, and currently drives the Line 54-Beaverton-Hillsdale Highway, taking riders between Beaverton Transit Center and Portland City Center.
A strict criteria
TriMet's Master Operator Program recognizes bus and rail operators who achieve overall excellence in their duties as professional drivers. To start, our operators earn Superior Performance Awards (SPAs) each time they complete 1,960 driving hours with:
Zero preventable accidents
No repeat violations of the same bus SOP
No warnings, reprimands or suspensions
Good public relations and considerate customer service performance with no more than seven customer complaints
Good attendance (no more than 16 hours of time loss as a full time operator or 10 hours as a part-time operator)
No unexcused absences or absences without leave
No more than one late arrival
Ten SPAs earn an operator Master status. With 20 SPAs they achieve Grand Master. Boos has shown this excellence 30 times during his career with TriMet, with over 25 years of safe driving awards from the National Safety Council and an amazing 15 years perfect attendance, earning him our highest distinction of Gold Grand Master Operator.
"If I didn't succeed, it was going to be because something was really wrong with me because I had some great influences," said Boos during the awards ceremony. "I'm just grateful for each day that I'm able to do this job. I love it and I enjoy it."
Boos also was recognized with a General Manager's Safety and Service Excellence Award in addition to being named Gold Grand Master Operator. TriMet General Manager Neil McFarlane presented Boos with the award and expressed his gratitude for Boos' years of service.
"Jonathan embodies the kind of performance, service to our customers and, most importantly, safe operations that we all strive for here at TriMet," said McFarlane I'm grateful for his service and I suspect we'll eventually have to create a new award category for him because his excellence shows no signs of ever slowing down."
Family tradition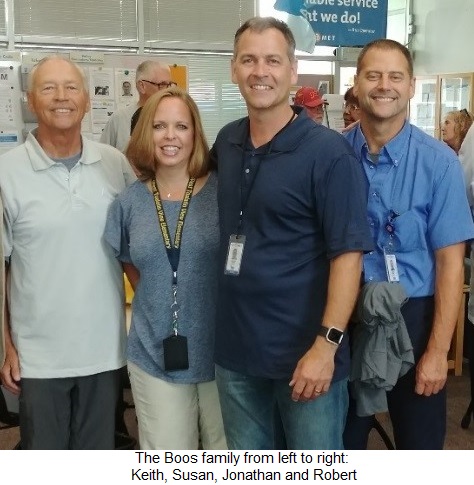 Boos' 29 years with TriMet are part of a long standing family history with the organization. His father, Keith Boos, spent 26 years as a TriMet operator and training supervisor before retiring in 2002. Jonathan currently works with his brothers Robert Boos and Mark Boos, who both started their TriMet careers in 1984, and work as a bus operator and journeyman mechanic respectively. He also works with his cousin Steve Boos, a bus operator who began his TriMet career in 2002. In addition, his great grandfather George Boos spent 50 years as a carpenter for Portland Traction Company, a local transit company that served the greater Portland area, from 1903 to 1953.
His family was on hand to celebrate his achievements, and his dad shared this with the crowd that gathered for the celebration. "Very seldom can you have a family that does work like they do," said Keith Boos, describing his sons and nephew. "I'm proud of them all."
A family man first, Jonathan Boos always made sure his dedication to the job never stopped him from being a caring husband and father. His son Ryan spoke about how inspirational his dad is, telling everyone, "To have that work ethic, to do it for so long is really something I look up to, especially being a father. He'd get up so early but always came home to be a great dad. If I can ever be that good of a father and that good of a worker I'll be really well off."
When Boos is not on the road for TriMet, he's still on the road. He and his wife, Susan, love to travel, taking their trailer everywhere from Glacier National Park to San Francisco. They head to the beach as often as they can find a spot and make a few trips per year to the Cove Palisades for camping and boating. You will find Boos frequently on hiking trails, and he uses his break times in between his shifts to take long walks.
Watch Jonathan's award ceremony below.