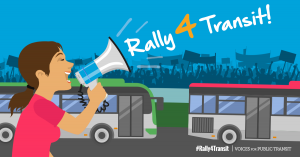 TriMet, C-TRAN and Portland Streetcar join transit agencies across the country in support of #Rally4Transit, a unified effort urging continued federal funding of public transportation infrastructure investments. Public transit provides access to opportunity, connecting people to jobs, education, services and entertainment. It also generates economic benefits, helps communities attract business development, supports job growth and relieves traffic congestion. The American Public Transportation Association (APTA) is leading a national effort, Voices for Public Transit, to raise awareness around potential cuts to federal funding of public transit projects as well as rally support for transit. On Tuesday, October 10, at 9:00 a.m. PST, transit agencies will unite on social media, sending a unified message to Congress: Continue supporting the Fixing America's Surface Transportation (FAST) Act and investments in public transit infrastructure. We encourage the public to join this massive effort.
Federal funding cuts cost jobs, increase congestion
Congress has supported the funding of American public transportation for decades. Also, in December 2015, the U.S. House and Senate passed the FAST Act, the first federal law in over a decade to provide long-term funding certainty for surface transportation infrastructure planning and investment, including funding for major transit projects, through 2020. This fall, Congress will be negotiating the FY2018 federal budget and appropriations, and is proposing to cut this federal funding. The cuts could stall critical improvement projects, endangering and possibly eliminating nearly 800,000 jobs and costing $90 billion in economic production. The lack of funding also could reduce public safety enhancement and increase traffic congestion.
Raising the public voice
TriMet, C-TRAN and Portland Streetcar want you to show your support, sharing APTA's message via Facebook, Twitter and Tumblr. Simply go to the Voices for Public Transit site to load a message that will go out automatically at 9:00 a.m. on October 10. It will state, "I just supported #Rally4Transit on @ThunderclapIt @APTA_Transit." Also, use #Rally4Transit to tell your story about what transit means to you, share photos and tag your friends, rallying them to help spread the word.
Send the message to Congress that investing in existing and future public transit infrastructure benefits local communities:
Boosting the economy
Attracting new business development
Supporting local job growth
Relieving traffic congestion
Connecting people to jobs, school, medical care and more
In addition to sharing APTA's messaging via social media, the public can provide support by signing the #Rally4Transit Change.org petition.