House Bill 2017 provides huge boost for transit services and programs across Oregon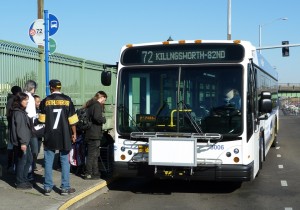 Oregon lawmakers passed House Bill 2017 this week, the first comprehensive transportation package to receive legislative approval since 2009. At $5.3 billion, the package makes significant investments in transit and many other transportation initiatives across the state. TriMet will use the funds to support two key priorities: a low-income fare program and expanding bus service.
The measure creates a statewide employee payroll tax dedicated to transit improvements. It is expected to generate $35-$40 million in additional annual revenue for TriMet. The funds will be allocated to two primary objectives: implementing a low-income fare program and expanding bus service.
Low-income resources
Over the last year, TriMet, in cooperation with Metro Councilor Sam Chase, worked with community partners and advocates to begin development of a low-income fare program. The task force convened to advise on the initiative recommended a fare reduction by half, for those below 200 percent of the federal poverty level. Under the 2017 federal poverty guidelines, individuals earning an annual income up to $24,120 would qualify for the program, as would a family of four with earnings up to $49,200. TriMet will develop a plan for implementation of the low-income fare as soon as the new state funds become available, likely in early 2019.
Funding from the transportation package also will allow TriMet to expand bus routes and increase the frequency of bus service to communities with high concentrations of low-income households, thereby providing better access to the region's employment hubs.
"Access to public transit is access to economic opportunity," said TriMet General Manager Neil McFarlane.  "This package represents an investment in Oregon, its economy and its people. I would like to thank the members of the Joint Committee on Transportation and Modernization, including co-Chairs Sen. Lee Beyer (D) and Rep. Caddy McKeown (D) along with working group leaders Rep. Cliff Bentz (R) and Sen. Brian Boquist (R) for the exceptional leadership in crafting the package. We look forward to the governor's signature and the opportunity to provide more and better service in our local communities."
Expanded bus service will be developed based on the extensive public feedback received during TriMet's Service Enhancement Plan process, and with the added service will come an increase in security efforts.
Reducing congestion
In drafting HB 2017, lawmakers aimed to reduce congestion across the greater Portland metro-area. Under the legislation, TriMet does its part by adding bus service and offering faster, more reliable options in communities experiencing explosive growth. Investments will also be made in infrastructure and cleaner technologies, including the purchase of buses powered by natural gas or electricity.
Reliable funding
HB 2017 creates a new, employee payroll tax of one-tenth of one percent to fund public transit. Oregon's minimum wage earners would pay about 39-cents a week or $20 per year under the tax. It would cost those making $100,000 about $100 per year. Employers will be responsible for deducting the tax from wages. It will go into effect July 1, 2018.
What's next
Governor Kate Brown strongly supported HB 2017 and is expected to sign it into law next month. The transit funding element goes into effect July 1, 2018.